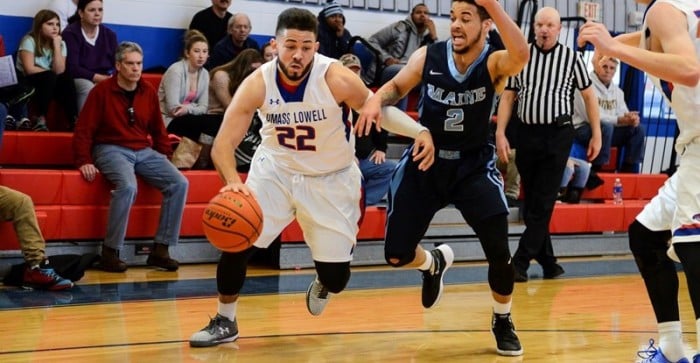 BANGOR, MAINE---"There's no better way to start the college basketball day, than in Maine, USA!"
In a matchup that was bound to affect America East seeding come conference tournament time, two of the highest scoring squads in the AE, the UMass Lowell River Hawks and the Maine Black Bears, took the court eyeing a victory this afternoon. And despite only one receiving a win officially, both were deserving because of the show they put on inside the Cross Insurance Center.
Nonetheless, as everyone knows, only the winner on the scoreboard matters and today it was UMass Lowell, who persevered and survived in route to a 108-95 pull-away overtime triumph.
Coming out with one goal in mind: scoring the basketball, UMass Lowell and Maine's score totals shot high into the teens just over five and a half minutes in (15-14 UML). Though, it would be the Black Bears--not the River Hawks--to land the first unmatched punch of the contest, for they rolled off 12 straight, six of which was supplied by Glover Till, to possess a 26-15 advantage prior to the second media timeout.
But, in a bout such as this one, no lead was safe.
UMass Lowell, spurred by back-to-back triples from Matt Harris, quickly and almost effortless rallied on a 17-4 flight that gave them a two-point edge just over three minutes after trailing by double-figures (32-30 UML). It was that kind of ball game!
Only, unlike their opponent, the River Hawks refused to give back what they earned as they started to "slowly but surely" build onto the gap with the trio of Harris, Logan Primerano, and Jahad Thomas. In fact, going into halftime, they would control an 11-point lead, which was the same number they originally trailed by twelve minutes earlier (54-43 UML).
Would the Black Bears bounce back? Or was it time for hibernation?
No sleeping today!
A totally different team than the one that finished the first twenty minutes, Maine roared with seven consecutive points to evaporate more than half of their deficit (15:35 remaining in the second half). Furthermore, they stole back the lead with eight straight upon being down seven (60-59 MAINE). The Black Bears were back!
For the remaining 12:01 of regulation, neither UMass Lowell or Maine would hold more than a four-point lead. Moreover, even with an edge of three, thanks to a Devine Eke layup with 42 seconds left, Maine could not put the game away, for the River Hawks' Harris nailed another trey to knot the contest at 87. We were heading to overtime!
In the extra segment, Harris continued to have his impact by swishing 6 of a career-high 33 in a 8-0 spurt. 95-87 UMass Lowell!
Just minutes later, the final dagger, a three-pointer, would be nailed by Josh Gantz since it upped the River Hawks advantage to a game-high 14 with only 1:56 remaining. The Black Bears were defeated.
Tickling the Twine from Downtown
Firing more than one/third of their attempts from beyond the arc entering today's contest, the UMass Lowell River Hawks are known for their three-point shooting. Nevertheless, making over 50% was not expected. The River Hawks, who held the average of 36.8% prior to, nailed 16-of-28 three-pointers on the day, seven of which came from Matt Harris. Also throwing threes on the board for UMass Lowell was Logan Primerano as 9 of his 27 came in the form of triples.
Although he did not add treys, big man and "stud sophomore" Jahad Thomas was fantastic down low in route to recording his second double-double of the season (20 points and 10 rebounds).
10-15 (6-6) UMass Lowell will look to post triple digits in back-to-back-to-back bouts Sunday when hosting UMBC.
Not Enough
As soon as one saw leading scorer Kevin Little in a walking boot, he or she knew the Black Bears could be in trouble.
Ultimately, they were.
Despite other contributors like Aaron Calixte (19 points), Issac Vann (18 points), and Till Gloger (18 points) stepping up for a total of 55 (they normally combine for about 33), Maine could not get any contribution in overtime to counter their opponent's extra period success.
8-17 (4-8) Maine will travel to Albany with the intent of sweeping the season series on Sunday.