Winless since January 10, the Wake Forest Demon Deacons entered their Sunday night home contest against the Boston College Eagles with little momentum to speak of, having dropped their last 11 contests including a heartbreaking double-overtime loss to the Pittsburgh Panthers last Tuesday.
However, witnessing the lowly Eagles (7-20, 0-14 ACC) entering a team's home environment can work wonders to a program's confidence, with Boston College exuding an aura of a group lacking the resolve to contend in a conference loaded with teams capable of reaching the pinnacle of the college basketball mountain this March.
And thus, before the blink of an eye, the Demon Deacons had emerged from hibernation, trouncing the Eagles, 37-4, with just over three minutes remaining in the first half.
Jim Christian's group struggled to muster any sense of competitiveness throughout the game's opening 20 minutes, falling behind 14-0 after a three-pointer by Wake Forest's Bryant Crawford with 13:50 remaining, a gap which ballooned to 29-2 after a trey from Mitchell Wilbekin with just over seven minutes left in the half.
After a made layup by Crawford with 3:32 to go, it was 37-4, and Christian could do little but gaze into the distance in disgust while his pupils lethargically trotted towards the bench after a timeout.
However, despite their harrowing 0-14 conference record and the fact that nine of their conference losses have come by 20 points or more, including a 82-62 home drubbing to a Florida State Seminoles team that looks to finish towards the bottom of the ACC, their is reason for optimism in Chestnut Hill.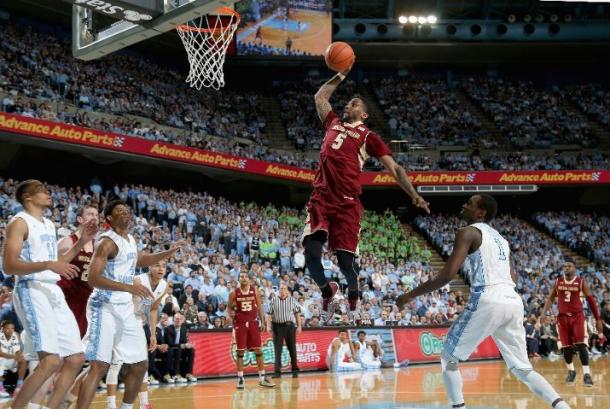 Consider this: Christian was without his top two freshmen in the Eagles porous trip to Winston-Salem, Jerome Robinson and A.J. Turner.
Robinson flourished in his 33.1 minutes per game this season before breaking his wrist in late January, averaging 11.6 points, 2.8 assists, and 1.4 steals while assuming a leadership role on the squad, an encouraging sight for Boston College fans.
The mere fact the the 6'5", 181-pound guard received the ability to showcase his talents and became the No. 2 scoring option to shot-happy senior guard Eli Carter in Christian's offense bodes well for the Eagles, as the Raleigh native should seamlessly transition into a heightened position of seniority after he recovers from his injury and adds some bulk to his frame when 2016-17 begins.
Meanwhile, Turner, despite his horrendous 34% shooting on the season, has garnered invaluable experience playing against the ACC's elite so far in 2015-16, averaging 5.6 points in 27.4 minutes per game.
What is more of a confidence-booster to the Boston College program as a whole concerning Turner is the fact that Christian was able to pry him from New Hampton School (N.H.) in the first place.
Turner, a Michigan native, was the Eagles first ESPN Top 150 recruit since Rakim Sanders in 2007, and his decision to attend Boston College cements Christian as a recruiter capable of acquiring talent from prestigious prep school leagues such as the NEPSAC, in which New Hampton plays.
Christian was left with little to work with from the regime of former head coach Steve Donahue when he assumed control over the program prior to the 2014-15 season besides the since-graduated Olivier Hanlan, and he is, slowly but surely, bringing this program back to a resemblance of its mid-2000s self.
Despite the current state of the team on the floor, in just a few short seasons, the Eagles could be a force to be reckoned with in the ACC.