The Miami Hurricanes welcomed the Louisville Cardinals into BankUnited Center on Saturday afternoon. The Canes were 22-5 and Louisville was 22-6 coming into the game - both were in striking distance of the ACC regular season title. As many know, Louisville doesn't have much to play for anymore because of the postseason ban. But this chance at a regular season ACC crown was their shot at glory. The Cardinals played fantastic in the first half. In the second half, Miami proved that they are still a force to be reckoned with. The Hurricanes pulled away late in the second half to give them a resume boosting victory and it officially put the Cardinals out of the ACC title hunt.
First Half
In the beginning, Miami couldn't miss a three, and most of their points came off open shots. Louisville was matching them for the most part. But if the Cardinals allowed this to carry on, it would not have been close in the end.
Chinanu Onuaku dominated the paint and even contributed five assists including a behind the head no look pass to Damion Lee for the layup. He was a dominant force in the paint that Tonye Jekiri could not contain. Onuaku also stayed true on the defensive end as he finished the half with only one foul. Quentin Snider carried the Cardinals offensively with 11 points, and Miami just could not keep Louisville out of the paint.
Louisville ended the half ahead 38-36.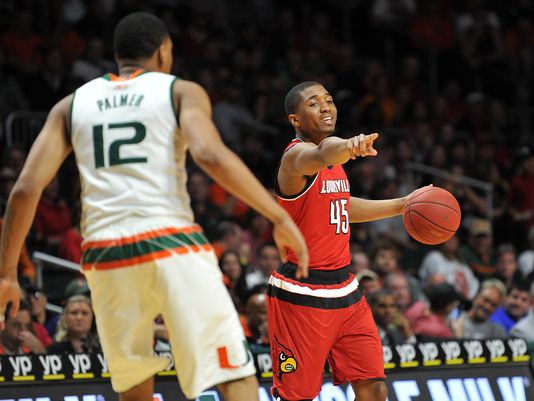 Second Half
Louisville was able to make the lead to eight, but Miami coach Jim Larranaga told Angel Rodriguez in the second half, "Listen, you need to show everybody in this arena how hard you're willing to play to win this game. and your teammates will follow." Rodriguez played flawlessly in the second half with 12 points and was able to really put pressure on the Louisville guards. He was able to contain Snider to only three second half points and Lee to only six total for the game.
Miami was able to hold Louisville to zero points for about five minutes. Onuaku was unable to get any clean paint touches which lead to four fouls in the second. Davon Reed contributed 17 points for Miami and Onuaku had 10 points, eight rebounds, and six assists. Miami came out on top, 73-65.
Miami fought hard to outscore Louisville by ten points in the second half. Rodriquez was sensational on both ends of the court. This was a disappointing loss for Louisville which drops them to 3rd place in the ACC. Miami proved themselves to be an ACC title contender even without their sixth man, Ja'Quan Newton, who is serving a three game suspension.