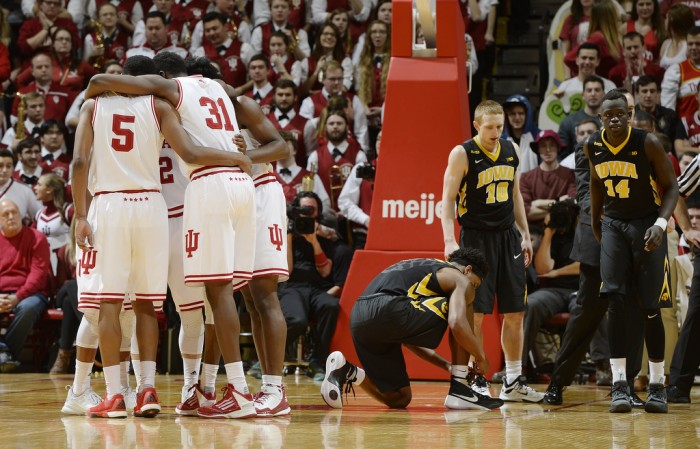 The Indiana Hoosiers have already locked up a share of the Big Ten regular season title, but can take it outright with a win on the road against the Iowa Hawkeyes.
The Hoosiers got the better of the Hawkeyes back in Bloomington in early February, and the with the Hawkeyes having lost four of their last five, they have extra incentive to get back in the win column.
Last Time Out
The Hoosiers had the weekend off, but on Thursday night got a win on the road in Champaign against Illinois by a final score of 74-47. Yogi Ferrell paced the Hoosiers with a tremendous 27-point performance behind a big second half to run away from the Fighting Illini.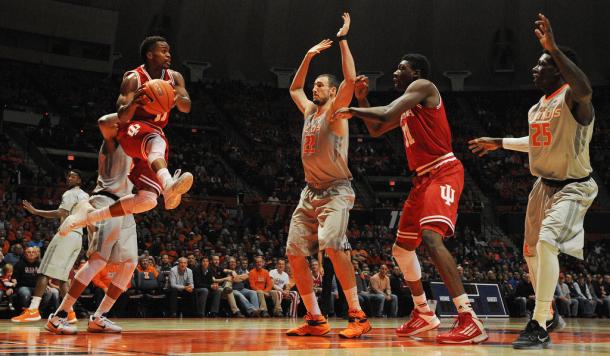 As for Iowa, they have a short turnaround heading into their game against Indiana as they dropped a game in Columbus on Sunday to Ohio State by a score of 68-64. It is Iowa's third loss in a row and they are looking for anything to go in their direction down the stretch heading into March.
When these teams met back on February 11, the Hoosiers controlled Iowa at Assembly Hall and ended up finishing off the Hawkeyes by a score of 85-78.
Scouting Report: Iowa
Iowa has lost four of their last five and are trying to get back on track to where they were back in January and early February. Something has just not gone right and coach Fran McCaffrey is looking for answers as the hopes of a Big Ten championship have most likely escaped them.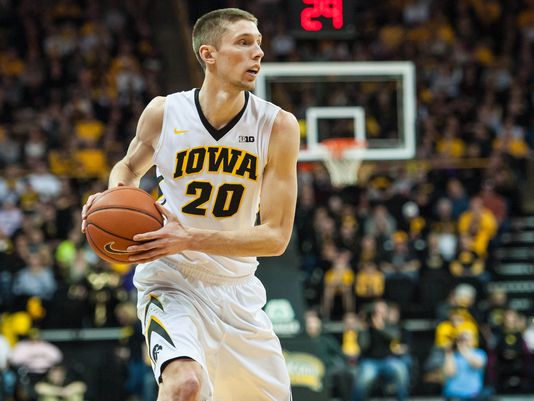 If the Hawkeyes are to get back on track however, it will have to be through the play of Jarrod Uthoff who is the catalyst for this team. He is averaging a team high 18.6 points per game, but in the last three games, has not been the same superstar that he was earlier this season. If the Hawkeyes are to knock off the Hoosiers and snap out of their funk, Uthoff will need to get things back on track.
Another player who has been getting done as late is Peter Jok who comes in averaging 16.5 points per game and has scored 20+ in three of the last four. In the most recent loss to Ohio State, Jok scored just 12 points. Jok is this team's best three-point shooter and they will need him on his game for this matchup.
The other two guards in the starting five are Mike Gesell and Anthony Clemmons. Gesell runs the point for this team while Clemmons is a good defensive player, but can surprise you with his scoring capabilities. Gesell comes in averaging 8.3 points per game along with 6.1 assists per game and plays his role as point guard very well. Clemmons comes in averaging 9.2 points per game and had 12 points in the last meeting with Indiana.
Closing out the starting five up front is Adam Woodbury who does almost all of his work below the free throw line averaging 8.3 rebounds per game and 8.2 points per game.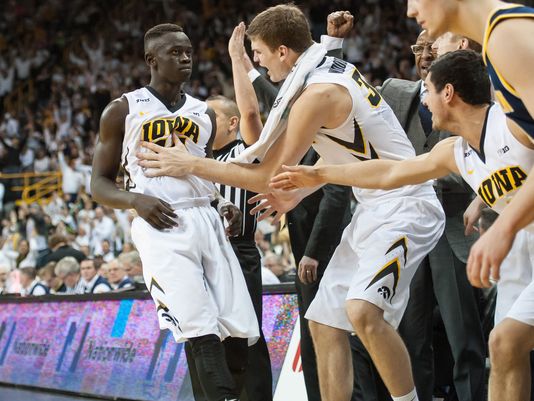 Iowa is in a clear funk right now and have not been playing their type of game that got them in the top of the rankings early on in the conference schedule. This is a team that likes to get up and down the floor and play good defense and in order to knock off Indiana, they will have to get back to their top form.
What The Hoosiers Need to Do
Indiana has already locked up at least share of the Big Ten title, but there is still a lot to play for and with a win, can win it outright. In order for the Hoosiers to win it outright, defense will be a big key Tuesday night.
If the Hoosiers can get back Robert Johnson from his ankle sprain, that will be a tremendous boost on both sides of the floor. Johnson is one of Indiana's best perimeter defenders and can provide a solid scoring option for the Hoosiers off the dribble or from behind the arc. If he doesn't return, it will be Nick Zeisloft who will most likely step into the starting five for the second straight game.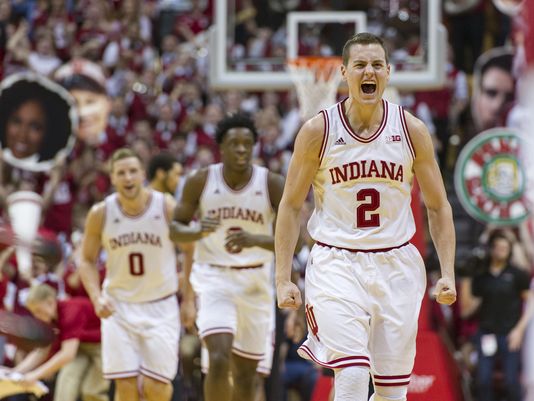 The starters will have their chances to shine, but the key to Indiana's win on February 11 in Bloomington over the Hawkeyes was the production from the bench. They outscored Iowa's bench 28-0 and if the Hoosiers are to come out of Iowa with a win, getting the bench involved early will be a factor.
Another factor in this game will be how Iowa responds to fatigue in this game. The Hawkeyes are coming off of a road loss that came just two days before and with Indiana wanting to get up and down the floor, fatigue could play a big factor. That will most likely mean the inclusion of the bench for Iowa that didn't score a single point in the last meeting.
What to Expect
With so much on the line in this game, expect this to be a fun one. It is March 1 which means the madness of March can get underway and with Iowa looking to end a three-game skid against an Indiana team looking to win the Big Ten outright, we have some great storylines heading into this one.
KenPom predicts the Hawkeyes to end their skid with a 79-75 win with a 34 percent chance of victory for Indiana. Many other places see the Hoosiers as underdogs as well. Indiana has taken that underdog role quite well this season, and look where they are now.
There is no doubt that Iowa wants revenge on Indiana along with wanting to end their losing streak. Indiana, on the other hand, has a share of the Big Ten title, but they want to win it outright. Something has to give on Tuesday night in Iowa City.
Prediction:
Indiana 78, Iowa 74
Game Info:
Tipoff is scheduled for 9:00 pm EST on ESPN (Mike Tirico, Dan Dakich, & Allison Williams) at Carver-Hawkeye Arena.