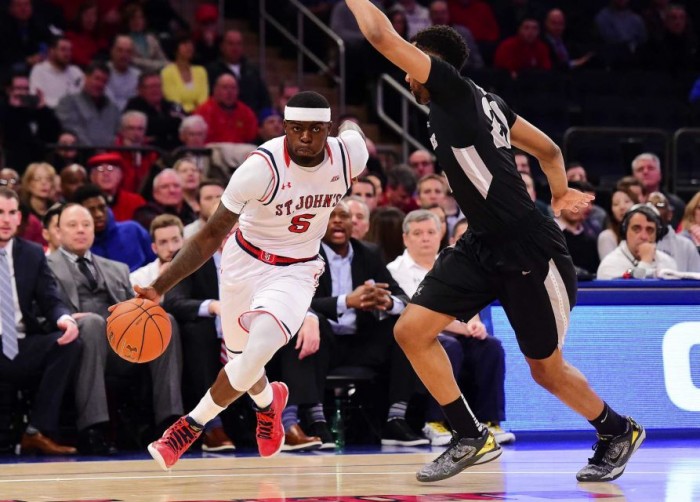 After a season that was filled with ups and downs, the Providence Friars (22-9 overall, 10-8 Big East) looked to end their Big East play on a positive note. Though many believed at one point the Friars could win the Big East tournament, the Friars struggled towards the end of the season and appeared to be a completely different team.
But wait. Don't count them out yet.
The Friars traveled to Madison Square Garden on Saturday for a Senior Day matchup with the St. John's Red Storm (8-23, 1-17). The Friars prevailed, coming out with a 90-76 victory. With the win, Providence finished the season and enters the tournament on a three game winning streak.
Lindsey Goes Off
Jalen Lindsey exploded for his best game by far as a Friar. Entering the game, his career high for points was back on December 12th against Bryant, scoring 15 points. However, Lindsey doubled that number, finishing with 30 points. Lindsey also finished with eight rebounds and six threes.
With Lindsey hot all night long, the shooting outburst turned out to be contagious. The Friars are not known to be a prolific long ball-shooting team as they are just averaging seven three-point field goals per game, but that all changed tonight. Providence connected with 13 three-point field goals, surpassing their previous season high of 12.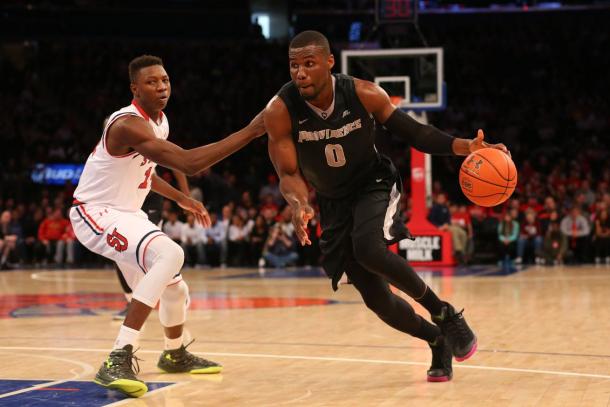 Ben Bentil accounted for four of those treys. The sophomore finished his incredible season on a high note, totaling 23 points and 10 rebounds. The double-double was the seventh of his Providence career. The rest of the shots from beyond the arc came from Junior Lomomba, Kyron Cartwright, and freshman Ryan Fazekas. Projected lottery pick Kris Dunn also finished his strong season well, finishing with 13 points and 11 assists.
Providence Dominated From The Start
Lindsey came out firing early and hit two of his six threes in the first two minutes. From there, Providence never looked back. After getting out to a 13-4 start, it was only the beginning for the first half blowout. Providence jumped to a 40-21 lead with still 3:23 left in the first half. 20 of Lindsey's 30 points came in the first half. Providence ended the half strong, heading into the break up 49-26.
Though St. John's played much better in the second half, it was not enough. However, things got interesting with 9:33 left in the half. St. John's brought out a full court press and forced a couple of big turnovers. The score was not out of reach until Kyron Cartwright and Kris Dunn converted on a sensational alley-oop to finish an 11-2 Friar run.
Providence never looked back and cruised their way to victory, despite being outscored 50-41 in the second half. The Friars dominated in the transition and ball movement throughout the game. Another factor was St. John's poor free throw outing, finishing 8-17.
What's Next For Both Teams?
Providence will be one of the most unpredictable teams this month. After starting 14-1, Providence climbed all the way up on the rankings to as high as No. 8. However, Providence has had a rough time facing Big East opponents the second time around. Providence went on a skid losing six of eight, which resulted in them dropping out of the rankings. Nonetheless, the Friars can legitimately come out on top in the Big East. Providence will likely be the No. 4 seed in the Big East Tournament, likely being matched up with Creighton, whom they've beaten twice this season. Providence has an incredible road win against Villanova under their belts, which could make this a sleeper team this month. Ed Cooley and his boys will have to get as hot as they were at the beginning of the season if they want to win their first NCAA Tournament game since 1997. On a positive note, Providence is 18-5 against teams they have faced for the first time, which could benefit them come the NCAA Tournament. Their Big East Tournament game will be on Thursday.
For St. John's, this ends a dismal season for the Red Storm. After just one conference win, St. Johns will be the tenth and worst seed at the Big East Tournament. They will face Marquette on Wednesday, whom they have lost to twice this season. St. John's will need a miracle if they are planning on making any noise in March.