 The 2016 Big East Conference Tournament began Wednesday night at Madison Square Garden in New York City. Before the quarterfinals on Thursday, two play in games were played.
No. 8 Georgetown and No. 9 DePaul battled in the first game at 7:00, while No. 7 Marquette faced off with No. 10 St. John's at 9:30. It was a great first night of basketball, and Thursday seems like it will be a fantastic day.
Georgetown Dominates DePaul
In the first game, Georgetown dominated from the tip. Georgetown used its strong first half to defeat the Blue Demons 70-53. D'Vauntes Smith-Rivera led the Hoyas with 20 points, three rebounds, and three assists. Bradley Hayes also pitched in with 10 points and seven rebounds.
Georgetown did not trail the entire game. The Hoyas dominated defensively, as DePaul struggled all night. The Blue Demons shot just 37.9% from the field. However, DePaul missed a lot of opportunities.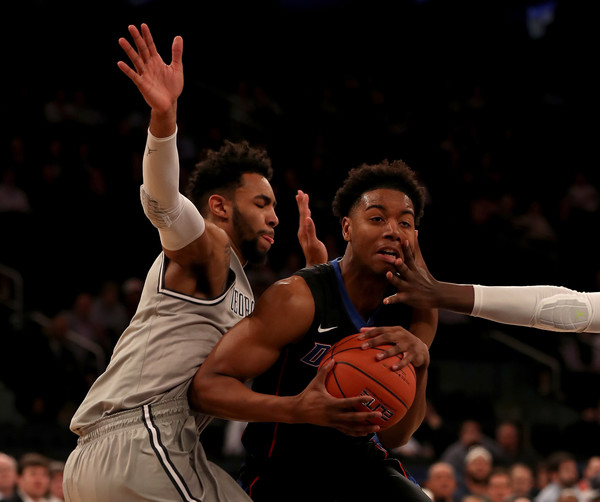 DePaul shot 6-17 from the free throw line, good for 35.3%. Playing the biggest game of their season, that is simply unacceptable. Also, DePaul had a tough time moving the ball all night. The team combined for just six assists, while they also turned the ball over 17 times. It was simply a tough night for DePaul, with their season has now come to an official end.
Although the numbers look dismal for DePaul, Georgetown's stellar defense should not be overlooked. Georgetown won all the hustle points, and took over the game. Georgetown out rebounded DePaul 39-36, as well as recording seven steals and four blocks, to DePaul's two steals and one block.
Though Georgetown came out with a huge defensive win, they will need all the magic they can against the top seeded Villanova Wildcats. The Wildcats look deadly, and will look to spread out the scoring as much as possible. With last night's win, Georgetown ended a six game losing streak, as well as dropping nine of their last ten games. There is no doubt Villanova will be the clear favorite, and Georgetown will need a miracle to knock off the Wildcats.
Behind Henry Ellenson, Marquette Overcomes St. John's
In the second game, there was a bit of surprise that the Red Storm kept the game so close. After dominating the beginning of the game, St. John's fought hard at the end, but it was not enough. Marquette defeated St. John's in a very high scoring game, 101-93. Projected first round pick Henry Ellenson was terrific for the Golden Eagles, dropping 27 points and grabbing 14 rebounds. JaJuan Johnson had a big contribution off the bench, scoring 23 of those points. Despite the loss, Christian Jones scored a career high 29 points for the Red Storm.
Facing a St. John's team who had just one conference win this season, Marquette may have been overlooking them, and that was visible from the start. Through the first five minutes, St. John's seemed to control the tempo, and enjoyed a 11-9 lead four minutes in. However, that would be their last lead of the night. The Golden Eagles quickly answered with a 9-0 run, and seemed to be in control for the rest of the night.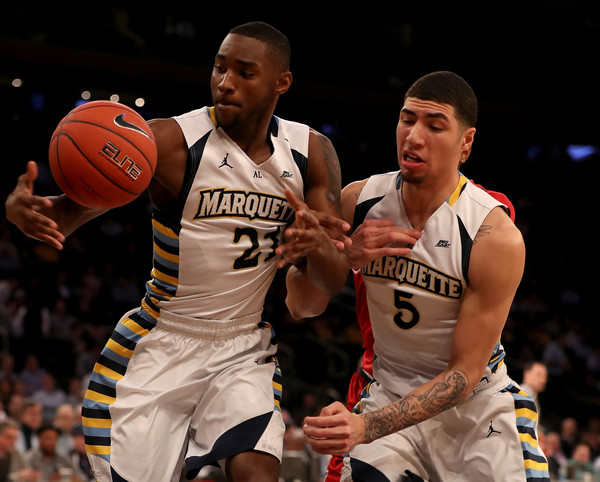 However, St. John's stayed in their all night, though many believed Marquette would dominate from start to finish. St. John's brought the score within three with 5:03 remaining, but that was the closest it would be. Though Ellenson had a terrific game, he agreed that it was not as easy as it should have been.
"It was a long game," said Ellenson, who looks poised to lead Marquette as far as he possibly could.
Marquette will have to face a tough challenge against the second seeded Xavier Musketeers on Thursday night. Marquette has a couple of good wins, including two against Providence, Wisconsin, and LSU. Henry Ellenson appears to be a man on a mission, and his team will need that if they want any chance against the mighty Musketeers.