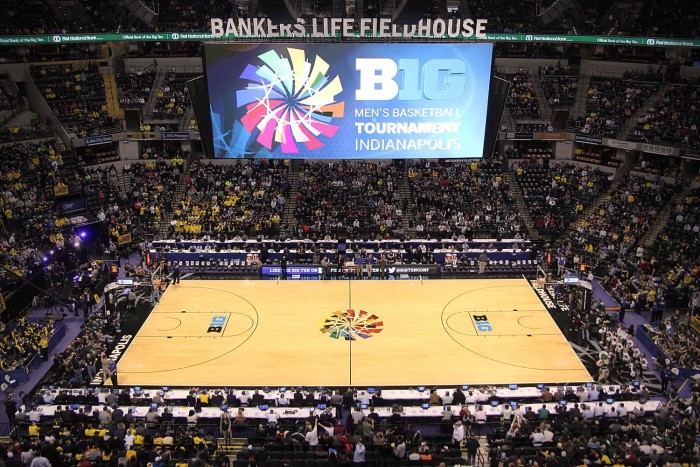 The Big Ten Tournament was in full swing Thursday afternoon and night at BankersLife Fieldhouse in Indianapolis with four second round matchups taking place as teams were vying for a quarterfinal berth against the top four teams in the conference.
It started out with a thrilling overtime game in the first game of the day, continued with a big upset, and the great brand of basketball that the Big Ten has to offer was on full display.
Michigan Holds Off Northwestern In OT
The Michigan Wolverines controlled this game early on, but the Northwestern Wildcats just would not go away as they erased a double digit first half deficit. The Wolverines controlled the entire first half and even had a nine point lead heading into halftime at 34-25.
Muhammad-Ali Abdur-Rahkman was a big catalyst early on for the Wolverines scoring eight first half points to go along with Duncan Robinson who finished with a co-game-high 21 points.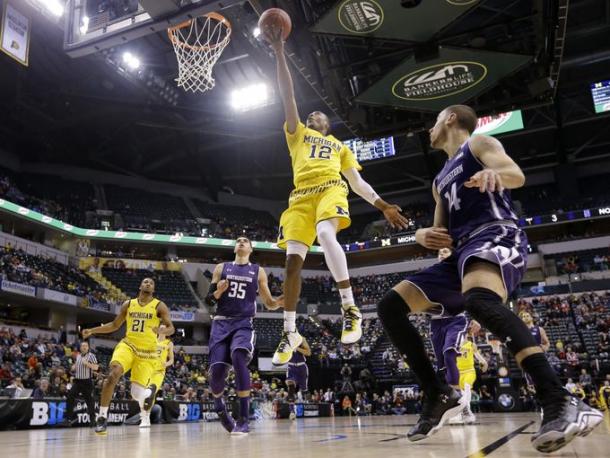 Once the second half got going, Michigan got their lead out to 12 right away, but that's when Northwestern started their comeback. Slowly but surely the lead was cut down until a Bryant McIntosh three with 3:29 gave the Wildcats the lead at 55-54. That's right when Alex Olah got it going as he scored the last five points of regulation to force overtime including a fall away shot to force overtime with 0.1 seconds left on the clock.
In overtime, it was the Duncan Robinson show as he hit two big threes to set up Zak Irvin for the game winner. With three seconds left, Irvin came off of curl and nailed a jumper to give Michigan the lead. Northwestern had a chance with 0.6 seconds left after a Michigan turnover, but it fell short and Michigan was able to secure the win.
After the 72-70 win, Michigan moves on to face top seeded Indiana in the quarterfinals.
Illinois Visits Upset City As They Beat Iowa
The Illinois Fighting Illini were coming off of a blowout victory over Minnesota on Wednesday, and they carried that momentum into the second round as they beat the Iowa Hawkeyes. Illinois led nearly wire to wire and never fell behind by more than three points throughout.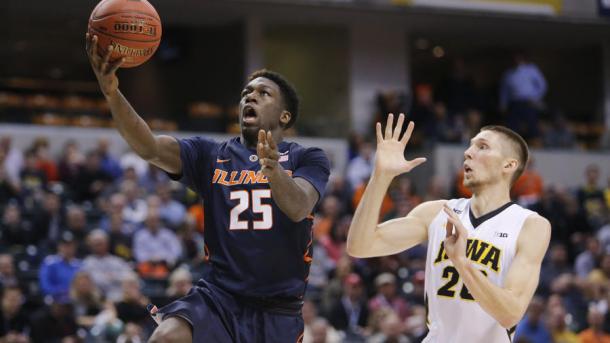 Malcolm Hill is usually the guy who gets things going for the Fighting Illini, but on this day was held to just six points. It was Jalen Coleman-Lands, Kendrick Nunn, and Maverick Morgan who combined for 47 points and were playing at the top of their games.
Iowa tried to make it interesting down the stretch and did so behind an 11-0 to tie things up at 66-66 with 1:40 left. The Hawkeyes ran into some foul issues down the stretch as Peter Jok fouled out with 4:02 left after a double technical foul. Jok was one of Iowa's best players Thursday as he chipped in 29 points. Jarrod Uthoff also had 21 points for Iowa.
Malcolm HIll didn't score much, but he scored when it counted as he hit a jumper with six seconds left to give Illinois the win. Iowa did have a chance at the end, but it was all for not as Illinois won 68-66.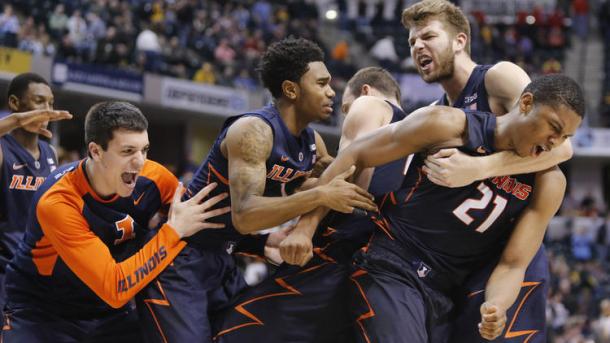 Twelfth seeded Illinois will now play their third game game in three days Friday when they matchup with Purdue who they did beat once this season.
Penn State Can't Overcome Ohio State
It was the Penn State Nittany Lions' first half and the Ohio State Buckeyes' second half, but they say that it matters how you finish, not necessarily how you start, and that theory worked itself out in this one.
Penn State had control of the first half and led by as much as nine points and were as successful as they were because of their ability to shoot the ball from behind the arc. Brandon Taylor is usually the catalyst for this Penn State team, but it was Donovon Jack with 18 points and Shep Garner, the high scorer, with 25 points who paced them to their big first half.
The Nittany Lions led at halftime by three, and that was right when Ohio State got going on their big second half. The Buckeyes started the second half on a 14-0 run to climb out to an eight point lead and they never gave that up.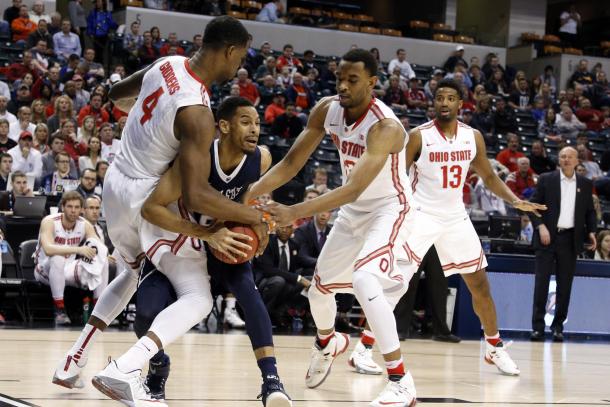 Penn State did cut the deficit to one on two occasions, but the Buckeyes had the answer each time. Every time Ohio State did answer, it was usually in the form of either JaQuan Lyle or Marc Loving who paced the Buckeyes 22 points and 24 points respectively.The Buckeyes made their free throws down the stretch to close out a 79-75 win.
The Buckeyes advance to face Michigan State in the quarterfinals while Penn State's season comes to an end.
Nebraska Outworks Wisconsin
The Wisconsin Badgers came in having won 11 of their last 13 games, but in the night cap in the second round of the Big Ten Tournament, they ran into the Nebraska Cornhuskers who were up to the task.
These are two hardworking teams who pride themselves on defense, and defense is what we got. After the first few minutes when it went back and forth, Nebraska really had control of this game throughout. Wisconsin was sluggish on offense and couldn't get enough stops in this one.
This game was close throughout as both sides traded haymakers, but Wisconsin could not string together enough stops in this one. Shavon Shields has been the leader for Nebraska all season and he answered the bell in this one with a 20 point outing. Glynn Watson Jr. also played a gritty game scoring 16 points.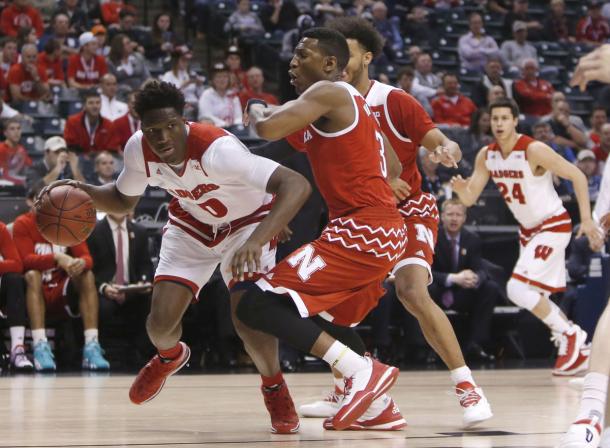 As for Wisconsin, they had come in playing some good basketball, but were just out played by the Cornhuskers on this night. Nigel Hayes scored just 10 points after having played well down the stretch of the season as the Badgers couldn't overcome the Cornhuskers and were upset by a score of 70-58.
Nebraska moves on to face Maryland in the quarterfinals while Wisconsin will wait and see where they will be seeded on Sunday.
Quarterfinal matchups:
(8) Michigan vs. (1) Indiana, 12:00 pm EST, ESPN
(12) Illinois vs. (4) Purdue, approx. 2:30 pm EST, ESPN
(7) Ohio State vs. (2) Michigan State, 6:30 pm EST, BTN
(11) Nebraska vs. (3) Maryland, approx. 8:55 pm EST, BTN