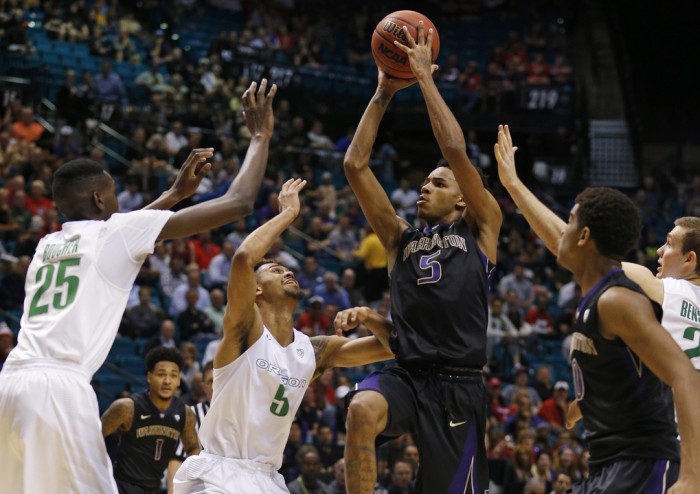 The Washington Huskies came in with slim NCAA Tournament chances, but had a chance to get back on the bubble if they could take down the top-seeded Oregon Ducks.
Washington was coming off of a demolition of Stanford in the first round on Wednesday, but they would need one of their best efforts of the season if they had plans on advancing past Oregon into the semifinals.
Huskies Come Out Hot
Washington shot the ball very well from the floor Wednesday against Stanford, and they carried that into this matchup against Oregon. They took control of this game right out of the gate and that was because of their shooting.
They commanded the game for nearly the entire first half including opening up a 12-point lead at 31-19 following a Marquese Chriss jumper with 6:26 to play in the first half. Up until then it had been all Washington, but Oregon was knocking on the door and began their comeback following this play.
Oregon Begin to Take Control
Washington's lead didn't last much longer following the Chriss jumper which seemed to wake the Ducks up. In the next 4:05, Oregon ripped off a 13-0 run to take control and take their first lead since it was 2-0.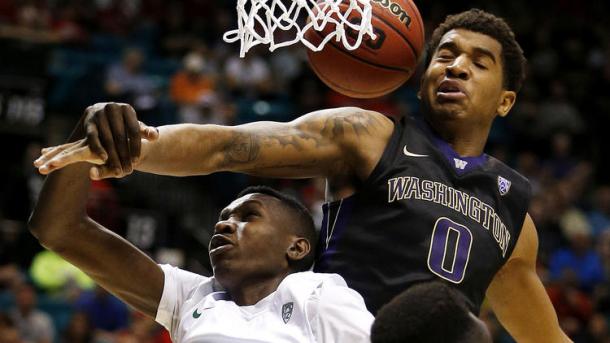 The two teams went back and forth down the stretch of the first half and Oregon took a 39-38 lead into halftime. In a half that Washington dominated for the majority, the Ducks still had the lead and Washington was going to be up against it in the second half.
Ducks Start to Fly Away
The Ducks came out of the half and asserted their dominance on the Huskies behind the play of Elgin Cook who finished with a game-high 19 points. The Ducks did a nice job of sharing the ball as they had four players in double figures including Chris Boucher who also had 19 points.
Oregon's lead was hanging around the eight to eleven-point range, and it just seemed like Washington was going to have a hard time climbing back in. The Huskies were in major foul trouble for the entire game and that limited how aggressive they could be especially in the paint where they were outrebounded 46-33.
Following a Cook three-point play that gave the Ducks a 71-62 lead with 6:28 to play, Washington got things back on track.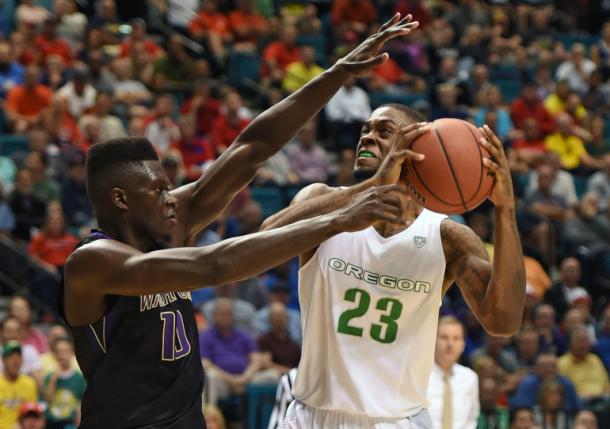 Washington's Last Gasp
Andrew Andrews has been Washington's best player all season long, and with the Huskies down late, the senior had to do something. He ripped off a 7-0 run all by himself and got the Huskies back in the game.
They got it down to two points with four minutes left, but Oregon was standing strong. Washington tried to hang around and did trail by just two points with 33 seconds left, but some missed shots and ugly possessions for the Huskies made it tough. Oregon did their part by making free throws and they were able to salt it away.
Players of Note
Washington had five players in double figures led by Chriss and Andrews with 19 while Malik Dime and Dejounte Murray chipped in with 13 and David Crisp with 11.
Oregon had four players in double figures led by Cook and Boucher with 19 while Tyler Dorsey had 17 and Dillon Brooks had 15.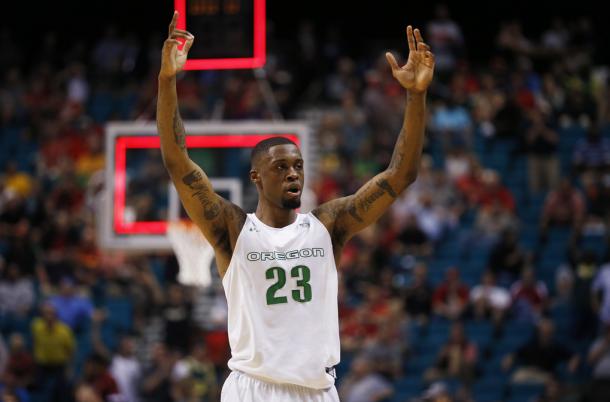 What's Next?
Oregon moves on in the Pac 12 Tournament as they will play the winner of Arizona/Colorado while Washington is eliminated and will hope for an NIT berth.