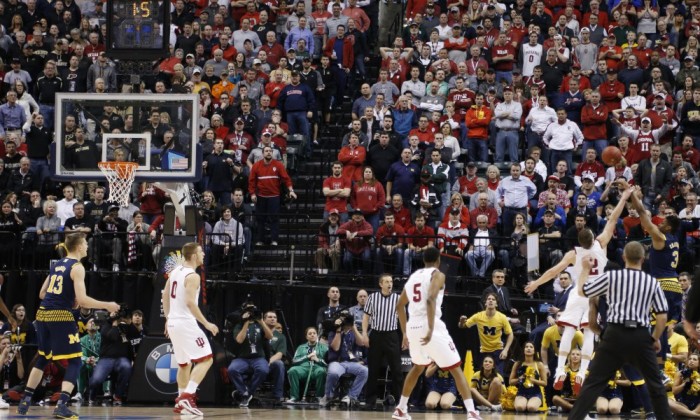 The Indiana Hoosiers have been riding high as of late, winning a Big Ten regular season title, but came back down to earth Friday afternoon as the Michigan Wolverines outlasted the Hoosiers in the Big Ten Tournament quarterfinals.
The Big Ten Tournament has never been kind to the Hoosiers as they came in with an overall record of 11-17, and that trend continued as Michigan was the fiercer team as they were fighting for their NCAA Tournament lives.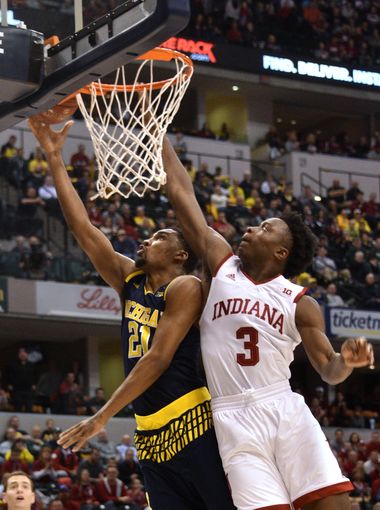 Close Game Throughout
This was a game played within an 11-point margin as Indiana's biggest lead was five points early in the second half, while Michigan's was just six when they got an early lead in the first half. Neither team could gain a sense of control in this game as Indiana came in as the favorite, while Michigan needed this win if they wanted a bid come Sunday.
The Wolverines controlled most of the first half as they jumped out to an 8-2 lead and looked to be comfortable coming off of an overtime-game just 24 hours prior. They were spreading the ball around and it felt like it took Indiana a couple of minutes to wake up and get going. That was before they went on a 9-2 run themselves. Just like that, we had a tight ballgame as we would see throughout.
Indiana did finish the first half by way of a three-point play from Nick Zeisloft and took a lead into halftime at 37-36.
Back And Forth
Indiana has been playing some great basketball down the stretch, which was good enough to get them the regular season Big Ten title. But Friday, the Hoosiers just didn't seem to have that same sense of urgency from the opening tip that they have had in the past few weeks. However, right from the start of the second half, it looked like Indiana was ready to take control.
Runs were very rare in this game, but Indiana did start the second half on a 12-6 run which gave them a sense of control. Max Bielfeldt's three at the 15:49 mark gave the Hoosiers their biggest lead of the game at five. Just like it had been going all day, Michigan answered with a 9-0 run.
After they took a six-point lead, there seemed to be a lid on the basket for Indiana as they went exactly five minutes without a basket. Meanwhile for Michigan, Zak Irvin, Mark Donnal, Muhammad-Ali Abdur-Rakhman, and Moritz Wagner all contributed to their run and they had the lead back at 53-49. Irvin ended up finishing with a game-high 17 points while Abdur-Rakhman had 15 before fouling out.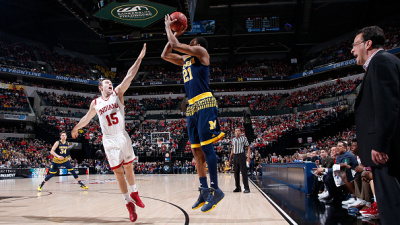 For about the next four minutes, it was Michigan in control. Yet once again, the momentum shifted back Indiana's way. A 7-0 Indiana run from the 4:39 mark to the 2:36 mark of the second half gave Indiana a five-point lead and it finally looked like the top-seeded Hoosiers were pulling away. But, this is March and games are seemingly never over.
Wolverines Come Up Clutch
After the Hoosiers' 7-0 run, the Wolverines took control in this back and forth affair and played some of the best basketball they had played all day long.
Duncan Robinson really came alive down the stretch as he scored six of his 12 points in the final 1:50 of regulation. The two biggest plays he made came by way of a three-point play at the 1:50 mark and another big three pointer to tie the game up at 69 with 46 seconds left.
Ultimately, the Wolverines came up clutch and the Hoosiers did not. Their last basket came at the 1:01 mark on a Yogi Ferrell free throw and their last field goal came at the 1:35 mark. The lack of execution down the stretch was not that of a Big Ten champion.
Michigan did have the ball for a last possession after Indiana could not convert on the other end, and the Wolverines made the Hoosiers pay. It seemed like a broken play and a fine defensive possession from Indiana, but sometimes better offense beats good defense and that's exactly what happened. Derek Walton Jr., who had a Big Ten tournament record 12 assists, dished to Kam Chatman who rose up from behind the arc in the corner and came up with the clutch shot with 0.2 seconds left on the clock to give Michigan a 72-69 win.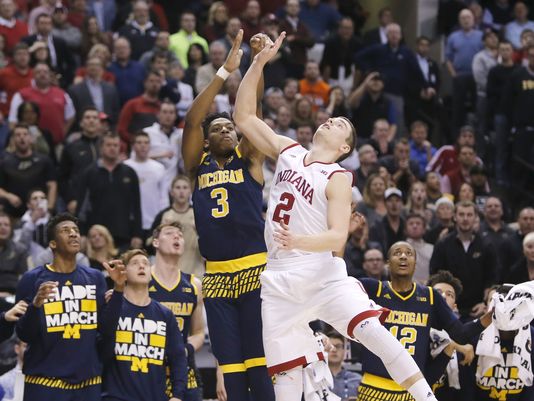 A Dagger In Indiana's Heart
The Hoosiers seemed to turn their season around at Bankers Life Fieldhouse when they dramatically beat Notre Dame back in December, but Friday afternoon was a stark reminder that this arena is not usually one that is kind to them.
They seemed to revert back to their old habits with lots of turnovers and some sloppy play. The cohesiveness that had been there lately just didn't seem to be there for Indiana on this day. They did have four players in double figures - including a career high 13 from OG Anunoby - but the spark that had been there down the stretch was absent.
It seemed that it was only four guys for Indiana that could really get it done and it was do or die from there. Thomas Bryant had a solid game with 13 points along with Troy Williams (16) and Yogi Ferrell (14). Aside from there, there was no creativity.
Two stats stick out and that is the 15 turnovers and the 24 percent shooting from behind the arc. Indiana has cut down on turnovers lately and has been hitting their three pointers, but Friday it just wasn't there.
Up Next
Indiana now will head back to Bloomington to see where they will be headed for next week's NCAA Tournament while Michigan moves on to the semifinals to face Purdue or Illinois.