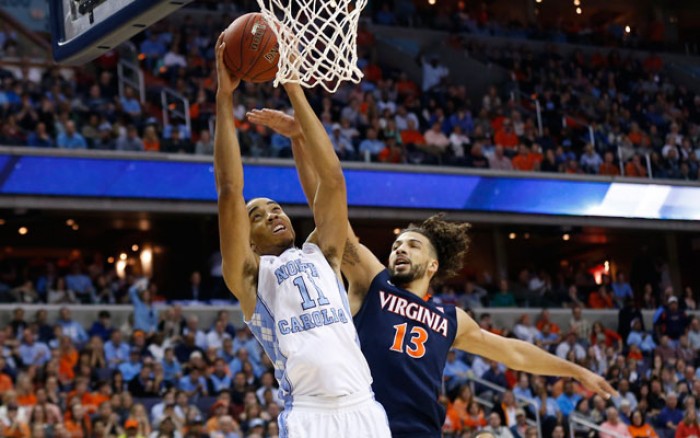 The North Carolina Tar Heels hadn't won an ACC Tournament championship since 2008, but that all changed Saturday night, as the Tar Heels outlasted the Virginia Cavaliers in Washington DC.
The Tar Heels won the regular season title and completed the double by winning the tournament as well. When the lights were brightest Saturday night, Marcus Paige was at his best against one of the best defensive teams in the country in Virginia.
Battle Of ACC Heavyweights
Both of these teams are in contention for a number one seed come Selection Sunday, and this game sure looked like it was between two of the top four teams in the country. The physicality and the toughness shown by both sides from the opening tip was truly remarkable to watch.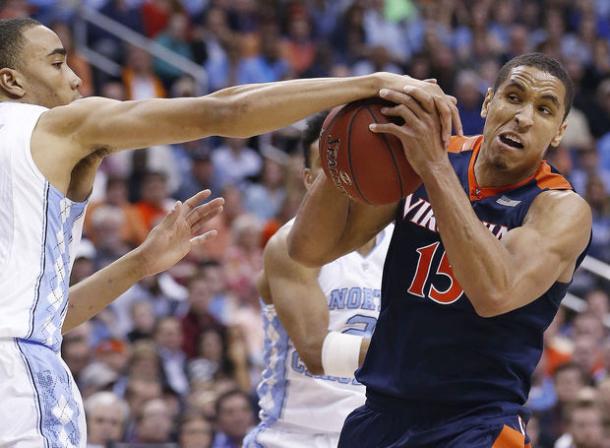 It was a game in which no one really took complete control as offense was tough to come by at certain points throughout the night. It was a physical game, but there weren't too many fouls to go around either; to start the game, the under-16 timeout didn't come until the 12:03 mark.
Both of these teams have some significant star power on each side, but it was North Carolina's duo Marcus Paige and Brice Johnson that seemed to outshine Virginia's stars Malcolm Brogdon and Anthony Gill.
Back And Forth We Go
This was a game played within a 13-point margin and it was a close game throughout, until North Carolina built up their biggest lead of nine points with 1:45 to play in the game. Neither team gained a whole lot of momentum in this game, as each side had an answer whenever the opponent needed something to happen.
Virginia did outrebound North Carolina by eight, grabbing 11 more offensive boards for a total of 16, but it was their inability to turn those offensive rebounds into points that hurt them. The Cavaliers only had eight second-chance points, and that was an area in which they could have capitalized much further, yet they were unable to do so. Credit North Carolina for hanging in there despite with the rebound discrepancy.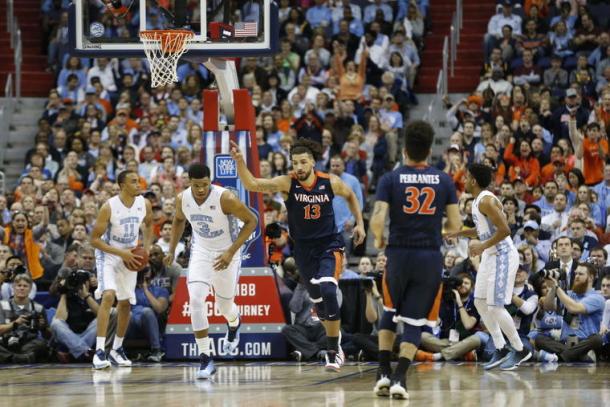 By halftime, it was tied at 28 and at that point, the game was still there for the taking. But North Carolina was crowned the number one seed and regular season champion for a reason.
Who Wants It More?
With the game tied at halftime, it could have gone either way, but it was Virginia that came out of the break ready to go, as they took a certain sense of control by holding a lead for the first portion of the half. Malcolm Brogdon and London Perrantes were trying to get going all night, yet just couldn't sustain much.
Brogdon had a great matchup against Marcus Paige and both guys were going at each other all night. Neither Brogdon nor Paige really got it going, however, as Paige was 5-for-13 with 13 points while Brogdon went 6-for-22 with 15 points.
When it came down to it, it was Paige who rose above Brogdon down the stretch and hit some big buckets for North Carolina.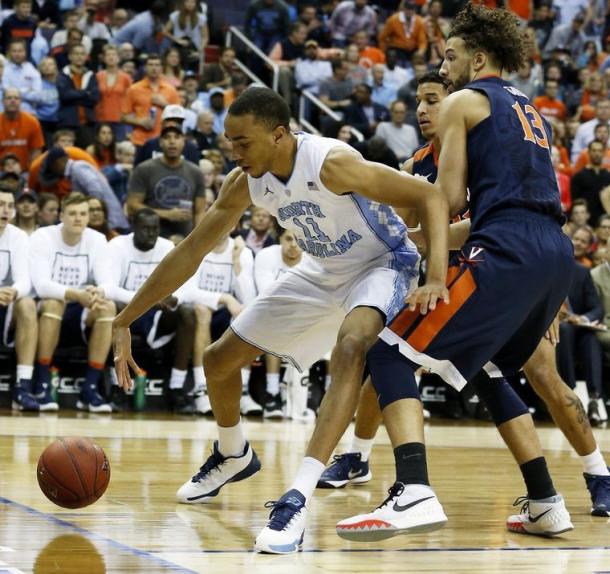 Joel Berry II was someone who wanted to get it done for the Tar Heels and played a big part in doing so. He finished the ballgame with 19 points and was efficient as well, shooting 5-for-8 from the field as well 3-for-3 from behind the arc. Berry played a big part down the stretch and gave North Carolina the lead for good with 7:15 to play.
Tar Heels Close Things Down
Down the stretch in this one, the Wahoos just couldn't buy a bucket, going nearly eight minutes without a field goal. Against a team like North Carolina that knows how to close out close games, scoring seems like a necessity (oddly enough), and Virginia just couldn't do it. UVA was 100 percent on its free throws on the night, but shot just three free throws all night long.
The bucket that most likely sealed it came with 30 seconds left, when Isaiah Hicks hit a jumper to give the Tar Heels a five-point lead. From there, it was just too big of hill to climb for Virginia. North Carolina played better down the stretch and ultimately, that was the decider in this tight ACC Championship.
North Carolina had the perfect gameplan against the Cavaliers and will head into the NCAA Tournament as undisputed ACC Champions who will most likely be granted a top seed for March Madness's main spectacle.