 In the first College Football game of 2017, the Wisconsin Badgers put in a strong performance on both sides of the ball to claim the Cotton Bowl thanks to a 24-16 over the Western Michigan Broncos.
The game at AT&T Stadium in Dallas saw the Badgers build 14-point leads on two occasions, and despite a fightback from Western Michigan they held on to ice the game as the clock ran out in the fourth quarter.
Wisconsin tight-end Troy Fumagalli took home the MVP for the game thanks to 83-yards receiving, which included a stunning touchdown catch late in the game from Alex Hornibrook.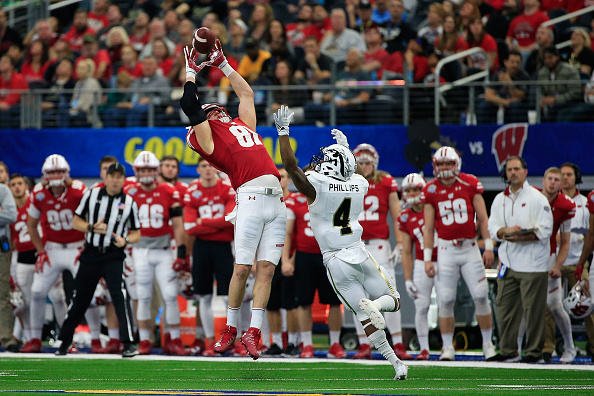 Badgers run all over Broncos early to build two touchdown lead
Straight from the opening play of the game, Wisconsin made it clear how they intended to attack the Broncos defence. Behind his big offensive line, running back Corey Clement was running downhill with purpose and capped an 11-play 75 yard opening possession with a two-yard run into the endzone.
The MAC Champions struggled on offense early, and following a failed drive, Wisconsin took over for their second drive and marched down the field once more to push their lead out to 14 with Dare Ogunbowale claiming the one-yard score.
By the time the game was over, Wisconsin had 184 yards on the ground, with Clement leading all rushers with 71 yards, many of which came in a dominant first quarter.
MVP Fumagalli shows off huge catch radius to lead Badgers to victory
From 14 points down, P.J Fleck's 13-0 Broncos started to show signs of life in the second quarter and they finally got themselves on the board with quarterback Zach Terrell sidestepping his way into the endzone on the back of a lengthy 16-play drive.
The teams then traded field goals as defenses took over, with the standout player in the game Troy Fumagalli splashing on a couple of third down plays to move the sticks for the Badgers.
Fumagalli then made the most important play of the game early in the final quarter, hauling in a Hornibrook pass at the back of the endzone as Paul Chryst's team rebuilt their 14 point lead.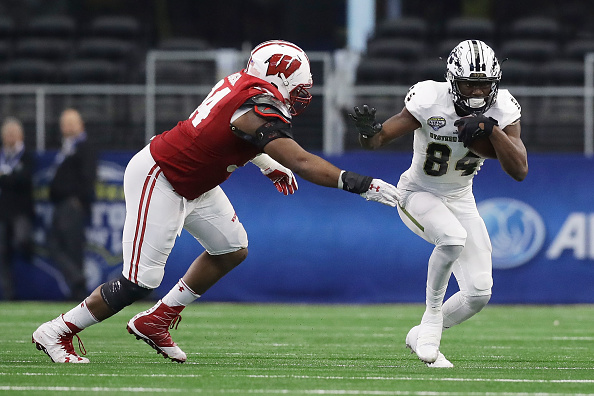 There was still time for Western Michigan wideout Corey Davis to prove why he is being highly touted ahead of this year's NFL Draft. With three minutes left on the clock, the all-time FBS receiving yards leader fought off the Badgers double coverage to catch an 11-yard touchdown pass from Terrell, but after a missed PAT and onside kick attempt their race was run.
Fumagalli had one more MVP worthy play, moving the sticks with two minutes remaining as the Badgers moved to a 11-3 record on the season and restored some pride for the Big Ten conference following a tough Bowl season.