 In a game which will be remembered for years to come, the USC Trojans led a fourth quarter comeback to defeat the Penn State Nittany Lions 52-49 in the highest scoring Rose Bowl of all time.
With nearly 100,000 fans in attendance, they were treated to a dandy between two of the hottest teams in college football, who between them had a 17-0 record from October onwards, both ending the season in the top ten ranked sides in the country.
The 103rd running of the Rose Bowl showcased two young quarterbacks who had played major roles in their team's resurgence this season, with USC's Sam Darnold's five touchdown, 453 yard effort just outshing Penn State's Trace McSorley who threw for four scores in one of the most explosive offensive performances of all time. Despite being on the losing side, Penn State running back Saquon Barkley also showed up big time, amassing 249 all-purpose yards, yet it was the Trojans 13-0 first quarter, and 17-0 fourth quarter efforts which proved crucial in leading the Pac-12 team to a stunning victory.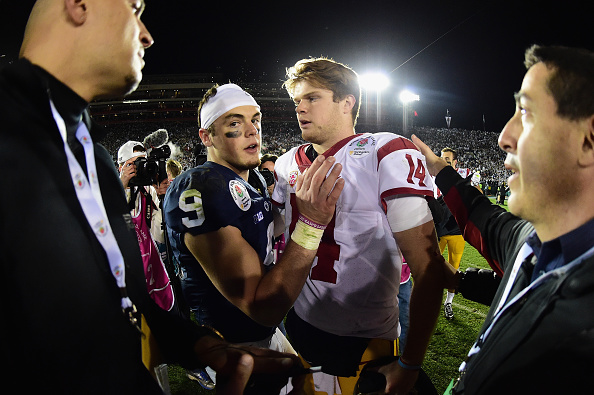 Shootout commences after USC dominate opening quarter
Having decided to receive the opening kick, Penn State had a disastrous start to the game, turning the ball over on their first two passing plays and soon finding themselves down 13-0 following a Deontay Burnett touchdown, plus a pair of Max Boermeester field goals.
Their offense came to life in the second quarter however, and after their first sustained drive of the game, Barkley sped through a hole in the Trojan defense to put Penn State on the board.
That Barkley score shot the game into life, and the ensuing four drives all ended with touchdowns being scored as USC took a 27-21 lead to the half. Both of USC's second quarter scores came from passes by Darnold to take his total for the half to three, while McSorley overcame his poor start with a pair of stunning touchdown passes which were reeled in by Nittany Lion receivers Mike Gesicki and Chris Godwin.
Penn State offense scores on consecutive plays to flip game on its head
USC had been the dominant force for much of the opening half, and were potentially worth more than a six point lead at the half. However that meant nothing to a Penn State team who have been well averse to pulling off second half comebacks this season.
After their defense forced a three-and-out, the first play from scrimmage in the second half for their offense saw Barkley break six tackles on his way to a 79-yard touchdown run to hand Penn State their first lead of the night.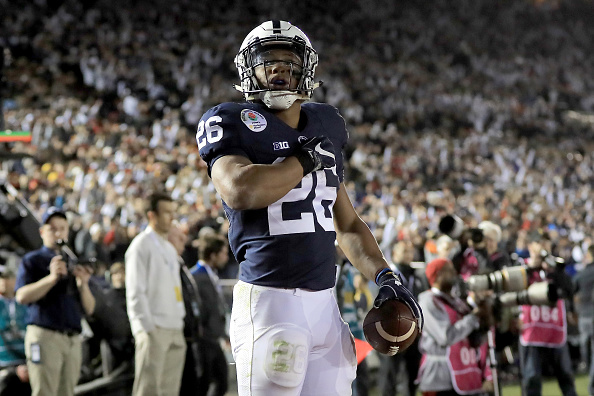 Another stop by their defense was followed instantly by a 72-yard touchdown pass from McSorley to Godwin, and then Brandon Bell's interception set them up in the redzone, allowing McSorley to rush for a touchdown meaning Penn State had scored on all three of their offensive plays to begin the half in an astonishing show of big play ability.
Darnold breaks Rose Bowl record in leading USC to stunning victory
Having been stunned by Penn State's quick-fire trio of scores, USC needed to find a way to stem the tide and they once again looked toward freshman quarterback Darnold to do so.
The youngster spearheaded a ten-play 65 yard touchdown drive which was capped with him throwing a dime to Juju Smith-Schuster in the endzone as they reduced the deficit to one score.
The third quarter was far from over however, and Penn State marched straight back down the field to score their fourth touchdown of the quarter thanks to the trusted combination of McSorley and Barkley who linked up for a seven yard score.
If the third quarter belonged to Penn State, then the fourth definitely belonged to their opponents.
After Ronald Jones had cut the deficit to seven midway through the final quarter with his first touchdown of the night, the Penn State offense began to splutter somewhat which gave their opponents a potential game-tying drive with two minutes left on the clock.
Two huge pass interference penalties helped USC out, but it was Darnold who stole the show, hitting Burnett in the back of the endzone for a Rose Bowl record fifth touchdown pass, taking his team 80 yards in 39 seconds and tying the game at 49 with just over a minute remaining.
The Nittany Lions came out throwing, and it cost them dearly with McSorley picked off for the third time in the game by Leon McQuay who returned the ball into Penn State territory. A short gain by Jones on first down set Boermeester up for the game-winning kick which he nailed from 46 yards out as time expired to complete the astonishing comeback in one of the greatest Bowl games of all time.