In an absolute thrilling contest between two of the top three schools in college basketball, the #3 Kansas Jayhawks held off a resilient #2 Baylor Bears 73-68 at the Allen Fieldhouse.
Baylor cannot capitalize again
Despite this loss, Baylor took the game to Kansas and that shows something about this Scott Drew coached side. Yet, at the same time, Drew is now 0-10 at the home of the Jayhawks, and it seems as if the 46-year-old may never win a game in this fabled building.
This was Baylor's best chance at snatching one away from Bill Self. Heading into this game, the Bears had arguably the toughest schedule in the country, as they went through a gauntlet of ranked opponents during non-conference play.
But tonight, once again, belonged to Kansas, with freshman phenom Josh Jackson and senior guard Frank Mason III putting up monster numbers in one of the most anticipated games of the season. Jackson led all scorers, putting up 23 points while going 8-13 on the field. Mason, meanwhile, added 19 points, getting a vast majority from the free throw line.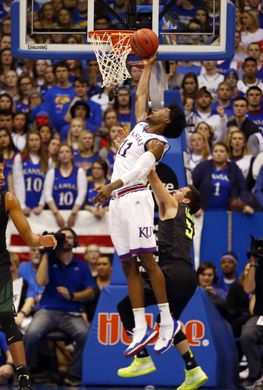 It did not always look like Kansas was going to come out victorious in this contest, as Baylor took it to them during the first 20 minutes of play. The zone, aided by the size of the Baylor backcourt stifled the Jayhawks offense.
For four minutes and three seconds, following a Jackson three pointer, Kansas was held scoreless. This allowed Baylor to take a sizeable advantage into the locker rooms. During the run to end the half, multiple Bears got involved, as they were aided by shots from behind the three point line.
Johnathan Motley got things going as he made the score 23-19. Then, 7' 0" junior Jo Lual-Acuil Jr. drained a big shot from long range to push Baylor's lead to seven. Jackson ended Kansas' scoring drought, but the damage had already been done.
Kansas use big second half run to seize control
To start the second half, Kansas came roaring out of the gates, going on a 13-0 run to retake the lead from their divisional foe, and put them up 41-36. Mason played a big role in getting his team back into this contest, and switched momentum thoroughly to that of Kansas.
Baylor would not go away quietly, though. They answered every blow thrown their way, led by Motley and Manu Lecomte's 16 points on the night. However, the Bears would not be able to retake the lead as Kansas' offense never wavered again, especially when Jackson hit what would eventually be the difference maker with 2:27 remaining in the game.
"That was a fabulous basketball game. That was two really good teams playing. I couldn't be more proud of our guys. On the flip side, I don't know if the Baylor staff could be more proud of their guys. They made some hard shots. They banked in three shots the second half," said Self following the game (quotes via kansascity.com).
This win gives Kansas a little breathing room at the top of the conference table, as they improve to 8-1, 20-2 overall, in Big 12 play. Baylor suffers their second loss in conference play, which drops their record to 7-2, 20-2, overall.