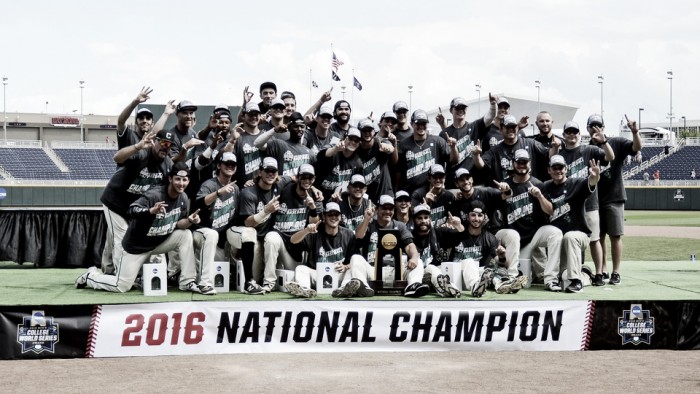 Although it may not seem like it, particularly to the northerners dealing with blizzard after blizzard, college baseball season is once again upon us, with the first games being played this weekend. So, as we enter the season, let's look at the top players, teams, and headlines to look at this season.
Top Players
Alex Faedo, pitcher, Florida
Leading national championship favorites Florida into the season will be right-handed hurler Alex Faedo. At 6'5" and 225 pounds, Faedo makes for an intimidating presence on the mound, and he backs it up with his stuff. With a strong fastball-slider combination, and a changeup as his third pitch. All three have the potential to be strong plus pitches for Faedo, who posted a 13-3 record last season while racking up 133 strikeouts over 104 innings. The rising junior is a potential #1 draft pick in the upcoming draft.
Jeren Kendall, outfielder, Vanderbilt
Easily the top college position player, Kendall flashes above-average speed and power that may be surprising coming from a wiry 190-pound frame. Standing six feet tall, Kendall will look to lead Vanderbilt back to the top of the college baseball world. He hit .332 with nine dingers and 28 stolen bases in 2016.
Kyle Wright, pitcher, Vanderbilt
Along with Kendall, Wright is another reason the Commodores are again among the favorites to bring home a national title. Wright hurled 93 innings, whiffing 107 batters and posting a 3.09 ERA. Standing 6'4 on the mound, Wright will be the ace of a Vanderbilt staff looking to lead the Commodores back to Omaha.
Brendan McKay, pitcher/first base, Louisville
With spectacular versatility and tremendous skill, McKay will look to help the Cardinals forget last year's heartbreak. McKay dazzled on the bump with a 2.30 ERA with 128 strikeouts over 110 innings. When the southpaw wasn't on the mound, he was tearing the cover off the ball at the plate, to the tune of a .333 average, .414 on-base percentage, and six home runs in limited at-bats. He hit a long ball in the Super Regionals last year. Louisville has faltered one step short of Omaha two years in a row, but, with McKay leading the way, the Cardinals are hoping to finally make the leap.
J.B. Bukauskas, pitcher, North Carolina
Although he saw less action than some hurlers on this list, Bukauskas is a force to be reckoned with this season. A former 20th round draft pick, Bukauskas produces surprising velocity from his 196-pound frame, his fastball ranging from 93-97 MPH. His devastating changeup sits around 88 MPH and is far more effective when his fastball sits 96-97. Adding a little weight to produce a consistently higher velocity wouldn't be a bad idea for Bukauskas, who looks to lead the Tar Heels deep into the postseason this year.
Tristan Beck, pitcher, Stanford
A freshman last year, Beck only tossed 83 innings for the Cardinal last season. The right-hander can expect a considerably larger workload after dazzling his way to a 2.48 ERA. Not necessarily a strikeout pitcher, the tall and skinny Beck does an excellent job pitching to weak contact. Stanford is coming off just a 31-23 season but, with Beck at the head of their rotation, they could certainly be contenders this season.
Tanner Houck, pitcher, Missouri
As has probably been guessed by now, this season is going to see a lot of excellent pitching Houck is another addition to a deep pitching class that will lead the Tigers in an uphill battle to claim the SEC title and then look towards Omaha. He threw 105 innings last year, whiffing 106 while posting a 2.99 ERA. The Toronto Blue Jays drafted Houck out of high school with a 12th-round selection, but Houck opted to go to Missouri, where, thus far, he has done nothing but boost his stock. He could help Missouri upend some of the powerful teams in the SEC this season.
Alex Lange, pitcher, LSU
Another pitcher. Surprise. Overshadowed by other excellent hurlers in the past, Alex Lange as emerged as the clear ace of an LSU team that is looking to return to its former glory after a few promising but ultimately futile seasons. Some scouts doubt Lange, but his clean, easy delivery out of a solid 6'3, 201-pound frame, Lange features a repeatable motion that produces repeated success. He'll face stiff competition in the SEC, so it will be a tell-tale season as to what kind of future Lange might have. Definitely a name to keep an eye on.
J.J. Schwarz, catcher/designated hitter, Florida
We'll end the list with somebody to break up the monotonous list of pitchers. Faedo's battery-mate, Schwarz provides solid game-calling abilities, along with some pop in his bat, regardless of whether he is catching or providing his services as the DH. Schwarz, a former 17th-round pick of the Brewers, tallied a .290 batting average with seven dingers in 2016, and he should be back in full force as a middle-of-the-order threat for the Gators.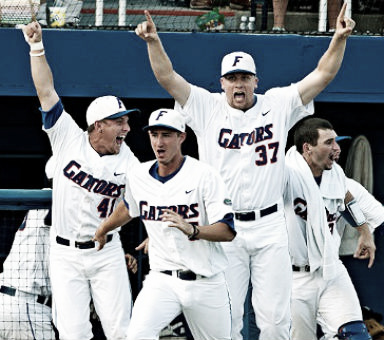 Top Teams
1. Florida
With five players listed among the top 100 college prospects this season, Florida has to be considered a favorite. They've made it to Omaha twice in a row, both times defeating in-state rival Florida State in the Super Regionals. They finished 6th last year, posting a 52-16 record.
2. UNC
Maybe surprisingly high, but the Tar Heels have a lot of upside this year. Snubbed from the NCAA Tournament last year, the ACC power has a deep roster that could make a run. Omaha darkhorse?
3. South Carolina
They haven't recovered from the glory days of Jackie Bradley Jr. and back-to-back national titles, but this may be the year they bounce back. They won 46 games last year and made it to the Super Regionals and, with a lot of talent coming back, they could take that next leap into Omaha.
4. Virginia
Their flukish title run in 2015 proved to be exactly that in 2016. Although the Cavaliers made it to the NCAA tournament, they failed to advance past the first round, and they won just 38 games. However, the Cavs have a history of success, with back to back championship appearances. Led by Pavin Smith, this team has postseason experience and could utilize it with a deep run this year.
5. TCU
Ranked #1 in a lot of polls, TCU has the chance to win it all this season - no question about that. They finished third in the country last season, and have been one step away from making the championship series twice in a row. The Horned Frogs should be favorites to return to Omaha, but the lack of a true star on their roster might make things a little tougher on them.
6. Vanderbilt
What would a college baseball Top-10 teams to watch list look like without Vanderbilt. With a title in 2014 and a runner-up finish in 2015, the Commodores were doomed by tragic circumstances last year, when a teammate died unexpectedly before their NCAA regionals. The Commodores were clearly not on their game, getting swept out of the tournament. However, they'll return stronger this year, led by Kyle Wright and Jeren Kendall, Vandy will be looking to honor their fallen teammate with a run back to Omaha.
7. Stanford
Another darkhorse pick. The Cardinal won just 31 games this year, but they return a large portion of a roster that could win the Pac-12 and make some noise nationwide. Along with UNC, Stanford is one of two dark horse picks to make it to Omaha. You heard it here first.
8. LSU
With Alex Lange heading their staff, the Tigers look to be in good position. They advanced to the Super Regionals last year, but they took an unexpected early exit at the hands of eventual champion, Coastal Carolina. That Super Regional left a sour taste in LSU's mouth, as they were title favorites. They look to return to Omaha, where they can try and take home their first title since 2009.
9. Florida State
The Seminoles have suffered consecutive heart wrenching defeats in the Super Regionals to in-state rival Florida. Last year, FSU won Game 1 of the Regional series, only to drop two straight to the Gators. This year, the Seminoles have their eyes set on Omaha, and they have the skill to get there. They just need to get past the barrier that they've been blocked by these last few years.
10. Coastal Carolina
The defending champs should always be on this list. They may not be title favorites, but a 55-win season doesn't come from nothing Coastal has a great coach and some promising talent. It will be an uphill climb to return to Omaha, but they certainly could do it. A title run by Coastal or another non-Power 5 team would make it the first time since 2003-2004 that two non Power-5 conference teams have won the title. Coastal is also looking to be the first team to repeat since South Carolina in 2010-2011.
The season should be a great one, and VAVEL will have you covered with coverage of the best games (See the list below) all season long! The thrilling action has just started - we have four months of college baseball to look forward to!
Top Games of the 2017 season
3/3 - TCU vs. LSU
3/14 - Florida State at Florida
3/24 - LSU at Florida
3/25 - LSU at Florida
3/26 - LSU at Florida
3/28 - Florida State at Florida
4/6 - Vanderbilt at South Carolina
4/7 - Vanderbilt at South Carolina
4/8 - Vanderbilt at South Carolina
4/11 - Florida at Florida State
4/13 - Florida at Vanderbilt
4/14 - Florida at Vanderbilt
4/15 - Florida at Vanderbilt
4/20 - South Carolina at Florida
4/21 - South Carolina at Florida
4/22 - South Carolina at Florida
5/5 - South Carolina at LSU
5/6 - South Carolina at LSU
5/7 - South Carolina at LSU