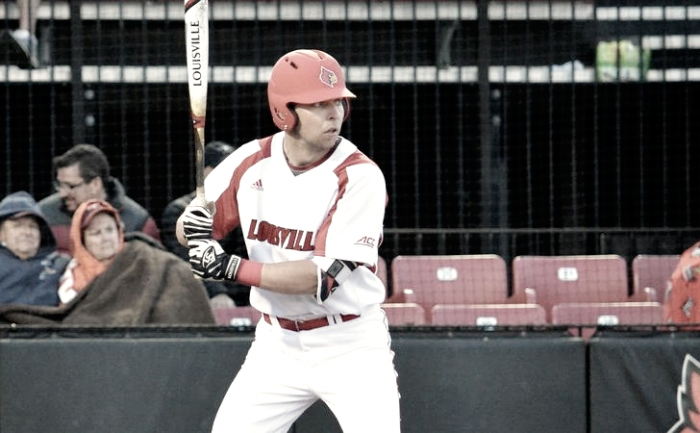 The Super Regionals may be a sensitive topic to be brought up around the Louisville Cardinals' upperclassmen on their perennial powerhouse baseball squad. The juniors and seniors on this team are well aware of Louisville's painful exits the past two years at this stage of the NCAA Tournament. In 2015, the Cardinals succumbed in Game 3 to the stunning underdog in Cal State Fullerton, dropping an extra-inning battle to the Titans in the elimination game. Last season, the Cardinals trailed 1-0 in their series to another huge underdog in UC Santa Barbara, but they led 3-0 in the ninth, seemingly primed to force Game 3. Then Sam Cohen came to the plate.
Following Cohen's improbable walk-off grand slam and another painful elimination, Louisville had only redemption on their mind entering 2017.
On Friday, they took a huge step towards earning that redemption, topping their in-state rivals Kentucky 5-2 in the all-important Game 1 of the Super Regionals best-of-three series. Despite racking up a meek four hits, Louisville's offense put up five runs, led by freshman Drew Ellis, who hit a home run and tallied 4 RBI. Kade McClure fired 5 1/3 scoreless innings, and Adam Wolf added 2 2/3 innings of scoreless relief to blank the Wildcats for eight innings before Kentucky tagged Lincoln Henzman for a pair of runs in the ninth. Kentucky got a pair of hits and a RBI each from Evan White and Tyler Marshall.
Two-run first, 5th inning bomb enough offense for Louisville
Louisville got on the board immediately to support McClure, getting off to the hot start they lacked in previous years at the Super Regionals. Logan Taylor doubled to lead off the frame, scoring one batter later on a RBI single from Devin Mann. Cleanup man Brendan McKay was hit by a pitch, and both runners moved up on a wild pick-off attempt. Ellis made the second out of the inning, but his ground out to deep short scored Mann for a 2-0 Cardinals' lead.
Kentucky starter Zack Thompson settled down after a rocky first inning, but his high pitch count (90 pitches) forced him out of the game after four innings of two-run work. Louisville needed very little time to pounce on the shaky Wildcats' bullpen. Chris Machammer walked Taylor and Mann, sandwiched around a strikeout before exiting the game. Zach Logue replaced Machammer and looked primed to escape the jam after inducing a deep fly to center. However, Drew Ellis came up and worked the count full. After spoiling two excellent pitches, Ellis yanked Logue's offering over the left field wall, giving Louisville a nearly insurmountable advantage.
McClure, Wolf are dominant, Henzman cleans up
McClure, a junior who has witnessed both collapses by Louisville in the Super Regionals, did everything he could to get Louisville on the right track to start the series. McClure looked on cruise control over the first few innings - the only baserunner in the first three innings came on an error from McClure himself. He induced a pair of swinging strikeouts in the first three innings, walking none and giving up zero hits as well.
After giving up a lead-off single to White in the fourth, McClure flashed his dominance, whiffing Zach Reks on three pitches, catching Luke Becker looking in five, and fanning Riley Mahan on five pitches. McClure ran into a little bit of trouble in the fifth, but some erroneous base-running from the Wildcats helped him out of the mini-jam. After a pair of singles to lead off the inning, the Cardinals cut down the lead man on a fielder's choice. On an ensuing wild pitch, Louisville took advantage of a bad read and lackadaisical running from the Wildcats' trail runner, gunning him down at second base. It was all McClure needed to escape, freezing the next batter for a called third strike.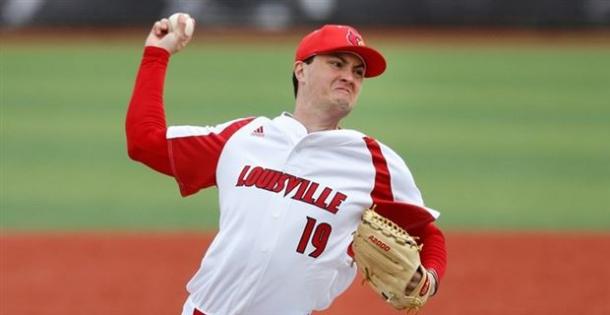 After his teammates padded his advantage, McClure walked a batter and induced a fly out before exiting after 75 pitches. Wolf entered, fired a strike, and induced a double play to end the inning. He cruised through the next two frames as well, whiffing three men while surrendering just one base knock.
Kentucky made the final scoreline look slightly more respectable in the ninth inning, tagging Hentzman for a pair of runs. White blasted a solo shot to start the inning, and Marshall singled in a run with two outs. However, the normally dependable Hentzman recovered to record a strikeout for the game's final out, giving Louisville a 1-0 series lead.
The Cardinals look to close things out tomorrow and avoid potential bad memories by avoiding an elimination game. Their hopes look bright as manager Dan McConnel's move to save his ace - McKay - for game 2 paid off thanks to McClure's gem. Kentucky will also send their ace, Sean Hjelle.