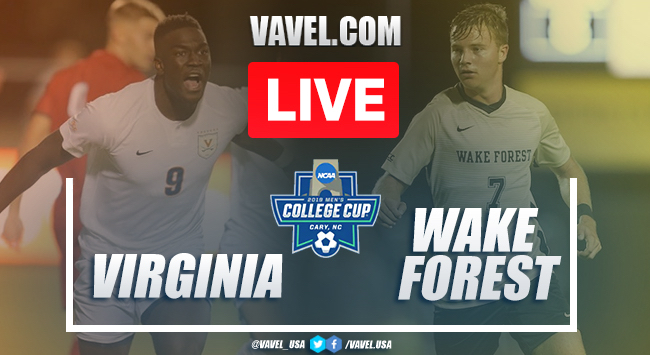 Full Time | Virginia 2-1 Wake Forest
89'
88'
87'
83'
81'
80' | Wake Forest GOOOOOOOAL!
79' | Penalty for Wake Forest!
77'
76'
73'
69'
67'
64'
58'
53'
50'
46'
45' | Start of Second Half
Bobby Muuss on what he's seen so far!
Half Time | Virginia 2-0 Wake Forest
42'
40'
Dike's header for the 2-0
Dike's first goal of the evening
30'
28'
23' | Virginia GOOOOOOOOAL!
20' | Virginia GOOOOOOOOAL!
17'
13'
10'
7'
2'
0' | Match Begins
Everything set for kick off!
UVA are ready for the match!
Virgina: Starting XI
Wake Forest: Starting XI
Wake Forest runs out to a very wet pitch
First finalist: Georgetown!
Warm ups have begun!
Lockers room ready at WakeMed Soccer Park!
Defending well is essential!
Bruno Lapa will be key for Wake Forest
The Hoos published this video to preview the match
The Deacs are at the stadium now!
At the moment, Georgetown is winning the other semifinal
Very rainy weather in Cary
Our LIVE Coverage Begins!
Very close to home!
Can #1 get the title?
WakeMed Soccer Park is ready for the action!
Players from all four semifinalists speak on what the College Cup means!
How to watch Virginia vs Wake Forest Live TV and Stream
Wake Forest's Quarterfinal
Virginia's Quaterfinal
Wake Forest's players doing some sight seeing in Raleigh
Players and coaches spoke last night ahead of this huge weekend!