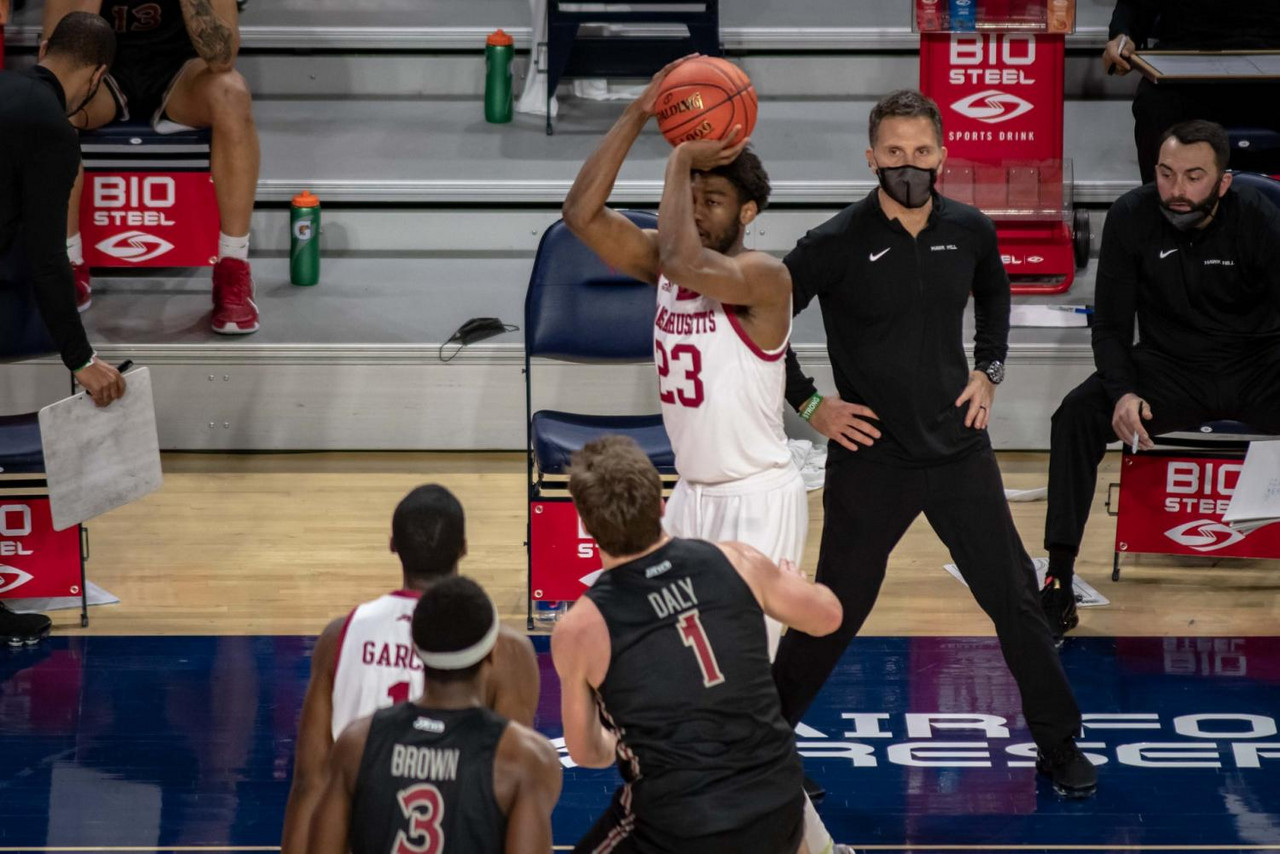 The second round of the Atlantic 10 Conference tournament saw three of the four higher seeds emerge victorious with fifth seed Massachusetts, sixth seed George Mason and seventh seed Dayton advancing to the quarterfinals while ninth seed Duquense pulled off a minor upset of eighth seed Richmond.
Duquense 67, Richmond 62
Chad Baker scored 16 points and Michael Hughes added 11 points and 10 rebounds as the ninth-seeded Dukes rallied from a 24-point first half deficit to advance to a quarterfinal matchup against top seed St. Bonaventure.
Marcus Weathers also notched a double-double with 12 points and 10 rebounds while Tavian Dunn-Martin chipped in with 11 for Duquense, who posted just their fourth opening-round win in the Atlantic 10 tournament in the last 26 years.
Tyler Burton led Richmond with 18 points, Jacob Gilyard added 12 and Grant Golden had 10 for the Spiders, who end their season at 13-8.
Massachusetts 100, Saint Joseph's 66
Ronnie DeGray III had 19 points as fifth-seeded Massachusetts blew away 13th seed Saint Joseph's. Javohn Garcia added 17 points and seven assists and four other players scored in double figures for the Minutemen (8-6), who led 59-36 at halftime.
Jordan Hall led St. Joseph's (5-15) with 18 points while Taylor Funk added 14 and Cameron Brown had 11 points and seven rebounds. Ryan Daly, the Hawks leading scorer at 20 points per game, was held to just seven on 2-of-10 shooting.
Dayton 84, Rhode Island 72
Ibi Watson scored 25 points, including six three-pointers as seventh seed Dayton broke a three-time losing streak in the Atlantic 10 tournament with an 84-72 victory over Rhode Island.
Jalen Crutcher added 14 for the Flyers (14-8), who advance to the quarterfinals against second seed and host Virginia Commonwealth. Mustapha Amzil also had 14 and scored Dayton's last eight points of the game.
Malik Martin led the shorthanded Rams (10-17) with 17 points while Antwan Walker added 13. Makhel Mitchell, a key starter for URI, fouled out with 10:48 remaining.
George Mason 73, George Washington 59
George Mason won their fifth consecutive game on the back of a 50-point performance in the second half to turn back George Washington.
Jordan Miller scored 19 points and grabbed 10 rebounds for the sixth-seeded Patriots (13-8), who also got a career-tying high of 17 from freshman Ronald Polite as Mason advances to a quarterfinal meeting with third seed Davidson.
James Bishop led the Colonials (5-12) with 29 points while Jamison Battle added 11. GW was outscored 42-16 in the paint and shot just 36.8 percent from the floor.