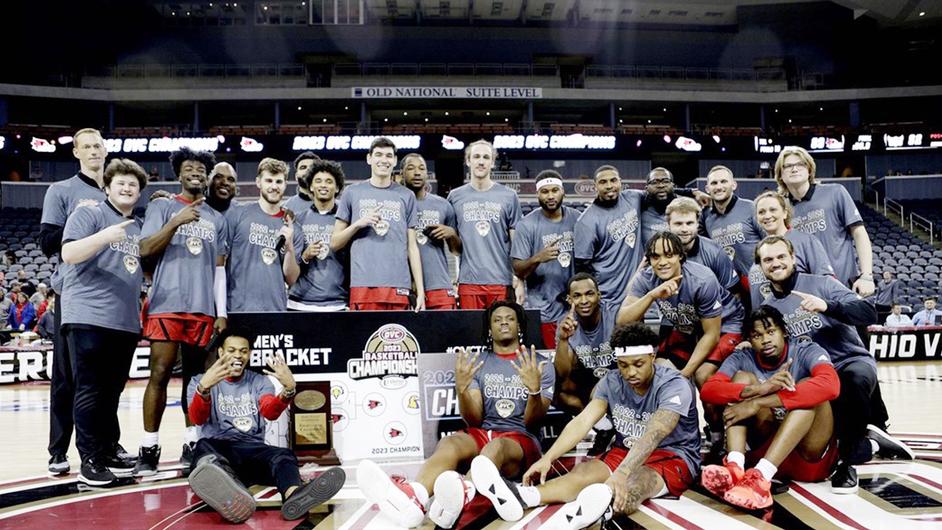 Southeast Missouri State survived a late-game meltdown to win the 2023 Ohio Valley Conference men's basketball tournament, defeating Tennessee Tech 89-82 in overtime in the championship game at the Ford Center.
Chris Harris led the fifth-seeded Redhawks with 26 points and Phillip Russell added 21, including the final seven of the game as Southeast Missouri State (19-16) completed a run that saw them win four games in four days for the school's first NCAA Tournament bid since 2000.
Diante Wood led Tennessee Tech (16-17) with 24 points, hitting a dramatic fallaway shot as time expired in regulation. At first, it looked to be a three-pointer that would have won the game, but after a video review, his foot was on the line.
Brett Thompson added 18, Jaylen Sebree 14 and Jayvis Harvey 13 as the Golden Eagles, who have not been to the NCAA Tournament since 1963, the second-longest streak of its kind in the country.
Redhawks control first half
Southeast Missouri State made a quick start, scoring the first seven points of the game on a pair of layups by Nate Johnson and a three-pointer by Russell.
The lead was 18-11 with 11:20 left in the first half as Tennessee Tech went 2:45 without scoring. Josh Earley sunk a hook shot and a triple by Russell.
A three by Sebree and a layup by Nolan Causwell off of an offensive rebound pulled the Golden Eagles to within one, but Dylan Branson ignited an 11-2 run for the Redhawks with consecutive layups.
Harris accounted for the final seven points of the run and his free throws made it 29-19 with 5:28 left in the first half.
Tennessee Tech missed seven of eight shots during that span, but rallied to close the gap to 35-29 at halftime.
Harris connected from distance and Barnes followed with a layup to open the second half and give Southeast Missouri State its biggest lead at 42-27.
Thompson scored Tennessee Tech's first seven points and Seebree added six in a 15-3 run that gave the Golden Eagles their first lead at 44-43 with 12:59 remaining.
Adam Larson then capped a 6-0 run for Southeast Missouri State with a pair of foul shots that gave them a five-point lead with 11 minutes left.
Tennessee Tech's comeback forces overtime
Southeast Missouri State led 72-65 lead with 1:11 to play courtesy of four straight points by Harris, the Redhawks capitulated as the Golden Eagles staged an incredible rally.
Harvey drained a three to cut it to 72-68 and with Southeast Missouri State looking to advance the ball up the court, Ty Perry tied up the ball handler, forcing a turnover with 43 seconds left.
Again it was Harvey who scored, driving to the basket for a layup to make it a two-point game and the Redhawks turned it over on their next possession to give Tennessee Tech a chance.
Thompson nailed one from deep to put the Golden Eagles in front 73-72 with 10 seconds remaining, capping a 10-0 run, but the game was far from over.
Southeast Missouri State raced the ball down the court, Harris pulled up for a trey, and missed the shot, but a foul was called and he calmly sank all three free throws.
Down 75-73, Sebree lofted a baseball in the direction of Wood, who caught it, turned and nailed what looked to be the title-clinching fadeaway shot, but after a lengthy review, his foot was on the line, making it a two and sending the game into overtime.
Russell controls overtime, sends Redhawks to March Madness
In the extra session, Tennessee Tech took a 78-75 courtesy of three free throws and were up four with 2:37 to go.
Israel Barnes then scored five straight points for Southeast Missouri State, including a three that put them up 82-80, but Harvey made a pair of free throws to make it an 82-82 game.
Russell took matters into his own hands, scoring the final seven points of the game as the Redhawks, who held the Golden Eagles to one of six from the field in OT, became the first number five seed to ever win the OVC Tournament.