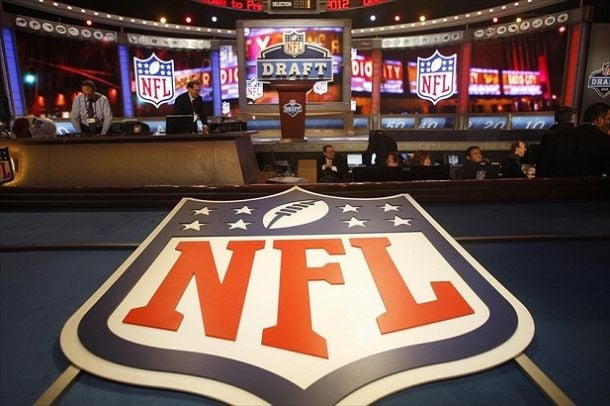 With the regular season soon coming to a close, NFL Draft season is just around the corner. Right now, many things can affect how the draft order will shake out. At 2-13, the Tampa Bay Buccaneers currently hold the first overall pick, but that is based solely on strength of schedule as the Tennessee Titans hold the exact same record.
Simply put, the draft order can, and probably will, change dramatically after the last week of the regular season, making mock drafts very difficult and ever-changing. That said, it is still an interesting way to take an extended, albeit early, look at the 2015 NFL Draft.
Much will certainly change between now and April 30th. From the order, to stock in individual players and everything in between. The draft is a very fluid process, but it is never too early to take a look.
Here is the latest 2015 NFL Mock Draft:
1. Tampa Bay Buccaneers: Marcus Mariota, QB, Oregon
If the Buccaneers land the first pick, it should be an easy selection. There are certainly questions on how his playing style will translate to the NFL, but Mariota is an extremely talented quarterback, who has franchise-altering potential. Despite their record, the Buccaneers have some interesting young players on their roster, there is just a major hole at the quarterback position. Mariota immediately fills that hole, and gives them a dynamic quarterback to build their young roster around.
2. Tennessee Titans: Randy Gregory, DE/OLB, Nebraska
The Titans have many holes on their roster. Quarterback would certainly be a possibility here, but Zach Mettenberger showed some nice upside in 2014, and the Titans could afford to add talent at other positions, specifically on the defensive side of the ball. The Titans translated to a 3-4 defense this season, but the results were far from impressive. The team still has a lot of work to do to complete their defensive transition. Gregory is a very talented outside pass rush prospect who has huge upside. His addition would immediately help the Titans' transition to a 3-4 defense.
3. Jacksonville Jaguars: Leonard Williams, DL, USC
While the Jaguars could stand to add to their offense, but adding to a strength on the roster makes more sense for them here. Williams is the best player available and he would be a perfect fit for the Jaguars' defense. Williams is an athletic and versatile defensive lineman. He has the ability to line up all across the defensive line, is a tremendous pass rusher and is stout against the run.
4. New York Jets: Jameis Winston, QB, Florida State
The duo of Geno Smith and Michael Vick simply did not get the job done this season. With major changes expected throughout the organization, the Jets will likely look to find a new quarterback to lead them into the future. While plenty of questions surround Winston off-the-field, the former Heisman Trophy winner has proven his ability on the field, and is worthy of a top five pick.
5. Oakland Raiders: Amari Cooper, WR, Alabama
The Raiders appear to be ready to head to the future with Derek Carr under center, so adding offensive weapons for him to build around seems obvious. Cooper is the best wide receiver in this draft class after an incredibly productive career at Alabama. Cooper has a nice combination of size, athleticism and speed, while having an uncanny ability to get open.
6. Washington Redskins: Andrus Peat, OT, Stanford
The Redskins' organization is a mess. They also have holes throughout their roster. Many players could make sense for them, but stabilizing their offensive line with a potential left tackle would be a great idea. Peat is a fairly raw prospect, but has the ideal size and athleticism to be a premier option at the position.
7. Chicago Bears: Landon Collins, S, Alabama
The Bears have a huge hole at the safety position. Their combination of Chris Conte, Ryan Mundy and Brock Vereen simply did not get it done this year. Collins is an extremely talented, versatile and instinctive safety who was incredibly productive at Alabama. He would be a huge upgrade at safety for the Bears that would be very welcomed by the entire organization.
8. Atlanta Falcons: Shane Ray, DE, Missouri
The Falcons have had a huge need for a productive pass rusher for some time now. Finally, they could be in a position to land their guy. Ray is a very talented pure pass rusher. He is very explosive off the snap and should translate to the NFL game well.
9. Minnesota Vikings: Brandon Scherff, OL, Iowa
While he may not be a prototypical NFL left tackle, Scherff, the reigning Outland Trophy winner, is a very strong and physical offensive lineman who is a sure bet to be a solid NFL player. He has incredible run blocking skills that will make him a perfect fit at right tackle or guard right away. While his pass blocking skills could use some work, he would be adequate in that department. Scherff is a physically imposing player who would instantly help solidify the Vikings' offense.
10. New Orleans Saints: Vic Beasley, DE/OLB, Clemson
Beasley is arguably the best pure pass rusher in this draft. He has incredible athleticism and speed off of the edge, but his skills are very raw. The Saints could use a pass rush partner to go along with Junior Galette, and Beasley has the skills to be elite.
11. New York Giants: Dante Fowler, DE, Florida
The success that the Giants had over the past decade was centered on a ferocious pass rush. The current version of the Giants' defense is terrible. They simply cannot stop anyone, and it begins with their less than impressive pass rush. The Giants can start to get back to their successful ways by selecting Fowler who is an impressive pass rush prospect who can help them right away.
12. St. Louis Rams: DeVante Parker, WR, Louisville
The Rams are an exciting young team that has a lot of talent on both sides of the ball. The main thing holding them back is the quarterback position. With no quarterback worth reaching for here, the Rams could try to land a number one receiver for their future signal caller. Parker has great size (6-foot-3, 209 pounds), strength and incredible leaping ability. His skills are a bit raw, but Parker has tremendous upside, and could become an elite receiver at the NFL level.
13. Cleveland Browns: Kevin White, WR, West Virginia
If Johnny Manziel is ever going to stand a chance in Cleveland, the Browns are going to have to surround him with talent. White is a big, physical and athletic receiver who would be a great option opposite of Josh Gordon.
14. San Francisco 49ers: Jaelen Strong, WR, Arizona State
The run on receivers continues. Already a thin position for the 49ers would quickly get even thinner if Michael Crabtree leaves via costless agency. Strong is another big, physical target who would immediately be a strong presence on the outside for 49ers.
15. Houston Texans: Cedric Ogbuehi, OT, Texas A&M
Quarterback is the biggest need on the Texans' roster, but there simply is not a QB worth considering with this pick. Ogbuehi was once considered to have top five pick potential, but his raw skills and poor technique has caused him to slip down mock draft boards. Ogbuehi is a very risky prospect, but he is incredibly talented and could potentially be an NFL left tackle with proper coaching.
16. Cleveland Browns: Malcom Brown, DL, Texas
The Browns simply must address their awful run defense this off-season. While he may seem like a bit of a stretch with this pick, Brown is an athletic defensive line prospect who excels against the running game. Brown is a versatile player who could fill many different roles up front for the Browns.
17. Kansas City Chiefs: Trae Waynes, CB, Michigan State
At 6-foot-1 with great length, Waynes has ideal size that NFL teams love to see at the cornerback position. Waynes does an incredible job of using his body against physical receivers and he has adequate speed to catch up against faster players. The Chiefs secondary needs some help, and landing a potential shut down corner with this pick would be huge for them.
18. Miami Dolphins: T.J. Clemmings, OT, Pittsburgh
While their offensive line greatly improved in 2014, the Miami Dolphins could still use some help up front. Clemmings is a very versatile prospect who has great strength, quickness and athleticism. He could step in and play tackle if needed (which is nice with Branden Albert's injury history), but has the versatility and skills to step inside if needed.
19. Baltimore Ravens: Shawn Oakman, DE, Baylor
Acquiring a strong outside pass rush presence is a must for the Ravens in this draft. While his skills are very raw, Oakman is an extremely talented player who could fill many roles on the Ravens' defense.
20. Philadelphia Eagles: Marcus Peters, CB, Washington
After being kicked off his college team because of multiple clashes with coaches, there is plenty of risk surrounding Peters. It is certainly fair to wonder about his character, but there is no denying Peters' ability as a cornerback. Chip Kelly is just the kind of guy to take a chance on Peters, and he would be a great fit for the Eagles who sorely need help in the secondary.
21. Carolina Panthers: La'el Collins, OT, LSU
The Panthers have major needs both at wide receiver and offensive line. With the run of receivers happening earlier than their pick, the Panthers would be wise to address their offensive front. Collins is an incredible run blocker who has a fairly safe floor of a solid NFL guard. While his pass protection skills fall behind his run blocking, they are not bad enough to cause huge concern. Collins is unlikely to become the left tackle that the Panthers need, but he would be a strong piece who would fill a need for them at either right tackle or guard.
22. San Diego Chargers: Danny Shelton, NT, Washington
The Chargers run a 3-4 defense, but severely lack a nose tackle option. At 6-foot-2, 332 pounds, Shelton has the ideal size for the position. He also has the strength to take on blockers and stuff up the middle like is needed at the position. Shelton has surprising athleticism for his size, and would be an immediate contributor for the Chargers.
23. Cincinnati Bengals: Gerod Holliman, S, Louisville
The Bengals are a solid team with few holes. Defensive back, namely safety, appears to be their biggest need. Holliman is an athletic safety who is very good in coverage and is a very hard hitter. Holliman has great vision and awareness on the field, and would be a perfect fit as the deep safety for the Bengals.
24. Arizona Cardinals: Shaq Thompson, LB, Washington
Thompson is one of the most athletic prospects in this draft, which was proved by his ability to play both linebacker and running back this past season at Washington. Thompson is an incredibly versatile player on the defensive side of the ball and would give the Cardinals much needed depth across their linebacker core.
25. Pittsburgh Steelers: P.J. Williams, CB, Florida State
The Steelers' secondary is a mess, and they simply must find some stability this off-season. Williams has had a very productive career at Florida State, and has a bright future in the NFL. He has a nice combination of speed and physicality that would fit in well with the Steelers.
26. Indianapolis Colts: Melvin Gordon, RB, Wisconsin
Drafting a running back in the first round is becoming very rare, but Gordon has the potential to be a rare running back. Gordon rushed for 2,336 yards on 309 carries (7.5 YPC) and 26 touchdowns this season. He has good speed and elusiveness to go along with incredible field vision. Gordon would be a great fit for the Colts who have struggled to get any sort of a running game going in recent years.
27. Detroit Lions: Michael Bennett, DT, Ohio State
The Lions' defensive tackle duo of Ndamukong Suh and Nick Fairley is very strong, but both will hit costless agency very soon. Bennett is incredibly athletic and quick as an inside pass rusher and would give the Lions great depth up front immediately, while protecting them in the future.
28. Dallas Cowboys: Eddie Goldman, DT, Florida State
While the Cowboys' defense has been solid this season, they could still use some help up front. Goldman has an impressive combination of power and speed that makes him incredibly enticing as an interior defensive lineman.
29. Green Bay Packers: Benardrick McKinney, ILB, Mississippi State
The Packers have a clear hole at the inside linebacker position and it is severely hurting their effort against opposing running games. A.J. Hawk looks a step slow, and is unlikely to be back next season. McKinney is a big, powerful and athletic linebacker prospect who is a force against the run. He does struggle at times in coverage, but he has the raw skills to become solid in that department as well.
30. Denver Broncos: Danielle Hunter, DE, LSU
The Broncos are another team that does not have many holes to fill on this draft, but there is not a team in football that could not use another pass rusher. Hunter is an impressive athlete who possesses the necessary skills to get to the quarterback. Hunter has very raw skills and will need some time to grow as a player, but his upside is massive.
31. New England Patriots: Alvin Dupree, DE/OLB, Kentucky
Dupree is a versatile pass rush specialist who would fit in very well with the Patriots. While he needs to improve his strength, Dupree has incredible athleticism and impressive relentlessness that allows him to constantly put pressure on the quarterback. Dupree also has received high marks for his work ethic, character and leadership.
32. Seattle Seahawks: Devin Funchess, WR, Michigan
The Seahawks have very few holes on their roster. The defending Super Bowl champions are loaded and prepared to make another run at a championship. One of the few things that they lack is an unquestioned number one receiver. Funchess is an impressive athlete loaded with incredible size and length. He has great ball skills and could give Russell Wilson a very physically imposing target.