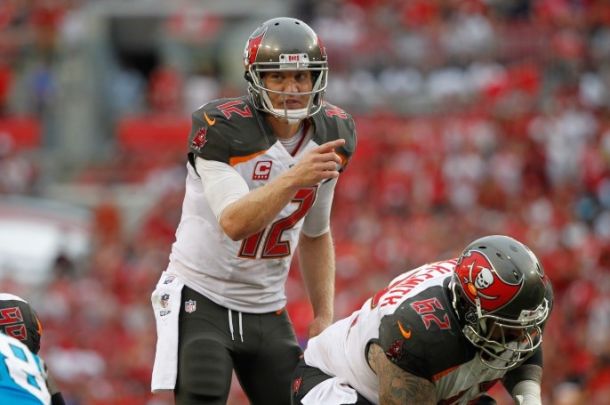 Many questions arise as to who will be under Center come week one in 2015. One thing is certain it won't be Josh McCown. The Tampa Bay Buccaneers have parted with McCown after he was signed last off-season for two years. The Buccaneers have the top choice in this years draft and this actually makes sense. Now the quarterback, quarterbacks coach, and offensive coordinator have all been replaced. Dirk Koetter is the man in charge and will be looking at a new quarterback under center. Could it be Mike Glennon or someone else like Jameis Winston and Marcus Mariota?
Josh McCown finished with a 56.3 completion percentage, 2,206 yards, 11 passing touchdowns and 14 picks. The offense was very anemic with more times being atrocious than good. When he sustained his thumb injury, Mike Glennon played and played a few more weeks after even when McCown was healthy. He eventually lost the starting job and McCown was back.
Josh McCown came into Tampa for 2014 as a journeyman who played with the Chicago Bears under Lovie Smith. He has success in limited starts and wanted to replicate that in Tampa. Lovie Smith came in and didn't believe in Mike Glennon right at the moment. So he brought McCown in. That's not quite what happened however. In his defense, there never was an offensive coordinator in place and young Marcus Arroyo was expected to be the play caller with no experience. Also, the offensive line was a problem.
His release shakes up the draft even more. The Buccaneers have several options at the top choice. Now, it makes it more evident that there will be a rookie in 2015 as the starting quarterback. The outcome of what's to come will certainly be quite an adventure. It's believed that McCown could wind up in Baltimore as a backup to Joe Flacco. Marc Trestman is the Offensive Coordinator and coached McCown in Chicago.