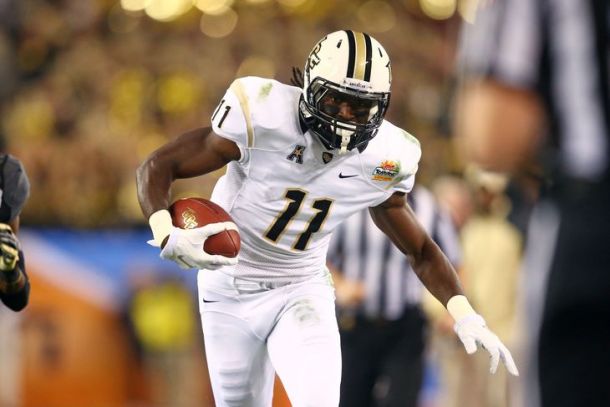 Breshad Perriman sped almost as fast up draft boards as he did on his forty yard dash time, which was recorded as a 4.26 during workouts according to CBS Sports. Speed is the name of the game for Perriman as he is one of the fastest players in the 2015 NFL Draft class. He was also measured at 6'2" 212 pounds, which is a decent size for a wide receiver. He did not record any results at the combine, which is why leading up to the draft he was not talked about on the same level as other wide receivers such as Devante Parker, Amari Cooper or Kevin White.
Breshad Perriman can immediately help his new team by bringing a speed dimension to the wide receiver position. He will be able to help out his new quarterback and give him a threat down the field, which could also open up holes for the running game. He is a physical wide receiver who likes to use his size as much as his speed and make tough catches in the air. He looks like a taller version of Odell Beckham Jr. was last year, with the biggest difference being competition in college. His biggest weakness seems to be running routes, which is a common issue that most top wide receivers have coming out of college. He also could become more consistent, and work on becoming a factor on every play, including run blocking.
Last season at UCF, Perriman had 50 receptions for 1,044 yards and nine touchdowns, a very impressive feat with a new starting quarterback, despite the competition he plays. He had decent stats with Blake Bortles as well, however his junior year was easily the most impressive of his college career. If Perriman can have a season with similar number to what he put up last season in the NCAA, he may be one of the best wide receivers in this class at the end of the day, including Cooper and White.
Breshad Perriman did not take part in any events at the combine, however he was timed at a 4.26 during the workout phase this offseason. The fastest time recorded for a receiver since 2006 was by Marquise Goodwin, who recorded a 4.27 at the combine, and impressed many during the pre-draft process in 2013. Perriman looks to be slightly faster than Goodwin, with a more NFL-ready skill set than Goodwin had coming out of school a couple of years ago. He reminds some of a faster version of Mike Wallace as far as straight line speed, however there is some concern that his quickness off the line may not be fully developed yet, and he may get defeated by the press against more physically active cornerbacks.
Breshad Perriman will be a speed demon in Joe Flacco's offense next season, and being paired with Torrey Smith on the other end should easily improve the Ravens pass offense next season.