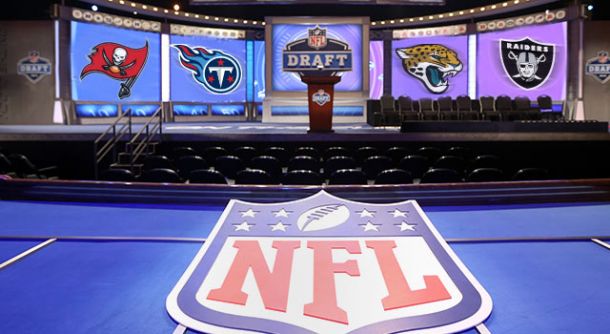 NFL mock drafts during draft season is something like Bravo's Housewives reality TV series. No one needs more of it, but people can't seem to get enough. Keep in mind that these are predictions, not rankings. For those, refer to Top 50 NFL Draft Prospects.
1. Tampa Bay Buccaneers select Jameis Winston, QB, Florida State University
Perhaps the worst kept secret in the draft this year is Tampa Bay being projected to select James Winston with the 1st overall pick. Despite overtures from management that suggest they may shop the pick until the very last second, it appears unlikely that Tampa Bay moves back. Like the Jaguars last year, it's hard to fault a team that has set its sights on a perceived franchise quarterback early in the draft. Winston may be the most polarizing potential 1st round pick since Cam Newton, but if he pans out, the Buccaneers will have a franchise cornerstone for no less than a decade.

2. Tennessee Titans select Marcus Mariota, QB, University of Oregon
Considering all the noise surrounding Tennessee and the 2nd overall pick, it's hard to hear who the Titans favor with the pick. If there's one thing that can be drawn from the grape vine, it's that there are some teams in the league that view Marcus Mariota as a potential franchise quarterback. With this in mind, not picking Mariota second overall immediately devalues the pick for Tennessee. Whether or not the Titans sincerely view Mariota as a franchise quarterback, drafting him—even if they don't have a deal in place—immediately gives them immense leverage over teams that do.

3. Jacksonville Jaguars select Vic Beasley, DL/LB, Clemson University
Last year, the Jaguars shocked the league by selecting Blake Bortles third overall in the draft. The Jaguars, who have drafted all offensive players in the last four years, can't further ignore pressing needs on the defensive side of the ball. With a dedicated pass rusher still absent from the roster, the Jaguars will have their pick of the litter. Vic Beasley is arguably the most natural and fluid pass rusher available in the draft. His production and performance numbers are off the charts, and he should be an immediate impact player the Jaguars need to jump-start their defense.

4. Oakland Raiders select Leonard Williams, DL, University of Southern California
Something unfamiliar has been happening in Oakland since the departure of the late Al Davis. With Reggie McKenzie at the helm, the team has been making measured and informed decisions on draft day. Last year, the Raiders couldn't pull the trigger fast enough when Khalil Mack fell to them at fourth overall, and this year the team may find themselves in a similar situation if Williams happens to reach them. The receiver has been pigeon-holed to the Raiders at 4th overall, but if McKenzie's Green Bay bloodlines are anything to go by, the team will address receiver in the 2nd round.

5. Washington Redskins select Amari Cooper, WR, University of Alabama
With the bevy of pass rushers expected to go in the top 10, it's natural to assume that the Redskins will add one of their own. Although Brian Orakpo left in free agency, the team isn't devoid of pass rushers, with Ryan Kerrigan and last year's 2nd round pick, Trent Murphy, proving to be quality starters. On the offensive side of the ball, the team never quite gained traction, no matter who was behind center. Even with Desean Jackson and Pierre Garcon on the roster, Amari Cooper is the type of precision receiver that head coach Jay Gruden covets. Gruden—who is an imaginative offensive mind—could move Cooper around in the same manner Lane Kiffen did at Alabama.

6. New York Jets select Dante Fowler, DL/LB, University of Florida
The Jets are perhaps the biggest enigma entering the 2015 draft. Although quarterback appears to be the obvious need, the team doesn't appear to be jostling to make a move to acquire one at the top of the draft. The next logical position of need is edge pass rusher. The Dante Fowler hype was palpable after the draft and has since cooled to sweltering embers. Todd Bowles' defenses has always been able to manufacture pressure even with the lack of an elite talent at edge rusher. Fowler could quickly change that.

7. Chicago Bears select Kevin White, WR, West Virginia University
There's a lot of similarities between the Raiders' pick at 4 and the Bears' pick at 7. Both teams will likely contend with picking between a receiver and a defensive front seven player, and both teams can't go wrong either way. For the Bears, they'll likely be looking to pick between defensive anchor, Danny Shelton, and offensive juggernaut, Kevin White. Because the nose tackle position isn't one that goes often go in the top 10, Kevin White may be a pick that fills both logic and need for new Bears head coach, John Fox, and G.M., Ryan Pace.

8. Atlanta Falcons select Todd Gurley, RB, University of Georgia
When many expected the Falcons to spend big on a premier option at edge rusher in free agency, the Falcons mostly came up small with Adrian Claiborne and O'Brien Schofield. The remaining pass rush options at this point of the draft will likely not offer the team the type of comfort they'll look for with a pick this high. Looking in another direction, Todd Gurley has become the hottest of names lately. With teams now more confident in his health, the Falcons may want to aquire a back that can provide the type of production not seen in Atlanta since Michael Turner.

9. New York Giants select DeVante Parker, WR, University of Louisville
If there's one thing that holds true in the draft, it's that Giants GM, Jerry Reese, will pick the player he'll have to reach the highest for on his board. With questions surrounding Victor Cruz's health and Ruben Randle's topsy turvy route running, the team may look to add firepower to their revitalized receiving corps. Parker would provide for a perfect compliment to sophomore phenom Odell Beckham, and adds an element of size on the perimeter not currently on the roster.

10. St. Louis Rams select Brandon Scherff, OL, University of Iowa
The St. Louis Rams have seemingly been working on their offensive line issue for a decade. Last year's first round pick, Greg Robinson, shuffled about the line a bit before settling at left tackle toward the end of the year. With the team's hopes resting on Robinson being the bookend on the left side, things still need to be sorted out in between. Brandon Scherff has gained a reputation of being amongst the most pro-ready players available in the draft. Rams coaches should be able to plug him in at virtually any position along the line in year one, and have him plug any leaks as they come.

11. Minnesota Vikings select Kevin Johnson, DB, Wake Forest University
If last year's Anthony Barr selection is anything to go by, the Vikings aren't a team afraid to eschew from picking a player based on perceived fit. Xavier Rhodes proved worthy of the first round selection Vikings GM Rick Spielman spent on him, and pairing him with another lengthy and capable corner would help provide balance to Minnesota's burgeoning defense. Johnson's aggressive style fits the temperament of second year head coach Mike Zimmer.

12. Cleveland Browns select Danny Shelton, DL, University of Washington
The Browns may be crossing their fingers in hopes that one of the top receivers falls to them at 12. In this scenario, their dreams are just that, but they certainly have ammunition to move up come April 30th if they truly covet a premium wideout. Still, Danny Shelton shouldn't be considered a consolation prize, as he'll likely be in play from anywhere from 7th overall, on. The Browns had one of the leakiest run defenses in the league, and Shelton's presence should curb their problem.

13. New Orleans Saints select Alvin Dupree, DL/LB, University of Kentucky
As Shane Ray and Randy Gregory's pre-draft encounters with banned substance use tumbles them down draft boards, workout warrior Alvin "Bud" Dupree ascends them. The Saints could go a lot of different directions at 13 - including cornerback and receiver. As eluded to previously, Dupree's combine raised many eyebrows around the league, and his prospectus may be too tempting for defensive coordinator Rob Ryan to not pound the table for.

14. Miami Dolphins select Trae Waynes, DB, Michigan State University
When the Dolphins signed Brent Grimes to a one-year "prove it" deal, they were banking on getting the player they ended up with the last two seasons. Across from Grimes, the Dolphins don't have a player that they can confidently call a starter. Wayne is to BIG10 wide receivers as Randy Gregory is to BIG10 left tackles; he dominated the majority of his opponents. While blanketing Devin Funchess and Kenny Bell was no small feat in college, Wayne will have the honor of facing up against Brandon Marshall, Eric Decker, and Sammy Watkins at least twice a year.

15. San Fransisco 49ers select Arik Armstead, DL, University of Oregon
Lost among the mass exodus on defense from San Francisco is the departures of Ray McDonald (free agency) and Justin Smith (retirement). The team will have a number of unproven players take up the mantle behind veteran acquisition Darnell Dockett—who hasn't played a down since the 2014 preseason. Still, Dockett should fill the veteran leadership role on the line left by Justin Smith, and he'd be a perfect candidate to mentor Armstead, who could be compared to Dockett's former teammate, Calais Campbell.

16. Houston Texans select Breshad Perriman, WR, University of Central Florida
Likely a much bigger storyline in any other offseason, Andre Johnson's departure from Houston marks the end of an era for the league's youngest franchise. With DeAndre Hopkins coming into his own as the team's undisputed number one, the team has plenty of flexibility in adding potency to the offense. Breshad Permian ran the 40-yard dash heard around the world and offers a size and speed combination unparalleled in this class.

17. San Diego Chargers select Cameron Erving, OL, Florida State University
Perhaps no team has had worse luck along the offensive line than the San Diego Chargers. DJ Fluker and Nick Hardwick headline a tumultuous offseason for the Chargers and they'll need to address both tackle and interior offensive line. With left tackle being remedied for the short term with the team resigning King Dunlap, Cam Erving, who played both left tackle and center at Florida State, San Diego can address whatever remaining positions appear weakest.

18. Kansas City Chiefs select Andrus Peat, OL, Stanford University
Chiefs head coach Any Reid hasn't made it a secret that he loves drafting trench prospects early. Since 2003, Reid's teams have selected 12 line prospects in the 1st round. With the Chiefs' needs centering within the offensive line, Reid will have plenty of options to consider in the second half of the 1st round. Andrew Peat is considered by many as the draft's only true left tackle prospect. Although the team will likely continue to give 2013 1st overall pick Eric Fisher as many chances as it takes to prove himself, it doesn't hurt having a contingency plan if he falters.

19. Cleveland Browns select Melvin Gordon, RB, University of Wisconsin
There will be perhaps no other team in the draft that will be more gun shy about picking a running back in the 1st round than the Cleveland Browns. Although Trent Richardson wasn't in Cleveland long enough for him to be called a failure there (the team did get a 1st round pick for him), the Browns surely are aware they dodged a massive bullet. Still, without Josh Gordon, the Browns lack explosivity on offense. Melvin Gordon, who averaged 7.5 yards per carry in his final season at Wisconsin, would immediately add a dynamic element to the offense.

20. Philadelphia Eagles select Jaelen Strong, WR, Arizona State University
Perhaps the most intriguing figure of this 2015 NFL Draft is Eagles head coach Chip Kelly. With the "will he, won't he" narrative surrounding him and his pupil Marcus Mariota, the last rumor mill suggests that Sam Bradford is his no-trade-clause man. With the unscheduled departure of Jeremy Maclin, Kelly will have to address the receiver position in kind. Jaelen Strong checks two boxes that Chip Kelly is known to covet: height, weight, strength and PAC12 heritage.

21. Cincinnati Bengals select Malcom Brown, DL, University of Texas
Defense is often the side of the ball that can experience stark turnarounds between seasons. The Bengals once had one of the league's most lethal interior pass rushes, but with injuries to Geno Atkins and Domata Peko's inconsistent play, the team will have to address the interior of the defensive line. Texas's Malcom Brown is sleepily one the draft's most productive interior defensive lineman, totaling 13 tackles for loss and nearly seven sacks during his junior year.

22. Pittsburgh Steelers select Shane Ray, DL/LB, University of Missouri
As the first day of the draft wanes, the intrigue surrounding two of the draft's most accomplished edge rushers increases. The tribulations surrounding both Randy Gregory and Shane Ray should prove to be beneficial to teams like the Steelers, who are currently without a premier edge rushing talent. Even with Ray's recent marijuana possession arrest, the sentiment around the NFL seems to be that he is the lesser of two evils off the field. The untimely retirement of Jason Worilds set the Steelers back at outside linebacker, but if they select Ray, they could pick up right where they left off.

23. Detroit Lions select Ereck Flowers, OL, University of Miami
The Lions may find themselves in a precarious position if they stay with the 23rd pick on draft day. With both of the top running backs gone in this scenario, they may target the best remaining offensive tackle. Of all the teams in the second half of the first round, a trade back makes the most sense for the Lions. If they stand pat, Miami's powerhouse, Ereck Flowers, makes a lot of sense to address their opening at right tackle.

24. Arizona Cardinals select Randy Gregory, DL/LB, University of Nebraska
The poster child for how unforgiving the draft process can be has been Randy Gregory. From his curious weight fluctuations to his failed combine drug tests, there are a number of question marks surrounding Gregory heading into draft day. What remains unquestionable about Gregory is his unique ability to rush the passer and his incredible athleticism he leverages in the process. The Cardinals were without a centerpiece at edge rusher last season, despite having one of the league's most formidable defenses. Gregory's presence would bolster an already adversarial front seven.

25. Carolina Panthers select D.J. Humphries, OL, University of Florida
Like the Chargers, the Panthers will go into the 2015 NFL Draft with few secrets as to what their needs are. Offensive line—more specifically left tackle—are needs 1, 2 and 3 for the Panthers this year. Despite not having ideal size and strength for the position, Florida's D.J. Humphries's movement skills allowed him to hold his own against the SEC's best pass rushers, including Missouri's Shane Ray.

26. Baltimore Ravens select Marcus Peters, DB, University of Washington
Ozzie Newsome's Ravens have always done a good job in acquiring talent early in the draft that can be contributors right away. While losing Torrey Smith certainly makes receiver a need for the Ravens, the team won't feel cornered by need when making selections. Marcus Peters' play at Washington suggests he should be selected much higher than 26th overall, but his mid-year expulsion from the Huskies will cause teams pause. Injuries debilitated the Raven's shallow depth at corner last season and Peters could immediately step in and stop the bleeding.

27. Dallas Cowboys select Preston Smith, DL, Mississippi State University
The Cowboys could of been in a very different situation heading into this draft had Jerry Jones gotten his way and picked Johnny Manziel in last year's draft. With Zach Martin being first year All-Pro, it won't be surprising to see the Cowboys make more informed picks along the trenches. Preston Smith played everything from nose tackle to coverage linebacker at Mississippi State, and given his flexibility, he Cowboys should find a way to incorporate his many skills along their unproven defensive line.

28. Denver Broncos select Jake Fisher, OL, University of Oregon
Given the way the Broncos' season ended last season, some may find it surprising that the Broncos are yet again picking at the end of the first round. Although the shutters appear to be closing on Denver's Super Bowl window, the team still has a responsibility to commit to Manning's comfort within the pocket. With the team transitioning to more a more zone blocking oriented scheme, Jake Fisher fits the profile of a mobile and athletic lineman that can start right away at either right tackle or guard.

29. Indianapolis Colts select La'el Collins, OL, Louisiana State University
Like most offensive lineman in this class, Collins has a possible draft range of late top 10 to late first or early second round. Collins, who played the majority of his snaps between a guard and tight end, has the athletic range to play almost anywhere on the offensive line. With Colts owner Jim Irsay preaching the gospel of protecting Andrew Luck, GM Ryan Grigson could do little better than listing one of the draft's most capable protectors.

30. Green Bay Packers select Byron Jones, DB, University of Connecticut
The Packers have always marched to the beat of their own drum when it comes to their late first round draft picks, and he fact that they often pick late in the first round is a testament to how proven that drum beat is. Listening to the Ted Thompson tune suggest the Packers will go one of two directions in the draft: cornerback or inside linebacker. If teams were handing out gold medals in this year's scouting combine, no player would have more jewelry than Connecticut's Byron Jones. While he'll some work to do before he can be as revered as former Packer veteran, Tramon Williams, his sheer athleticism should put him in advanced placement.

31. New Orleans Saints (from Seattle) select Maxx Williams, TE, University of Minnesota
If this year's free agency frenzy was anything to go by, the Saints are entering an era of transition. With the team securing running back Mark Ingram and trading tight end Jimmy Graham, it appears the team is trending towards a more ground and pound persona. Maxx Williams tows the line between receiver and blocker as well as any tight end in this class. He may not be a Graham replacement, but he should give the team more flexibility in the run game.

32. New England Patriots select Laken Tomlinson, OL Duke University
While the first round gets murkier as picks go by, it's hard to imagine a scenario where the Patriots aren't fielding calls to move out of the first round. The Patriots trading the pick almost holds as much confidence as the Buccaneers picking Jameis Winston, but in the sake of this trade-less mock draft, the Patriots should look to reimburse the offensive line. Tomlinson follows the lineage of heady offensive lineman that the Patriots have utilized over the years.