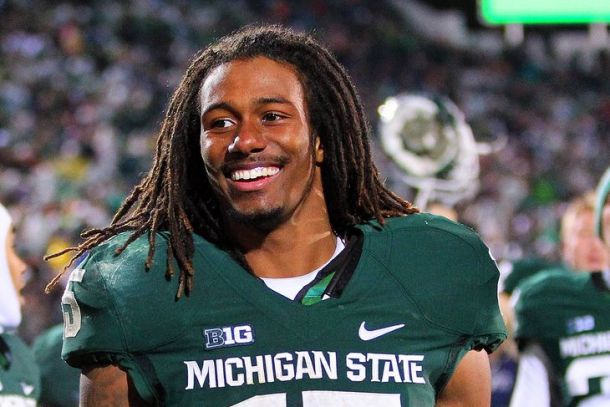 Trae Waynes is a lock down cornerback from Michigan State University. He consistently went up against each team's best wide receiver, and has shut them down, while helping Michigan State win multiple bowl games in his career, including the 2014 Rose Bowl. Minnesota will instantly get a boost in their secondary by drafting him, as he has good man and zone coverage skills, and can help lead a secondary that needs assistance. While Waynes might not be the best player to take to be a superstar on day one, he has sky high potential, and much like other corners who have recently come out of the draft, will prove extremely valuable within a couple of years.
At the NFL combine this offseason at Lucas Oil Stadium in Indianapolis, the former Michigan State corner ran an impressive 4.3 40 yard dash time, beating out most wide receivers. He is a fast corner, who will be able to stick to many of the NFL's best receivers on deep routes, and in a passing game, the _ can always use more cornerbacks. Waynes will be a good fit in any system they put him in, as he had the speed, the ball skills, the physical skills that include a 38 inch vertical jump, and the mental skills to be a playmaker for_. He also can deliver big hits in the open field as well, and after playing in Pat Narduzzi's defensive scheme has developed his skill at stopping the run as well.
While following the path of Darqueze Dennard, another cornerback from Michigan State who was taken by the Cincinnati Bengals in the first round, Waynes looks to be even more talented, and have an even better impact on his new team than Dennard did in his first year. Waynes is arguably one of the best corners to come out of college since Patrick Peterson left LSU, and should have a solid rookie season and career with the skill set and competitive nature he brings to the table day in and day out.
Trae Waynes will be going to Minnesota, and will join last years rookie Justin Gilbert, as well as Harrison Smith in the Vikings secondary. Waynes, Gilbert, and Xavier Rhodes with Smith at safety gives the Vikings a very impressive secondary, which they will need going against Chicago with Alshon Jeffery and rookie Kevin White, Detroit with Calvin Johnson and Golden Tate and Green Bay with their weapons as well including Jordy Nelson.