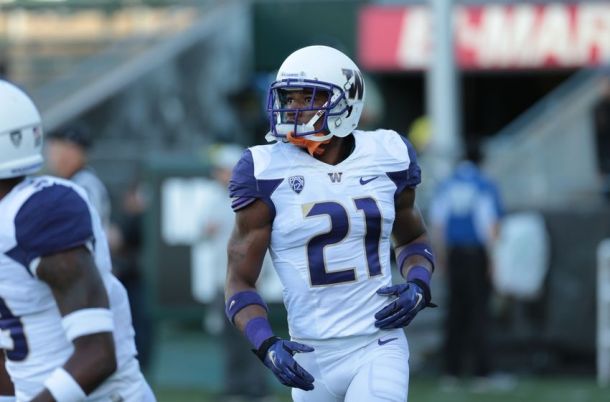 In a draft filled with character red flags, the Chiefs took the first plunge into risky waters with former Washington Husky, Marcus Peters. Known for his aggressive press man play style (both on, and off the field), Peters plays with a physicality and attitude rarely seen at the corner back position. The Oakland California native's collegiate resume includes 11 career interceptions and 129 tackles. Peters continued to impress at the combine, where he ran a 4.53 40-yard dash, jumped a 37.5" vertical and 121" broad jump, and ended up as a top-15 finisher in the 60-yard shuttle
The Chiefs, who years ago seemed set at corner with Brandon Flowers and Brandon Carr, now look to rebuild their secondary under new management. Peters blanketing PAC 12 receivers, including fellow top prospect, Jaelen Strong; holding him to just three catches for 55 yards. He'll have his hands full in the AFC West, though, where he'll see top tier NFL talent in Demaryius Thomas and Keenan Allen.
Despite Peters tumultuous season where a mid-season altercation with coaches saw him sidelined for the remained of his junior year, Peters' physical play style have warranted elite NFL comparisons extending from Aqib Talib to Richard Sherman. Chiefs head coach, Andy Reid, has been known to get the best out of players with strong personalities, and Peters should provide for a project with ample benefit.