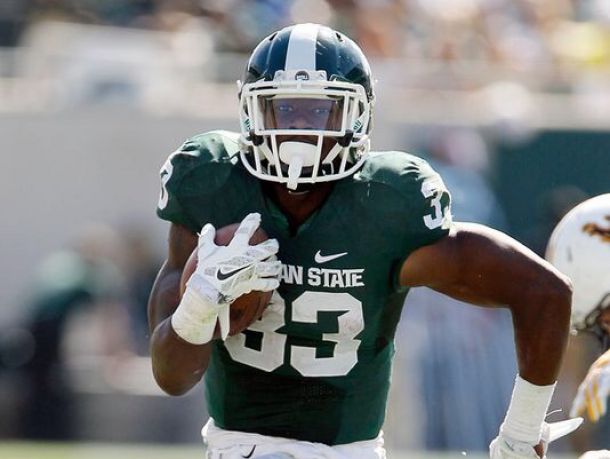 Jeremy Langford may not be the best running back in this draft class, as that honor is split between Georgia's Todd Gurley and Big Ten Rival Wisconsin's Melvin Gordon. What Langford does bring however, is the opportunity to be one of the best sleepers in this years draft class.
Langford, who's been the leader for Michigan State on offense in recent years, has done extremely well for the Spartans, and despite what some may say about him not being ready to be a starter quite yet, behind the right offensive line, and with the right quarterback, he could easily be a solid contributor in the backfield in his rookie year.
According to some scouts, Langford has the ability to turn the corner, and avoid linebackers in pursuit of him with his speed, which was measured as 4.42 at the Combine's 40 yard dash drill, and turned out to be the fastest running back that ran at this years combine. He also has the potential to be a receiving back as well, as he is one of the best pass catching running backs in this years draft class, and arguably the best pass protection back in this years class as well. The knock on him is that he is a back who bounces runs to the outside, and does not do very well after contact, which is why he bounces runs to the outside.
His NFL Comparison is a better version of Donald Brown, the former Indianapolis Colts running back. After logging 1,522 yards and 22 touchdowns, getting six yards per carry. Another comparison is Chicago Bears running back Matt Forte, whom he's going to be backing up. He should help save Forte from being overworked, and will be a solid backup in Chicago for the coming years in a two back set.