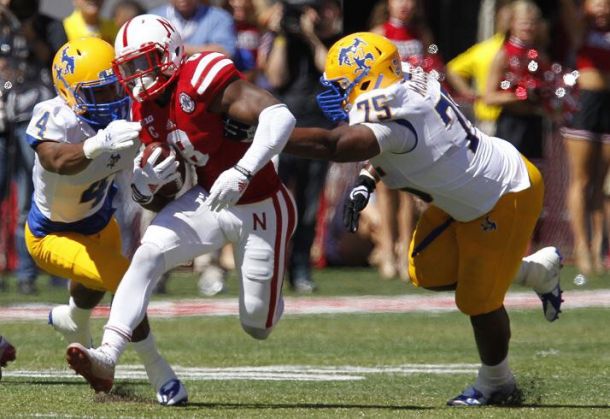 Ameer Abdullah, the running back from the Nebraska Cornhuskers is headed to the Detroit Lions after being selected 54th overall in the 2015 NFL Draft.
Ameer Abdullah is a pure speed back, who has exceptional lateral quickness, has the ability to break tackles (including breaking six on the game winning play - McNeese State) and finds open holes in the running game, which he will get a lot of behind Laken Tomlinson and Larry Warford.
The Lions are getting a running back early to replace Reggie Bush, but it's possible Abdullah is better for Detroit than Bush was. The one thing that makes this pick the best for Detroit, is that Abdullah has no significant injury history like Bush, Joique Bell, and Jahvid Best have had. Assuming he continues to stay healthy in the NFL, he will pair with Joique Bell and Theo Riddick, forming a three back combination.
Abdullah rushed for 4,588 yards, and 39 touchdowns, and has put up solid numbers as a returner as well. He finished second in all purpose yards all time in the Big Ten conference, only behind Ron Dayne of Wisconsin. He also had more rushing yards, touchdowns, all purpose yards, yards from scrimmage and 100 yard rushing games than Melvin Gordon or Todd Gurley did in their college careers.
The only knock on Abdullah is his small height, at only 5'9". He does, however have break tackle ability, and at 205 pounds is big enough to be able to truck over defensive backs. While he had a much slower forty yard dash time than expected at 4.60 at the NFL Combine in Indianapolis, he improved it to a 4.53 at his pro day. He also had 24 reps on the Bench Press, and was labeled as a top performer by NFL.Com at the combine on the Vertical Jump, Broad Jump, 3 Cone Drill, 20 yard shuttle, and 60 yard shuttle. He also was a team captain, an Academic All-American, and has been praised greatly by many within the NFL and NCAA communities for his character on and off the field, including one AFC Scout saying that Abdullah is the best character grade he has ever given out in his career. He has not dropped any passes out of the backfield in two years, and has extremely good vision in the running and receiving games. He also has a high football IQ, and is extremely competitive.
Ameer Abdullah might be a better running back than Melvin Gordon and Todd Gurley in the future, as he got taken by the perfect team for him, as Matthew Stafford has to be cheering in the streets getting the best run blocker and one of the best running backs in this draft so far.
This writer's grade: A-.