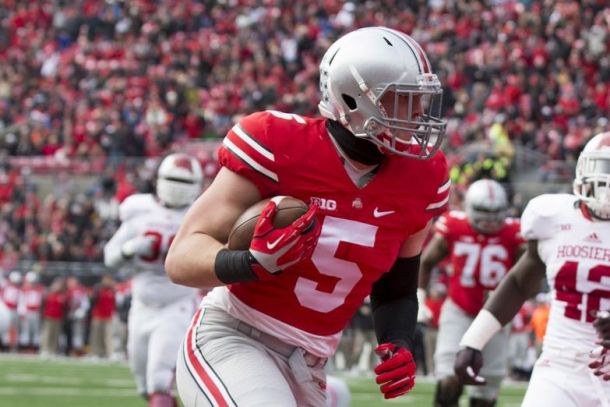 The Denver Broncos have a serious void to fill at tight end following the departure of Julius Thomas in the offseason, and that's why they selected Jeff Heuerman from Ohio State to help fill the hole. In 51 games, which was all four years, Heuerman caught 52 passes for 797 yards and seven touchdowns in his career at Ohio State. At Ohio State's pro day, Heuerman had this: 4.80 40-yard dash, posting a 34" vertical jump and a 10' broad jump. Heuerman had four quarterbacks during his career and with Peyton Manning at QB, his numbers are sure to improve.
One of the biggest issues with Heuerman is his comeback ability. He has a surgically repaired foot that caused him to miss the NFL Combine and pro day for 2015. How he will be in 2015 is a mystery. Another issue is sometimes he drops the easy passes. If he does that, Manning will never throw to him. With some training and rehab he should be a valuable pick.
Despite his inability to catch some easy passes, his size creates a defense mismatch. He's a tall guy so that's a big advantage. Also, after he makes the catch he's a tough player to tackle. He has some good hands skills which makes him valuable. His final strength is his ability to be a blocker. He could be used more as a blocker than a receiver. That Broncos offensive line could use some work so having him as a lead blocker is a big plus.