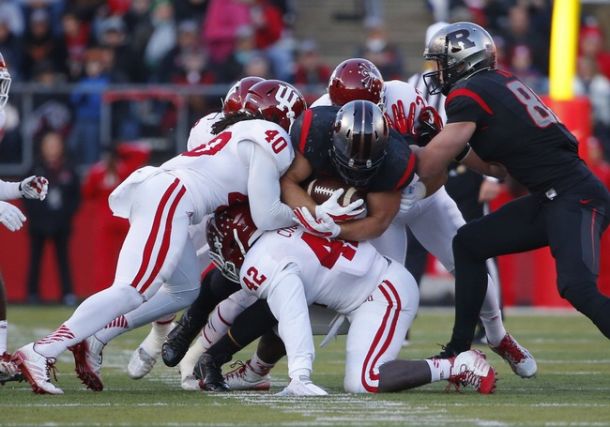 The Lions have been building their running game the whole draft. According to Mike Mayock, the Lions got a solid fullback who has solid catching ability, saying "he's an old school fullback, who can open holes and catch the ball, hes a team captain, and is a core special teams player who has worked with five different offensive coordinators at Rutgers". Mayock also called him "a thug in a good way, and he liked it."
He isn't known for his running ability, as he had only one rush for two yards all season last year, but was very instrumental with his blocking ability, and had 15 catches for 150 yards, getting a reception in almost every game last season. He was one of only three fullbacks that got a combine invite this season, and had a 4.74 forty yard dash at the combine in Indianapolis. He is also agile, and can avoid some tackles, while adjusting to poor passes and helping his quarterback out on flat routes. The biggest knock on him is that he is only 5'11" and 247 pounds at the combine, which is quite undersized, and fullbacks are extremely underused in the modern day NFL, as only 19 teams use a fullback.
The Lions do have good history of getting productive players in the fifth round, including Sam Martin, a punter from Appalachian State and Tahir Whitehead, who could get some snaps at linebacker this year, as he came in to help replace Stephen Tulloch who went down with injury quite well last season.
Overall, Burton won't be on the field very often next year, but on running downs or play action pass plays he could be a very useful player for the Detroit Lions next season.