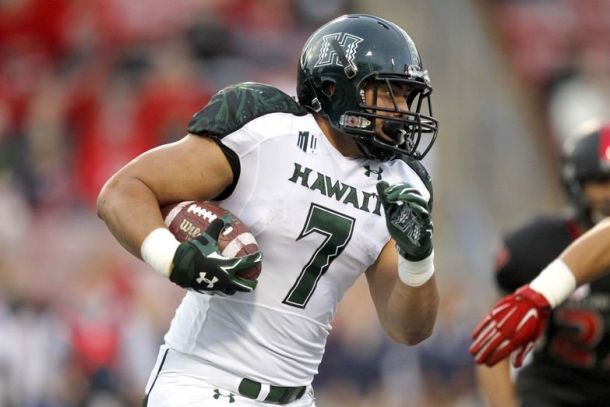 The Tampa Bay Buccaneers have selected running back/full back Joey Iosefa out of Hawaii as their seventh round and final draft selection. This selection is kind of shocking. Joey Iosefa is more of a running back than a fullback in terms of abilities. The Buccaneers really needed a fullback last season following the leg injury to Jovorskie Lane.
If Lane is healthy it would make sense for him to be the starter. Also, the Buccaneers have a depth chart full or running backs who all bring different skill sets to the table. It's unclear what Joey Iosefa's role will be for now.
Joey Iosefa is 247 pounds. He ran the 40 yard dash in 5'02, seeing those types of numbers qualifies him to be more of a short yardage guy. In 2014, he posted 617 yards, with eight touchdowns in a season in which he missed games due to an injury and a DUI.
In his other two years at Hawaii, Iosefa led the team in yardage. With his size and mobility, the Buccaneers will most likely make him their fullback. Special teams is a plus when it comes to his skill set so expect the Buccaneers to utilize him there as well.