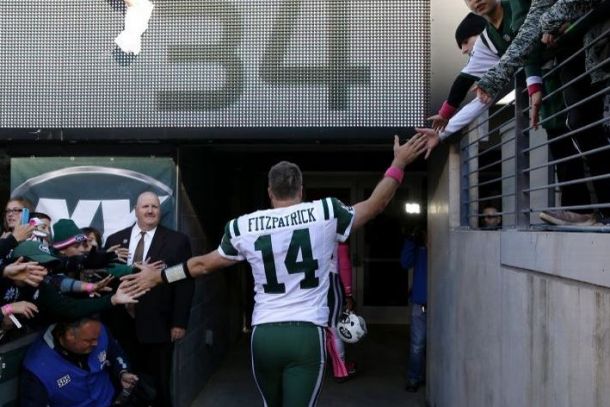 It seems like this is the year that the world may end. We've got the Cubs and the Mets playing in the NLCS, a team not named the Spurs or Heat won the championship, and the Seahawks are 2-4. All of these things are going on, but what also is happening is that the New York Jets head into a matchup against the Patriots with a 4-1 record, but nobody is talking about it.
Geno Smith took a nice punch to the jaw in the preseason, leaving Ryan Fitzpatrick to lead an offense surrounded by Chris Ivory, Brandon Marshall, and Eric Decker. Now, this isn't a knock on Fitzpatrick. This writer believed more in Fitzpatrick prior to this season than Geno Smith, so his quality play is not surprising. What is surprising, is not that they have 4 wins, it's that the 4 wins they have are dominant wins.
The Colts are the only team that they have faced that the public would consider quality, but they're handling their business against the bottom-tier teams as well, which can't be said for every NFL team.
In fact, the Jets actually scratched the top-10 in ESPN's weekly power rankings, sitting at number 8. According to ESPN, Chris Ivory is averaging an NFL-best 115.0 rushing yards per game this season, and the Jets are 4-0 with him in the lineup. He was not active against the Eagles in their only loss. They rank 1st in yards per game as a defense, first in rushing yards per game, and 8th in total offensive yards per game. Their young and athletic defense also ranks 2nd in rushing yards allowed per game.
Sadly for New York, they do play the Patriots on Sunday. Although it likely won't go in the Jets favor, they have historically played the Patriots competitively, and this is by far the best Jets team since they made it to the AFC championship. The Patriots stand at 5-0 on the season, first in most power rankings.
The Jets are the only team that realistically could end this undefeated season for the Patriots until they play the Broncos at the end of November. "Winning this game is not going to make us, losing this game is not going to break us," Bowles said Monday.
Luckily for the Jets, Todd Bowles is right. This team could make an impact week in and week out. People should start talking about the New York Jets.