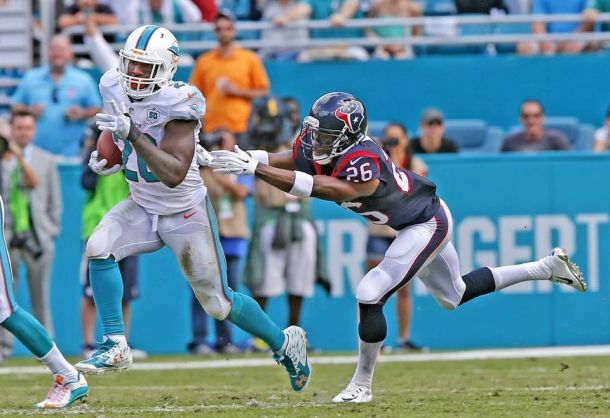 Lamar Miller ran wild on Sunday, racking up 175 yards on the ground and 61 yards threw the air in just one half which led to being voted the VAVEL USA Offensive Player of the Week award.
"I saw a little crease," Miller said, "and I tried to make one guy miss."
Miller sat the whole second half as the Dolphins cruised to a victory. Miller spoke a bit about the difference in coaching that Dan Campbell brings.
"I think it has something to do with it," Miller said when asked about the coaching change. "Every day, [Campbell] preaches, 'Win your one-on-one battles.' I'm just trying to win my battles and make explosive plays."
Miller looked patient, efficient, and went berserk in big plays including one screen play that went for 54 yards to the house. "I think it was [left guard] Dallas Thomas and [center Mike] Pouncey — they made chop blocks," said Miller, crediting his blocking. "I've also got to thank [wide receiver] Rishard Matthews."
Lamar Miller was a no-show for the beginning of the season, but has been on a tear the last couple of games. This writer even saw someone in a fantasy league drop Miller. The whole league went crazy saying,"What on earth were you thinking?!!" He dropped Miller for Charcandrick West.
The Dolphins do look like a much better team when Miller gets more touches. Everyone knew he was an explosive player, but he needs to get the ball in order to go to work. Ryan Tannehill has also stepped up his play.
"Earlier in the year, I was worried about how many opportunities I was going to get," said Miller, who has rushed for 288 yards in the past two games. "I wasn't getting the ball that much. So every time I got it I was trying to make a big play, and I wasn't reading my keys.
"Now, I'm trusting my offensive line more. They've been getting a lot of movement. I'm being patient and decisive."
Miller won the award through a vote by the VAVEL USA NFL writers, winning it over Ryan Tannehill and Mike Evans.