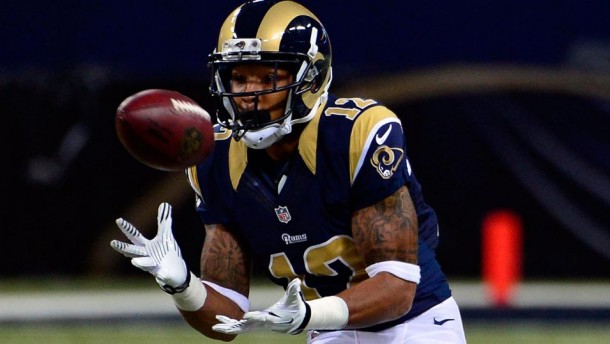 St. Louis Rams wide receiver Stedman Bailey was shot multiple times late Tuesday night in Miami. Bailey suffered wounds to his head and his hip but his injuries are not considered life threatening. Bailey was in the car with his cousin and two other young relatives while a man shot at them. The driver of the car, Bailey's cousin, shielded the children in the car with his body and he is in critical condition.
The rumors and reports first broke out on Twitter with players such as Arizona Cardinals DB Tyrann Mathieu, Pittsburgh Steelers RB Le'Veon Bell, Seattle Seahawks WR Tyler Lockett, and other NFL players tweeted out their condolences to Bailey and telling those on Twitter to pray for him. Nothing was official but the Rams officials reached out to Bailey and his family to figure out what had happened. It was reported that Bailey was conscious.
Bailey is currently serving a four game suspension for violating the NFL's substance abuse program by failing a drug test for marijuana. Bailey cannot practice or travel with the team so it makes sense as to why he was in Miami, as his hometown is Miramar, Florida; roughly 20 minutes from Miami.
Rams players such as CB Janoris Jenkins, DE Chris Long, LT Greg Robinson, LB Akeem Ayers, and other players around the league have sent out tweets in regard to Stedman. Bailey will undergo surgery in the morning from wounds suffered from the bullets.
The St. Louis Rams released an official statement regarding Bailey, saying "We are aware Stedman Bailey was involved in an incident this evening. We have spoken with Stedman and he is in the hospital in critical, but stable, condition. We are gathering facts about the situation and will provide updates as we learn more."
Events like this show that the life as an NFL player is not always glamorous. We ask that you keep Stedman Bailey and the others affected in the incident in your mind and prayers.