This season, there will be a large number of All-Pro and Pro Bowl-caliber backs hitting the open market compared to previous years. Among them are running backs Matt Forte, Doug Martin and Lamar Miller. While fullbacks aren't used nearly as much as they used to be, this year some of the best in the business will have the chance to look for new teams, including Mike Tolbert and John Kuhn. These skilled backs will likely be at the top of some teams' free agency wish lists.
Below is a list of the top Running Backs/Fullbacks this offseason and where they could potentially end up:
Matt Forte:
Matt Forte will reach the open market for the first time in his eight years in the NFL.
Originally drafted in the second round of the draft by the Bears in 2008, Forte has spent all eight of his seasons in the NFL playing in the Windy City. It was announced early last week that Forte would not return to Chicago. Forte has had a big impact during his time with the Bears as he has rushed for over 10,000 yards on 2,035 rushing attempts. He has also accounted for 64 total touchdowns.
While Forte appeared pushed out of Chicago, plenty of NFL teams will be looking for his service for the 2016 season and beyond. Some of the best options that could work could be with the New England Patriots, Seattle Seahawks, and maybe the Indianapolis Colts.
The Patriots went through a revolving door at the running back position last season and could be looking for a veteran back. Forte would fill that gap. The Seahawks may want Forte after Marshawn Lynch decided to hang up his cleats last week. And, the Colts haven't had an elusive and quick back in a while and could be willing to cut ties with Frank Gore.
No matter where he goes, Forte will have his choice of options while on the free agent market.
All Potential Destinations: New England Patriots, Seattle Seahawks, Indianapolis Colts, Dallas Cowboys, New York Jets
Doug Martin:
Like Forte, Doug Martin will be a free agent for the first time in his four years in the NFL.
The 27-year-old back had his best year as a pro last season after a weak showing in 2014. After bursting onto the scene as a rookie in 2012, Martin slowed down for a while but regained his Pro-Bowl form and earned another trip to Hawaii in the 2015 season.
Martin rushed for over 1,400 yards this year and added 271 receiving yards. Martin had a tremendously hard time holding onto the ball at times as he fumbled the ball a staggering 5 times this year.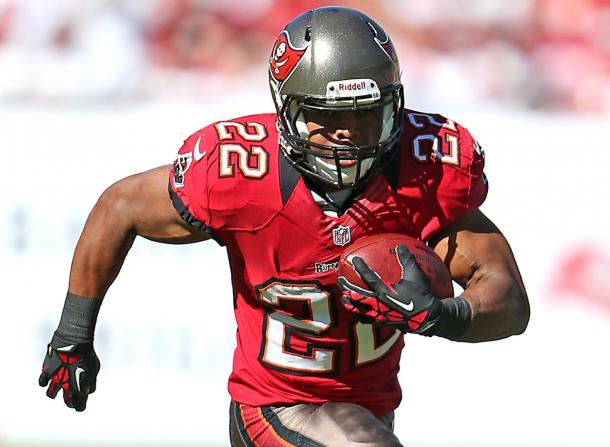 Despite the turnovers, Martin's speed and playmaking ability will not scare teams away from trying to lure him in this offseason. Martin is hoping to "hit the jackpot" this free agency, and there are a few teams that could help him do that.
The Bucs of course could re-sign Martin, but after the news that he wants a mega-sized contract, the Bucs will likely look for a cheaper option. Another surprise could be the New York Giants. The Giants had a mess of a situation with running backs last year as they rotated through four different backs for a majority of the season. Rashad Jennings came on late in the year, but the Giants could still make a move for a younger running back either in the draft or through free agency. Another team could be the Miami Dolphins if they decide not to re-sign their pending free agent running back Lamar Miller. No matter where he goes, it is likely that at least one team will be willing to break the bank to sign Doug Martin.
All Potential Destinations: Tampa Bay Buccaneers, New York Giants, Miami Dolphins, Buffalo Bills, Dallas Cowboys ( Depends on what happens with LeSean McCoy)
Lamar Miller:
Lamar Miller, like both of other running backs already mentioned, will be a free agent for the first time.
Miller was selected in the 4th round of the 2012 draft by the Miami Dolphins. Miller had a down year this season from 2014 but was still very productive, rushing for close to 900 yards. He also had nearly 400 receiving yards with 10 total touchdowns.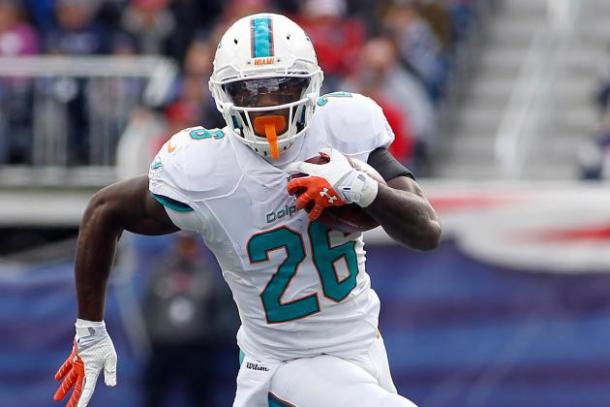 The Dolphins have said publicly they want to re-sign Miller, but at the right price. That price could be too high for the Dolphins, and like the Buccaneers with Martin, it could force them to sign a cheaper option.
The Giants could be in play for Miller if they want a younger back and decide to get one through free agency. Also, the Dallas Cowboys could make the push. Darren McFadden had a decent year last year in his first season in Dallas, but the Cowboys could be looking for a more versatile option like Miller.
All Possible Destinations: Miami Dolphins, New York Giants, Dallas Cowboys, New York Jets
Chris Ivory:
In 2015, Chris Ivory had by far his best season as a pro. He finished with over 1,000 yards for the first time in six years and had 8 total touchdowns.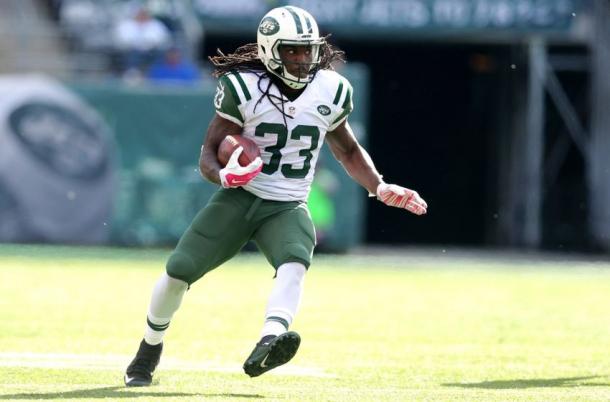 Ivory came to New York from the Saints in 2013. He signed a three-year deal worth $10 million.
With limited cap space available this year, it is unlikely that Ivory will be back in the Big Apple. But at just 27-years-old, Ivory will likely garner a lot of interest on the open market.
There is not one specific team at this time, but it is likely that a lot of the teams mentioned earlier will also look to sign Ivory if they miss out on a top tier back like Forte or Martin.
All Possible Destenations: Dallas Cowboys, Miami Dolphins, Tennessee Titans
Alfred Morris:
Another pick from the 2012 NFL draft Alfred Morris will be a 2016 NFL free agent.
After a breakout campaign in his rookie season of 2012, Morris's playmaking abilities and his stats have all gone downhill since then.
After rushing for 1,600 yards and adding 13 rushing touchdowns in his rookie season, Morris had just 750 yards this year and 1 rushing touchdown. A big reason for this was that Morris split carries with the 'Skins rookie back Matt Jones.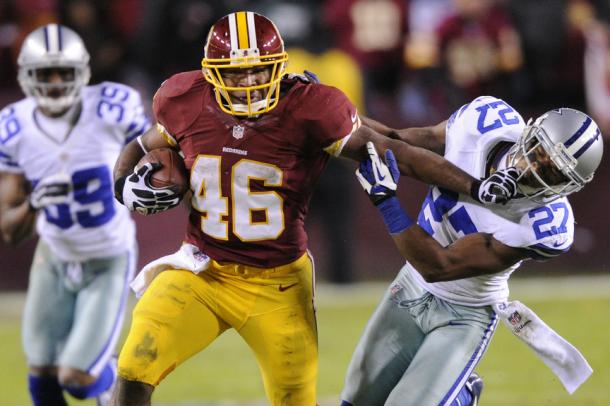 After drafting Jones last year Morris could be done in the Nation's Capital. But Morris will definitely be signed elsewhere.
A potential landing spot could be with the Patriots. Morris would fit well in that system and already has experience splitting carries with other backs. Another team could be the Jets. If they move on from Ivory, Morris would likely come as a cheaper option to replace him.
All Potential Destinations: New England Patriots, New York Jets, Dallas Cowboys
John Kuhn:
The All-Pro fullback could end up going back to the Green Bay Packers this season.
At 33-years-old, Kuhn is still one of the best fullbacks in the league. He is a fan favorite in Green Bay and a return to Green Bay is inevitable.
Mike Tolbert:
The other All-Pro full back this year, Mike Tolbert, is also a free agent.
While he was only a fullback, Tolbert was a key member of the Panthers' Super Bowl run that ended with a 24-10 loss to the Broncos this February. As fullbacks are being used less and less in today's NFL, like Kuhn, it is highly probably that Tolbert ends up back in Carolina this year.
Best of the Rest: Running Backs
LeGarrette Blount, Ronnie Hillman, Chris Johnson, Bilal Powell, James Starks
Best of the Rest: Fullbacks
Tyler Clutts, Will Johnson, Darrel Young