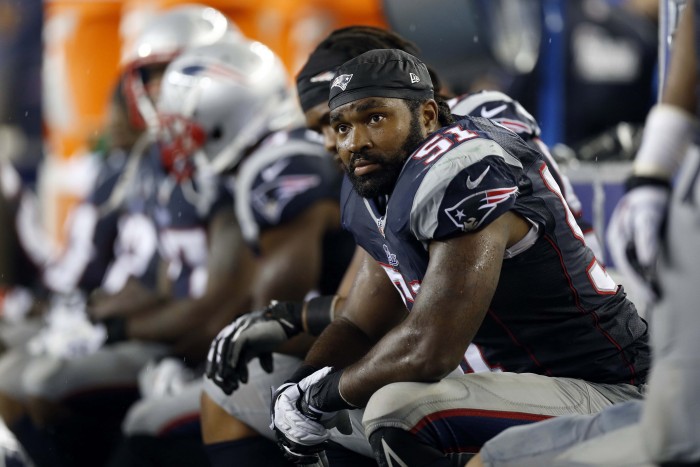 Longtime defensive leader of the New England Patriots, Jerod Mayo, announced today that he will "retire a Patriot."
He took to instagram late Tuesday night to announce his decision:
"After a lot of thought Chantel and I take this opportunity to express our sincere gratitude for what we consider a life changing event ... that of becoming a New England Patriot for the past 8 years," Mayo wrote. "We are extremely grateful to "Thundercat," Jonathan, the Kraft family, Coach Belichick, the Pats organization, and the most amazing fans in contributing to these pages of our lives. As my family and I prepare for the future, be sure that the Pats memories will always hold a special place in our hearts."
Mayo who was drafted 10th overall in the 2008 NFL draft made two Pro Bowls, won a Super Bowl with the Pats', and won the 2008 AP Defensive Rookie of the Year.
While it is very unsurprising that Mayo would no longer have a home in New England, it is a surprise that Mayo decided to retire while at the age of 29. Then again it makes sense as Mayo has seen his production drop in recent years as he has struggled to stay healthy for the last few years. He tore his pectoral muscle in 2013, tore his patellar tendon in 2014 and injured his shoulder as a part-time player in 2015. Before this long list of injuries, Mayo missed just five games from 2008-2012.
Injuries first began to effect him in 2009, but he was able to put it all together so much that he earned a selection to the first-team All Pro team in 2010. He signed a massive contract late in 2011 with $25 million guaranteed, but ultimately he was replaced by younger, and less injury prone players like, Devin McCourty, Dont'a Hightower, Chandler Jones, and Jamie Collins as the leaders and play makers of the New England defense.
By retiring, Mayo will save the Patriots $7 million in cap space to use on some of their younger defensive play makers.
Mayo's Instagram Post Below: