The Seattle Seahawks have achieved a great deal of success in the past six years, evolving from a perennial losing team to one of the premier organizations in the NFL.
This has largely been due to the influence of head coach Pete Carroll. Carroll, who also works with general manager John Schneider to oversee personnel decisions, has led the Seahawks to five playoff appearances over the course of the last six seasons.
Based on this, it isn't surprising that the team is looking to extend the coach. The NFL Network's Ian Rapoport tweeted that "Pete Carroll is entering the final year of his contract in 2016, and the #Seahawks are working with him on an extension, I'm told."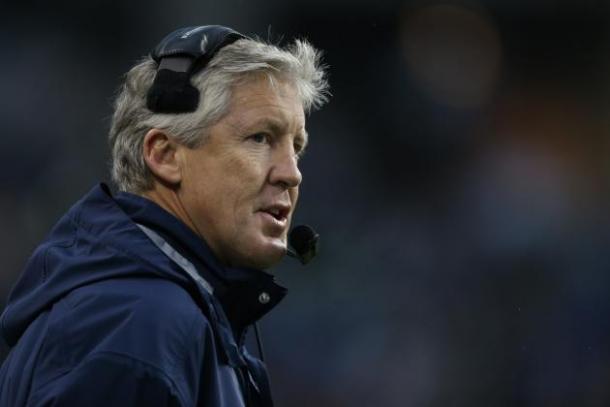 Impressive Resume
Carroll's resume with the Seahawks also includes consecutive Super Bowl trips, a Super Bowl ring and three division titles. In addition to the championship, perhaps the most impressive part of the coach's tenure in the Pacific Northwest is his ability to develop players.
The argument could be made that quarterback Russell Wilson, middle linebacker Bobby Wagner, cornerback Richard Sherman, strong safety Kam Chancellor and free safety Earl Thomas are the best players at their positions in the league. Carroll drafted and developed each of the five. This is also without mentioning players like Doug Baldwin and K.J. Wright, who are amongst the elite at wide receiver and outside linebacker respectively.
With the exception of Thomas and Wagner, no player mentioned above was taken in the first two round of the draft. Wilson was a third-round pick, Wright was picked in the fourth round and Sherman and Chancellor were snagged in the fifth round. Baldwin was an undrafted free agent.
Continued Success
What's more, Carroll has continued to cultivate talent. Recent draft picks and undrafted players such as Tyler Lockett, Thomas Rawls, Paul Richardson, Justin Britt, Jordan Hill and Frank Clark all having the look of players capable of developing into stars or above-average performers.
Not only does the Seahawks' coach develop players straight from the college ranks, Carroll and his staff have shown the ability to improve free agents coming from outside the organization. Defensive linemen Michael Bennett and Cliff Avril, offensive lineman Breno Giacomini and cornerback Brandon Browner all improved significantly after joining the Hawks.
All told, extending Carroll makes a lot of sense. The 64-year-old is one of the rare coaches who could conceivably stay with a team until he retires. Not only has he proved his worth as a coach, but his ability to continually produce talent should can allow him to be successful as long as he's coaching in Seattle.