 As the dust settles beyond March 1st's 4 p.m. franchise tag deadline, there are plenty offensive tackle free agents stills scheduled to him the market in 2016.
Kelechi Osemele, Baltimore Ravens
Despite playing the majority of his early career at left guard, Kelechi Osemele stood in this season for the injured Eugene Monroe from week eight forward. To say Osemele did an adequate job would be underselling his efficiency and effectiveness at tackle. The 6'5" 333 lbs. 26 year old helped lead a Baltimore Ravens defense that placed 3rd in league in sacks allowed, with only 24 given up on the year.
The biggest factor to Osemele's projected big time pay day is his viability at left tackle. Osemele displayed he could translate his skill set from inside to outside with virtually no learning curve. With the Ravens failing to tag Osemele in time for free agency, Osemele would be remiss to pass up the opportunity to make big time left tackle money.
Among the teams in the market looking for a blue chip franchise left tackle would be the cash rich Oakland Raiders. Raiders G.M. Reggie McKenzie has been frugal with his copious cap figures in the recent past, but has always shown to be willing to spend on line play on both sides of the ball--spending big on center Rodney Hudson and nose tackle Dan Williams. Osemele fits the profile the team looks for in offensive lineman (i.e. big) and could relish being a part of a young up-and-coming roster.
New Team: Oakland Raiders
Russell Okung, Seattle Seahawks
It isn't often that former 6th overall picks coming off their second big money contract see free agency at only 28 years old, but for Seattle's Russell Okung, the scenario is all too real. Okung, who has missed 13 games over the past three seasons, has not been a bad player, but hasn't quite lived up to the 6 year nearly $50 million dollar contract he signed in 2010.
As Okung enters free agency agent less, he should cull a market of teams looking to fill a whole on their left side. Despite Russell Wilson being the 3rd most sacked quarterback in 2015, the situation for the Jacksonville Jaguars is even more dire. Blake Bortles has led the league in sacks two years running as it becomes increasingly clear that 2013 2nd overall pick, Luke Joekel, isn't living up to expectations.
With an expected $80 million to spend in free agency, Jacksonville owner Shahid Kahn should spare no expense preserving his promising young quarterback.
New Team: Jacksonville Jaguars
Mitchell Schwartz, Cleveland Browns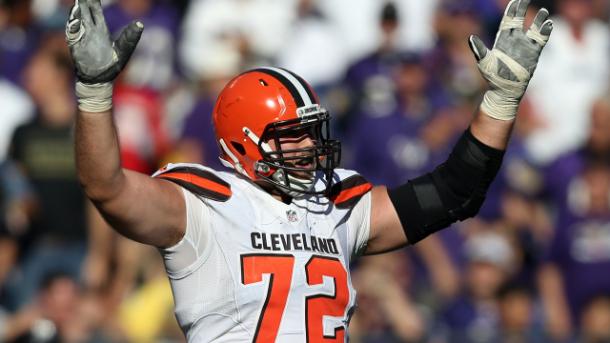 If the Super Bowl was any indication, right tackle has become an increasingly important position. Mitchell Schwartz proved his worth opposite Joe Thomas on an top-tier Browns offensive line. According to Pro Football Focus' bespoke metrics, the Browns ranked 5th in the league with the tackles being the units bright spots.
Given the Browns' approximately $40 million to spend in free agency, much of their resources should be spent on preserving their own roster. This will be especially the case for their prized right tackle if they end up taking a quarterback with the second overall pick, which remains the strongest possibility. With that in mind, the Browns would be wise to acquiesce to Schwartz' demands and pay what is necessary to keep him.
New Team: Same
Donald Penn, Oakland Raiders
One of the most surprising occurrences for many NFL pundits was the smart veteran signings by Reggie McKenzie during the 2014 offseason. Chief among these was Donald Penn, who replaced a young and spry Jared Veldheer to the dissatisfaction to many Raiders fans
Penn, 32, has legitimately played as one of the league's best offensive tackles over the past two seasons and has played an integral part in the development of Derek Carr. Like most things in life, though, pro football is a business and the Raiders will have an opportunity to sign a younger long-term option considering their cap situation.
A possible landing spot for Penn would be protecting the blind-side of another 2014 draftee signal caller, Teddy Bridgewater. Brigdewater was tied for 6th for most sacked in the league in 2015 despite only dropping back 447 times. For comparison, Aaron Rodgers (2nd most sacked) was sacked only 2 more times but on 572 attempts. A big part of the problem in Minnesota has been the disappointing play of former first round pick Matt Kalil. Penn could step right in like he did in Oakland and rectify the issue.
New Team: Minnesota Vikings