The RG3 era is officially over in Washington.
It felt like a long time coming, but the Washington Redskins officially confirmed the release of Robert Griffin III on Monday, a move not too unexpected considering the 4 PM EST deadline to get rid of his contract before his 2016 salary was to set in.
Griffin III Era Begins An Instant Success
2012 Season
It felt like not so long ago that Robert Griffin III was going to be the next big thing the NFL had seen in quite some time, and there was good reason to believe that.
The Redskins selected Griffin with the second pick in the 2012 NFL Draft. They gave up a bounty of picks to draft him though; Washington acquired the second overall pick from the St. Louis Rams in exchange for a staggering four high-value draft picks over three years – the first being their first-round picks in 2012 (sixth overall), 2013 (22nd overall), and 2014 (second overall), as well as their second-round pick (39th overall) in 2012.
The move looked like the Redskins had finally done something right for the first time in ages, as Griffin proved to be an instant winner in his rookie year and helped lead the Redskins to a 10-6 record as well as their first NFC East title since 1999.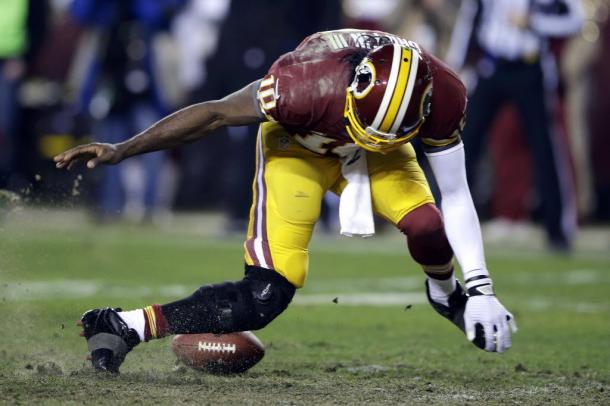 But, in the wildcard loss against the Seattle Seahawks, Griffin suffered a torn ACL and LCL. This started a long downfall for the once-promising Rookie of the Year.
Steady Decline
2013 Season
Due to the injures suffered in the 2012 postseason, Griffin was not able to participate in any of the Skins' 2013 preseason games. Somehow, Griffin was still able to return for the team's first regular season game in 2013. RG3 was unable to replicate his 2012 magic, however, and he finished just 3-10 as a starter before being shut down for the team's final three games.
2014 Season
Griffin's 2014 season was again plagued with injuries. On September 14, 2014, in Week 2 of the regular season against the Jacksonville Jaguars, Griffin was carted off the field after suffering a dislocated left ankle. X-rays and MRIs revealed no fractures in the ankle, but it still did not look good.
Griffin was later benched for Colt McCoy, and he didn't look very good when he played. Griffin was 2–5 as a starter in 2014 and the Redskins finished 4–12 and last place in their division.
2015 Season
Griffin started off the 2015 season just like he had the past few years, with another injury. During week two of preseason. Griffin fumbled the ball and recovered it, but had a defensive lineman fall on top of him. Griffin suffered a concussion in the process and was questionable for the next game. Griffin was originally medically cleared for the game by a physician, but a few days later, the same physician declared Griffin not ready for the game, thus giving backup Kirk Cousins the start.
Cousins was later named the starter for the regular season opener and onward.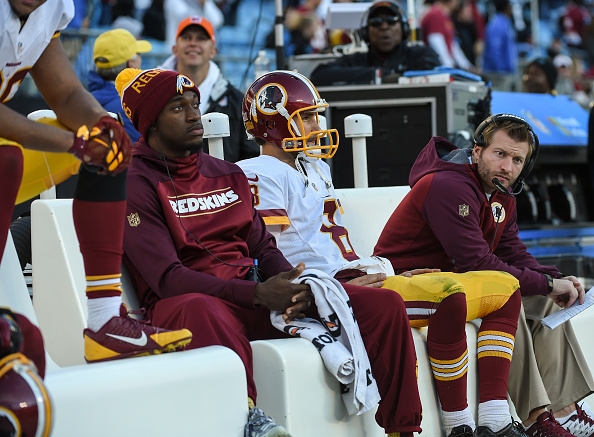 Later that season, it was announced Griffin's play had fallen so much he was so downgraded to the scout team. This was the last time Griffin would ever wear a Redskins uniform.
What's Next?
Robert Griffin III will now be a free agent. He will get the fresh start he needed to revive his career. Multiple teams will likely me interested and Griffin will more than be ready for his next, and possibly final chance to revive his NFL career.
The Redskins failed in their attempts to rid of Griffin via trade, and while the assets they gave up to originally acquire RG3 went to waste, Kirk Cousins has stepped in nicely as the team's franchise QB.