 Baltimore Ravens quarterback Joe Flacco spoke to Ryan Mink of Baltimoreravens.com about overcoming mental hurdles while recovering from surgery to his torn ACL. The former Delaware Blue Hen told the team website: "It's funny when I'm out there running around and cutting on it and doing those things, there is no tentativeness, because I didn't hurt it that way," Flacco said. "I hurt it getting hit." Regarding how he will react to pressure in his face, Flacco told Mink: "I'm curious. It will probably be a little different the first time I take a couple drop-backs and feel a little bit of guys coming in my face. I'll have to step and throw still."
Flacco and Ravens bit by injury bug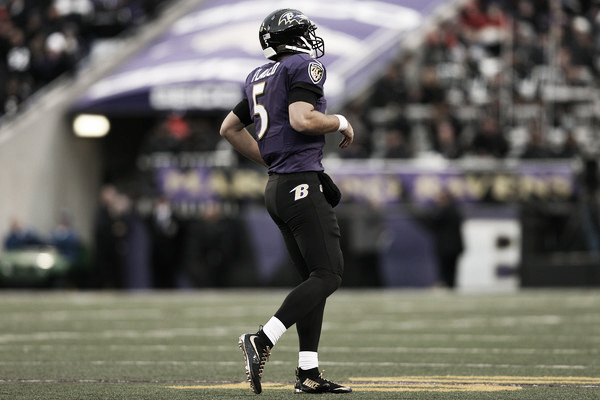 Flacco tore his ACL with only seconds remaining in regulation of a week 11 victory over the now Los Angeles Rams, sidelining the former first round pick for the rest of the season. The former Super Bowl MVP previously started 122 consecutive games for the Ravens. Flacco finished the year completing 64 percent of his passes for 2,791 yards 14 touchdowns and 12 interceptions and a total QBR of 40.8.
Flacco's injury was one in a long line of Ravens players last season. First round draft pick Breshad Perriman never suited up for them during the regular season. Terrell Suggs tore his Achilles tendon in a week one loss to the Denver Broncos. Wide receiver Steve Smith Sr. suffered the same fate in week eight against the San Diego Chargers. Breakout running back Justin Forsett broke his arm in the same game Flacco tore his ACL. Baltimore placed 22 players on injured reserve last season. The Ravens finished 2015 with their first losing season under head coach John Harbaugh at 5-11, with all but two of their losses decided by eight points or less.
Will doubt linger into the season?
Flacco does not expect the mental doubt to linger on for long, telling the team site: "I don't expect to have those kinds of thoughts linger in my head," Flacco said. "But you never know until you get out there and do it again."
Flacco hopes to be ready by the beginning of training camp in July.