There are plenty of interesting story lines coming into this week's Monday Night Football game between the Seattle Seahawks (4-2-1) and Buffalo Bills (4-4). Both teams are trying to set themselves apart from the middle of the pack; the former has the spot in their division but can easily lose it in a tight divisional and wild card race, while the latter is just a couple of spots away from a playoff berth. This game could be a momentum shifter for either team depending on how it goes.
Percy Harvin pulls a Brett Favre
It looks like Brett Favre isn't the only one who couldn't stay retired. Percy Harvin, completely out of the blue, decided to sign a contract with the Bills and return, possibly by Monday to face his former team. Remember? The one that traded him to the New York Jets midseason because of chemistry issues. It wasn't the prettiest of divorces. So is this a coincidence? Probably not.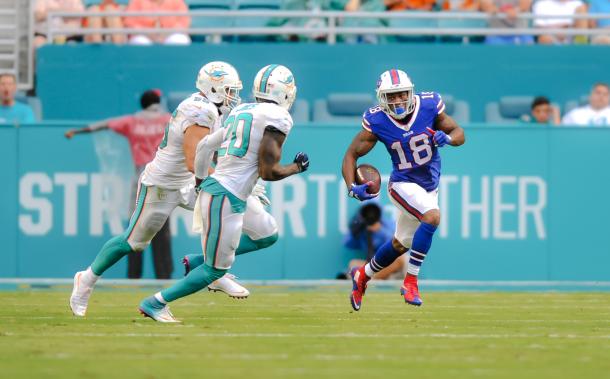 It makes sense for the Bills, who are reeling without playmakers Sammy Watkins and possibly LeSean McCoy. Tyrod Taylor is a good quarterback but can only do so much without targets. Harvin is a player whose relatively familiar with the system since he played (kind of an overstatement) with them in 2015 and has the potential to be a factor. Still, his output in recent years has not been promising, with him failing to eclipse 500 yards since he left the Minnesota Vikings in 2012. But to play Devil's advocate, that could have been caused by his various injuries, not a lack of talent or being a scheme player. Was a year rest enough to make him come back less fragile? The coming weeks will answer that question.
Also, because of Harvin's return, there's been speculation that none other than Marshawn Lynch is trying to come back to the game too. He showed up in the Seahawks' locker room decked in full Seahawks gear, prompting rumors that he's coming out of retirement. Personally, it seems a little out there. There have already been mutterings around the league that he quickly put to rest. While it would be dope for these , this, and this to come back in the league, it seems like it's just going to be a far-fetched dream.
Offense is key
This game will come down to whichever offense can have the better game. As of now, Seattle has one of the best defenses in the league, limiting opponents to the second least points per game and sixth least yards per game. They're adept at stopping both the running and passing game, and it is unclear how the 24th best offense in terms of yards per game will fare agianst them (granted, the Bills have scored the eighth most points per game in the league). Taylor and either McCoy or Mike Gillislee will have issues finding weaknesses in the Seahawks' stout defense.
But the problem with the Seahawks all year hasn't been their defense, but their offense. They rank fourth to last in points per game and 23rd in yards per game. Due to a horrible offensive line, Russell Wilson has been banged up all season long and hasn't been able to play as well as usual. The running game started off well with Christine Michael leading the way as Thomas Rawls was dealing with an injury, but it has fallen off some as of late. Coach Pete Carroll is giving C.J. Prosise more playing time in the hopes that he can help improve them on the ground.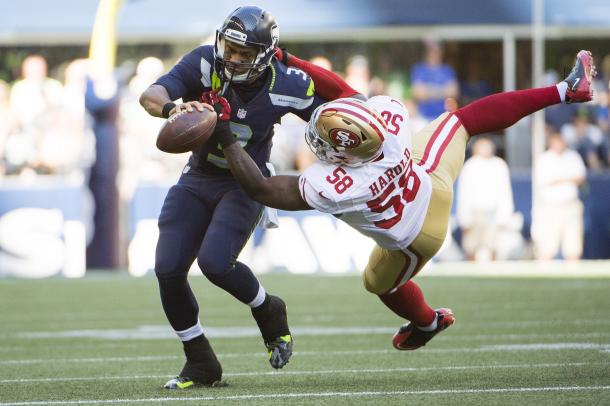 They will be facing a solid Buffalo defense that is pretty middle of the pack in terms of points and yards allowed per game. They are one of the league leaders in sacks, so they like to pressure the quarterback, something that doesn't help Wilson's case at all. The last thing he needs is to get hit more; he has been sacked 22 times so far this year. The Seahawks will have to use their running game effectively to expose the Bills' weakness on defense. Then, Wilson will hopefully have more time to find open receivers and in general be less panicky in the pocket. If they can play well on offense, then this will be an easy win for them.
Beginning of second-half surge?
At this point last season, the Seahawks were 4-4. Their defense was solid, only allowing 17.5 points per game. However, their offense was struggling albeit doing slightly better than this year, as they were averaging 20.9 points per game up until that point. After their bye, which was in Week 9, they scored 29 or more in all but one game, averaging 32 points per game, which is only a little less than what the great Atlanta Falcons offense is putting up at 33.9.
So is Seattle poised for another late season comeback? Rawls' return will help them in terms of running the ball, but the real problem is Wilson and his injuries. Because he's hurt, he's been very hesitant to run and as a result isn't as dynamic as usual. He refuses to miss a single game to rest, a decision that definitely didn't do J.J. Watt any favors. If Wilson can't get back to his old self then the offensive issues will persist. However, if he can either overcome his injuries and start scrambling again or find a way to get the ball to playmakers like Doug Baldwin and Tyler Lockett, then a better second half of the season is extremely possible. Whatever happens, this Monday Nighter against the Bills is key for the rest of the year.