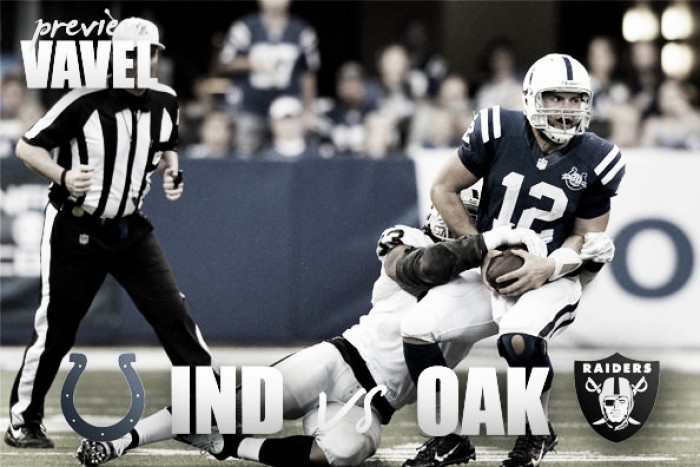 This Saturday's Christmas Eve slate of games includes a 1:00 P.M. matchup between the Indianapolis Colts (11-3) and Oakland Raiders (7-7) in the Oakland-Alameda Coliseum with many playoff implications at stake.
Despite one team vying for a first round bye and the other on the outside looking in, the Raiders and the Colts could have easily been charting different paths this season. For both of these clubs, fortune has been a big part of the equation as the playoffs near.
According to Pro-Football-Reference's Expected Win-Loss - a metric calculated by a team's points scored vs. points against - both teams fell between a window of 8 and 6 wins. The Colts averaged nearly 26 points per game while giving up just over 24, and the Raiders score nearly 27 points per game while giving up 24 on the nose.
A big part of the Raiders overcoming their expected win totals this year has been the product of late game heroics by both quarterback Derek Carr and a playmaking defense headlined by Khalil Mack and Bruce Irvin. If the Raiders would like to keep their "lucky" streak going, they will have to overcome Indianapolis' own, Andrew Luck.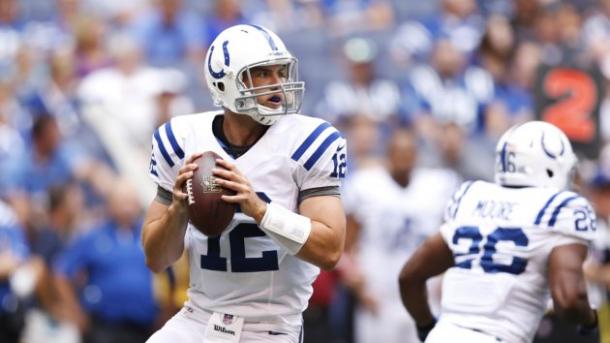 Injury Report
For the Colts, the team will be relatively healthy IR notwithstanding. The only active roster participant who's scheduled to be out is linebacker Chris Carter, while cornerback Rashaan Melvin and backup tackle Joe Reitz are marked questionable, but were full participants in practice this week.
The Raiders offer a bit more nuance in their injury report. Rookies Shilique Calhoun and Karl Joseph remain out with knee and toe injuries, respectively, while veteran defensive lineman Stacy McGee will be out with a hurt ankle. Cooper, Crabtree, and Osemele are listed as questionable on offense, but will likely be full go come gameday. On defense, linebackers Malcolm Smith and Perry Riley are appear as questionable, but are expected to play.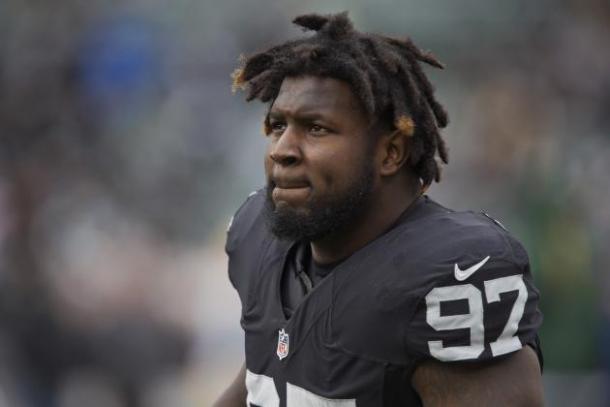 The big name for the Raiders returning this week is defensive lineman Mario Edwards Jr., who was just taken off injured reserve. Coach Del Rio intimated he's not likely to play Edwards this week, but his activation and limited practicing bodes well for the playoffs.
Playoff Implications
Both the Raiders and Colts will enter Saturday afternoon's matchup needing a win. While the Raiders have already secured a playoff berth, winning out will ensure a first round bye. The Colts, on the other hand, are fighting for their playoff lives which may have already dissipated two weeks ago in a loss against the Houston Texans.
The home venue for the Raiders hasn't proven to be as comforting for the home team as the hostile away crowds. Of the Raiders three losses, two came at home and their only road loss came two weeks ago in a frigid Arrowhead. Conversely, the Colts have four home losses to three away losses.
Key to Victory
For the Colts, the team must look to replicate the tour de force performance of a week ago in Minnesota -- a feat which seems perfectly possible against a playmaking but leaky Raiders defense. The Raiders currently rank last - with the hapless Bay-mates San Francisco 49ers - in yards allowed per play at 6.1 (NFL.com). Although the Colts offense is middling in terms of big plays, but they will enter Saturday with a fully loaded big play arsenal with T.Y. Hilton and Phillip Dorsett.
The Colts will need to attack the Raiders big perimeter defensive backs vertically while giving Luck enough time for those deep pass plays to develop - a tall task considering the prowess of Oakland's edge pass rushers
The Raiders will have a similarly tall task in stopping Luck, but they'll be up to the challenge if the game ends up being the shootout it's expected to be.
Despite playing with a bum pinky over the last three and a half weeks, Carr will be expected to keep pace with Luck. The Raiders receivers, namely Amari Cooper, have waned significantly in production in recent weeks and the recovery won't be any easier going up against the Colts' Vontae Davis.
Ultimately, the Raiders will be wise to attack the teeth of the Colts' defense which gives up over 100 yards on the ground a game.