Back when the two teams faced off in Week 11, the Houston Texans seemed to have the game in the bag before Derek Carr led the Oakland Raiders to a fourth quarter comeback and a 27-20 win.
However, Carr is now out for the season with a broken leg. Matt McGloin had a subpar Week 17 before injuring his shoulder. As a result, Connor Cook got reps and showed some promise against an amazing Denver Broncos defense. Cook has been named the starter for the Raiders.
Oakland are not the only team with quarterback problems. The Texans gave Brock Osweiler a 4 year, $72 million contract in the hopes that he will fix the passing game. But Osweiler has been a huge disappointment, finally getting benched in Week 15 in favor of Tom Savage. Savage came back against the Jacksonville Jaguars and played alright against the Cincinnati Bengals (T.J. Yates should've been signed for that game), before suffering a concussion against the Tennessee Titans on a quarterback sneak. Now, Osweiler has been given a second chance.
Definitely not the ideal situation for either team, but there's nothing they can change about that.
Keys for the Houston Texans
Go to DeAndre Hopkins
After gettign 111 receptions for 1,521 yards and 11 touchdowns in 2015, DeAndre Hopkins has only caught 78 passes for 954 yards and four touchdowns this year. This is because of a sharp decrease in targets from 192 to 151, and his most targeted game of the year was when Savage replaced Osweiler.
Most of these targets now go to the tight ends C.J. Fiedorowicz and Ryan Griffin, which is good and all, except Hopkins is one of the best receivers in the league. Hopkins deserves the targets that should come with that recognition and if he gets them, the rest of the team will be more open.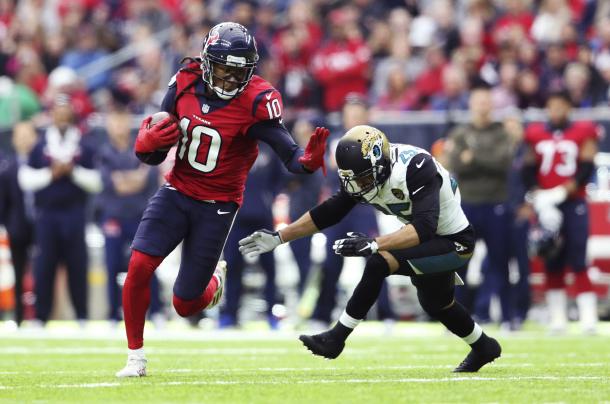 Convert in red zone
Nick Novak became one of the highest scoring kickers in the league, as he has attempted and made the tied second most in the league. A lot of these come from 20-39 yards because the Texans are horrible in the red zone, second to last in the league, as they score a touchdown only 40.91% of the time they are in the red zone. Osweiler has converted 47.46% of his passes inside the 20 and 50% inside the 10 for a total of 11 touchdowns. He's going to have to improve on those numbers to give the Texans a shot at making a playoff run.
Don't underestimate Connor Cook
While it was in a game that didn't matter, Cook still played alright, going 14-21for 150 yards, a touchdown and an interception. Not the most impressive numbers, but remember, the Broncos have the best defense in the league. If the Texans let their guard down, Cook can make them pay, especially with Amari Cooper and Michael Crabtree as his receivers. Also, cornerback A.J. Bouye and safety Quintin Demps are both questionable for a groin and hamstring injury, respectively. If those two don't play, the rest of the defense must make sure to not take it easy.
Keys for the Oakland Raiders
Let Khalil Mack and Bruce Irvin feast on Texans O-Line
Starting right guard and right tackle Jeff Allen and Chris Clark are both questionable due to an ankle and leg injury, respectively. Allen's replacement is Josh Walker and Clark's will most likely be Kendall Lamm. Khalil Mack and Bruce Irvin have been the Raiders' only good pass rushers this season, getting 11 and seven sacks, respectively. If both Allen and Clark are out, then Oakland should line both Mack and Irvin on the right side to take advantage. If they can pressure Osweiler well, they can make him commit a lot of mistakes.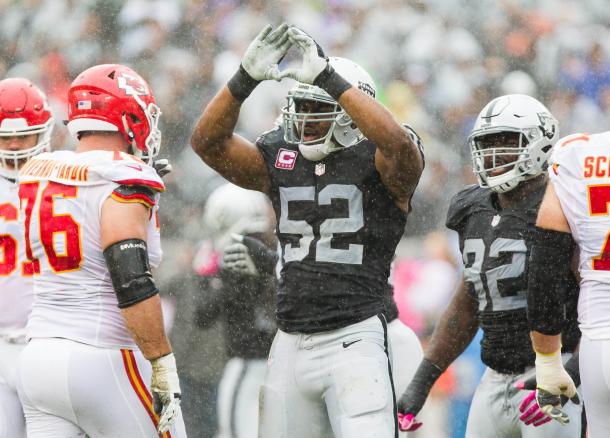 Don't be scared to get Cook cooking
The Raiders' running game is pretty good. They use a trio of running backs in Latavius Murray, Jalen Richard and DeAndre Washington and through them have the sixth most rushing yards and touchdowns in the league. However, the Texans' run defense has become one of the best in the league and completely shut down their running backs in Week 11.
There's a chance that it will happen again this Saturday, so Jack Del Rio has to call some pass plays to get Cook in rhythm in case they need a passing attack later in the game. They've got Cooper and Crabtree, two great receivers, who will definitely help.
The X-factor in this game is Cook. Osweiler isn't going to improve by much in terms of his regular season output. Lamar Miller is going to get a lot of yards and Osweiler will do barely enough to put some points on the board. However, Cook can surprise people. Chances are he won't, but if he does, the Raiders can pull off the upset.