 If one thing rang true during this season's playoffs it was this: quarterback is the key unlocking long-term success. For some teams, all it takes is the right signal caller - even just for a season - to change the complexion of their year. For teams on the brink, free agency is the low hanging fruit not offered by the gradualism of the NFL draft.
Top Shelf
Tony Romo
It isn't often when a franchise level quarterback becomes available via free agency. When it does happen, the courting season is rapid and intense. Romo's charter plane schedule will be a thing of interest for the national NFL media as he plays connect the dots with cities across the United States. With his release the likely course of his freedom from Dak Prescott's stardom, Romo will have his pick of the litter. Only a year removed from a Super Bowl championship, the Denver Broncos are likely suitors for Romo's veteran services. The team is well stocked with talent on the perimeter which made even a virtually unknown commodity like Trevor Siemien seem competent.
Second Class
Kirk Cousins
Another year and another Kirk Cousins will they won't they storyline. Eventually, the Redskins will have to make a long-term decision on Cousins, but it may not be this year. With Cousins again vacillating between passing savant and bumbling spot starter, the Redskins may be in no hurry to re-up the rain-man passer. Still, even having only the semblance of a franchise quarterback is better than having none at all. The Redskins won't let Cousins go elsewhere.
Jay Cutler
Like Romo, Cutler is technically not a free agent but is as part of the 2017 Bears roster as any VAVEL writer is. The Bears ended 2016 committed to the post-Cutler era, even if that meant starting Matt Barkley down the stretch (season-ending shoulder surgery helped. too). To many Bears' fans chagrin, Cutler proved to be the best available option for the team in the win column while starting during the past eight seasons. Few teams likely view Cutler as a viable long-term option, but he still has the tantalizing talent of a gunslinger. With ESPN's Adam Schefter seemingly crossing off the possibility of the Jets and 49ers as options, the market may not be kind to the 33-year old.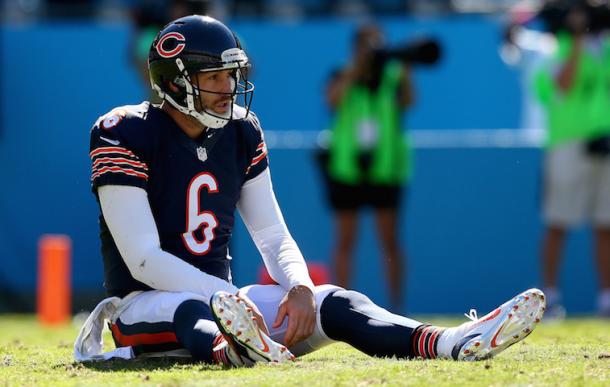 Colin Kaepernick
Although the Kaepernick saga of 2016 focused mainly on his pre-game posture, the former Pro-Bowler and Super Bowl participant actually had a serviceable season. He posted a career-low interception rate (1.2%) and still rushed for over 400 yards in 11 games played. Conservative leaning owners (which most are) may shy away from signing Kaepernick, but he may be the best of the middle-class free agent quarterbacks, value-wise. A return to San Francisco would be logical considering Kyle Shanahan's success with mobile quarterbacks.
Bottom Feeders
Ryan Fitzpatrick
It was only a season ago when Fitzpatrick was thought to be a semi-savior for the New York Jets franchise when he re-signed on a one-year deal. He was the last piece of a band who nearly got Gang Green to the playoffs in 2015 and hopes in 2016 were bright. Unfortunately, 2016 wasn't exactly the comeback tour fans anticipated. Fitzpatrick will likely meander to a backup role before riding off into a Harvard crimson sunset.
Mike Glennon
There are some who want Mike Glennon to succeed more than Mike Glennon. The scrawny former North Carolina State passer never did anything to deserve the attention he gets as a potential franchise quarterback, but his name seems to always be the line of demarcation when it comes to potential saviors. In spite of his Napolean Dynamite-like frame, Glennon has a well above average arm and possesses the prototypical height of a franchise quarterback - and that's about it. Teams from San Francisco to New York should be interested in his services. Whatever he's paying his agent, it's not enough.