There's no denying the pendulum has swung on the runningback position over the last decade. Gone are the days of every team employing a bell cow who can reliably withstand a 300 plus carries a year. As teams move toward more specialized backfields, some dinosaurs from a bygone era are set to hit the open market.
The Thoroughbred
Le'Veon Bell
Bell's inclusion on this list is a pre-March 1st formality. As most upcoming free agents and agents galvanized in the face of uncertainty, others can safely sit back and let the inevitable take place. Make no mistake, Le'Veon Bell will be franchise tagged before March 1st's deadline and he will sign a long-term deal with the Steelers.
Better with age[?]
Jamaal Charles
The insufferable Jamaal Charles waiting game for Kansas City Chiefs fans (and fantasy owners) came to a merciful end when the team placed him on injured reserve during the year. While Charles may still be the Chief's most talented runningback, it's impossible to deny the offense didn't skip a beat while he was out going back to the 2015 season.
If the team decides to move on, they would owe none of Charles roughly $6.2 million salary this year. If he is released, a team like the New Orleans Saints - who have been looking for another Darren Sproles for the last couple seasons - would make sense as a potential revival spot.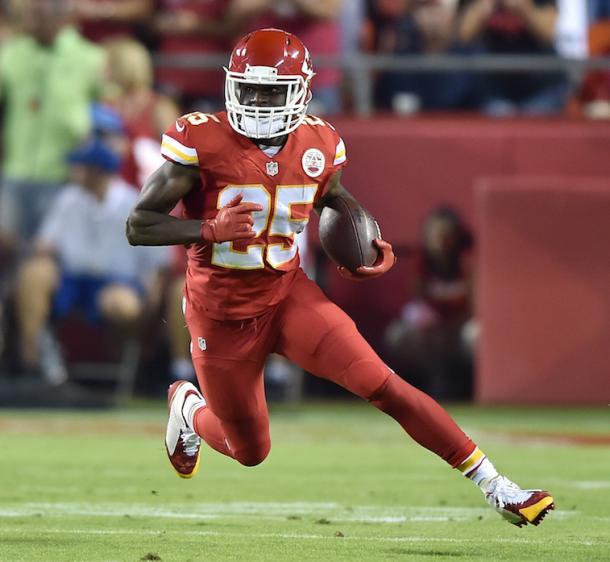 Adrian Peterson
Roaming the league like genetically preserved prehistoric beast of a deceased age, Adrian Peterson may finally see his Minnesota Vikings days come to an end as the team looks to move on from their franchise stalwart. Peterson's lost season comes before a year where the Vikings can completely cut ties with his $18 million contract with no cap consequence.
The 7-time Pro Bowler, 4-time All Pro, and 1-time MVP may still have a bit to squeeze out before the juice runs dry. Teams with young starters at the position may want to tap Peterson as veteran assurance, but few destinations make more sense than the Tampa Bay Buccaneers. Considering Doug Martin's personal tribulations, Peterson could step in and contribute on a burgeoning offensive depth chart in Tampa.
Best of the rest
LeGarrette Blount
Blount's 2016 season had him tied for 15th on the list of most single season rushing touchdowns scored with 15. He's in the company of names like Eric Dickerson, Marshall Faulk, and the aforementioned Adrian Peterson.
Unfortunately for Blount, the statistical company he keeps won't hold as much leverage in free agency. The 30-year old can still fall forward with effectiveness even if his production between the goal line is only satisfactory. The New York Giants would be a fit as he could play a complementary role alongside Paul Perkins.
Eddie Lacy
Over the course of the season, the Green Bay Packers went through three season's worth of backfield turnover. At the start of the year, Eddie Lacy played a more-than serviceable role as the team's lead back through five games.
Between the time of Lacy's injury and up until receiver turned runnigback Ty Montgomery was able to stabilize the position for the Packers, the backfield was in turmoil. Lacy's injury diminishes his value in the open market, but no team may value him more than the Packers. A team friendly short term deal may be the best course of action for both sides.
Latavius Murray
For a 6th round pick, Lavarius Murray has carved out a nice early career while on the Oakland Raiders. He has big back qualities with some breakaway speed. Nagging injuries and a lack of quickness may stunt his ceiling, but there will certainly be teams who see past his limitations. His relationships within the Raiders organization may prompt him to allow for a shorter term team friendly deal. But, if he wants to make top dollar, he'll hit the open market.