 This season, there will be a solid number of Pro Bowl-caliber wide receivers that will hit the open market when free agency begins on March 9th. Among them are Alshon Jeffery, Terrelle Pryor, and DeSean Jackson. These skilled pass catchers will likely be at the top of some teams free agency wish lists come March.
Below is a list of the top Wide receivers available this offseason as well as some potential landing spots:
Alshon Jeffery
Last season Alshon Jeffery was set to hit free agency following four seasons as a member of the Chicago Bears. Ultimately, Jeffery decided to play under the franchise tag which gave him a chance to prove he could stay healthy and play a full season and play at an elite level. Jeffery failed to do both of those. The 26-year-old receiver was handed a four-game suspension as a result of using PEDs as well gaining just 821 yards and two touchdowns. After all of this, Jeffery's time in Chicago could be up. But that doesn't mean he won't have teams fighting for his services.
While it may not be likely, the Bears will probably make a push to re-sign Jeffery this offseason. The former South Carolina Gamecock has played his entire five-year career in Chicago and the Bears would like to keep him. The Bears have close to $58 million in cap space this offseason (Info via Spotrac.com) which should be more than enough if they so chose. Another interesting spot for Alshon Jeffery would be the upstart Tennessee Titans. A year after just missing the playoffs, the one thing Marcus Mariota missed the most was a star wide receiver to throw to. Last season the Titans topped three wide receivers were Harry Douglas, Kendall Wright, and Justin Hunter. This group could use a serious upgrade which is why the Titans signing Jeffery makes perfect sense. One other team would be the Philadelphia Eagles. There were rumors during last season's trade deadline that the Eagles had made a push for Jeffery. The Eagles are another team in need of an upgrade at the wide receiver position. With a young QB in Carson Wentz, the Eagles make a lot of sense for Jeffery.
Potential landing spots
Chicago Bears, Tennessee Titans, Philadelphia Eagles, Miami Dolphins, Baltimore Ravens
Terrelle Pryor: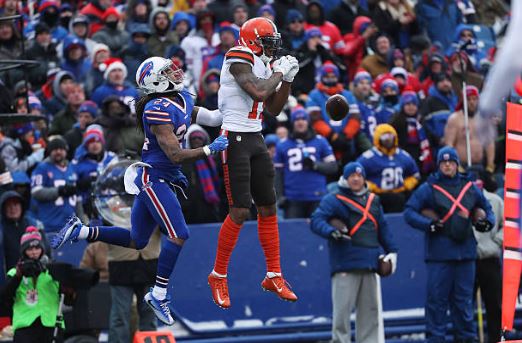 Arguably no one helped their case to make money this offseason more than Terrelle Pryor did. The quarterback turned wide receiver had just one catch for 42 yards in 2015 but exploded onto the scene in 2016. In a disappointing 1-15 season for the Cleveland Browns, Pryor was one of the few bright spots. Pryor hauled in 77 balls for 1,007 yards and 4 touchdowns. The demand for Pryor will be high this offseason but the playmaker has expressed his desire to remain in Cleveland.
Cleveland seems likely to be able to keep Pryor but what about the competition for him? The Titans could be in play for Pryor should they miss out on another big name receiver. Pryor's size and ability will give Mariota a much-needed playmaker on the outside. Ultimately Pryor will likely end up back in Cleveland. The Browns have the most cap space this offseason and will likely do everything they can to keep their top offensive weapon.
Potential landing spots
Cleveland Browns, Tennessee Titans, Philadelphia Eagles
DeSean Jackson:
The speedy deep threat, DeSean Jackson will be a free agent and will be looking to cash in big time. Following three successful seasons with the Washington Redskins, it appears that the two sides are ready to go there separate ways. One team that he could play for next season is his former team, the Philadelphia Eagles. In the past Jackson has expressed interest in a return to Philly, despite how things ended the last time. The Eagles are in need of a threat at the wide receiver position and Jackson is exactly that. With a young roster and a solid defense, Jackson could go back to Philly and help the Eagles win a wide-open NFC East. He spent six seasons there from 2008-2013 and a return would be a good story. But there could be other teams in the mix.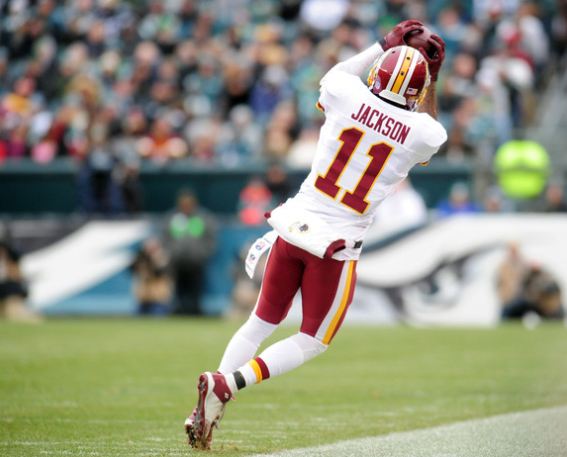 A few dark horses could be the Patriots or the Raiders. First, for the Patriots, Jackson is on the wrong side of 30 and the Patriots have been known to take some chances with aging veterans such as Chad Johnson and Randy Moss. Next, for the Raiders, Jackson is from California and went to Cal. While they already have Michael Crabtree and Amari Cooper, adding DeSean Jackson could make for an explosive offense in Oakland.
Potential landing spots:
Washington Redskins, Philadelphia Eagles, Oakland Raiders, New England Patriots, Tampa Bay Buccaneers
Pierre Garçon: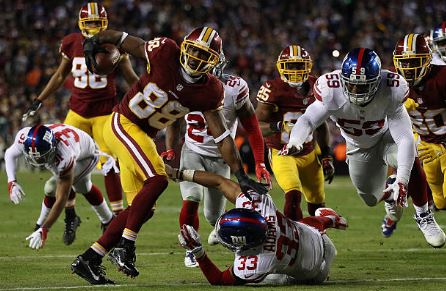 Like Jackson, Pierre Garçon's time in D.C could be coming to an end. Since joining the Redskins Garcon has put up over 4,000 yards and has collected 21 touchdowns over the past five seasons. Garcon has been great with the Redskins but he reportedly wants around $9 million per year, which is out of the Redskins price range. This means he will more than likely be wearing a new jersey next season.
One possibility is the LA Rams. Their big receiver Kenny Britt is scheduled to be a free agent in March and Garcon is an ideal replacement. He is a veteran and has good size and speed for the young Rams to use. Some other options include Philadelphia, Tennessee or Tampa Bay. Tampa Bay has Mike Evans as the clear number one guy but Garcon could add a good veteran voice and would be a solid number two receiver. No matter where Garcon ends up, it likely will not be in our Nations Capital.
Potential landing spots
Washington Redskins, Philadelphia Eagles, Tennessee Titans, LA Rams, Tampa Bay Buccaneers, San Francisco 49ers
Here are the best of the rest of the wide receivers that will be free agents this season: Anquan Boldin, Kenny Britt, Tedd Ginn Jr. Brandon LaFell, Cordarelle Patterson, Kenny Stills, Terrence Williams, Michael Floyd.