 The Cleveland Browns are a team desperately in need of more talent. This much, everyone has seen over the course of the last few months. Almost every position could be considered a need to some extent outside of offensive line and outside linebacker, which was amped up during free agency.
However, one thing that might actually make more sense for the Cleveland Browns, is trading down from the number one spot this year. Yes, that might seem like a bad idea for a team in need of so much talent all across the board, but for that same reason, it might also make it a good one.
If Cleveland were to keep the number one overall draft choice, they'd have their choice of what seem to be relatively mediocre quarterbacks, Jonathan Allen from the Alabama Crimson Tide who has seen his stock fall since it was announced he had minor arthritis in both shoulders, and the current favorite Myles Garrett out of Texas A&M, who's currently the consensus number one.
While taking Myles Garrett is by no means a bad choice, he is being compared as the best pass rusher since Jadeveon Clowney to come out of school. However, he doesn't turn a team like Cleveland into a team that could win more than three or four games next year.
Cody Kessler isn't the worst QB in the NFL, and the Browns have a history of not taking quarterbacks early, but if they were to trade down, the Browns will most likely be absolutely thrilled with what they have to see at the top of their board next season.
Sam Darnold, Lamar Jackson, Josh Rosen and Jake Browning are all projected to enter next year's draft. Arguably four of the top college quarterbacks this past year all could be available for Cleveland's choosing next year, compared to Mitch Trubisky, DeShone Kizer, Deshaun Watson and Patrick Mahomes this year.
Not only is the quarterback class next year much better than this year's, but so are the wide receiver class (led by Calvin Ridley), the running back class isn't too much worse (Saquon Barkley next year) and there are still multiple good defensive ends, including the pair from the local Ohio State Buckeyes (Sam Hubbard and Tyquan Lewis) projected to enter next year as well.
This year's class after Garrett, at least as of now, seems to lack top tier talent at multiple positions. Malik Hooker and Jamal Adams drastically help the safety class and not very many pass rushers outside of possibly Derek Barnett and Soloman Thomas have pro bowl or all pro potential. Still, the Browns could look this year to positions that are stronger, and improve their draft slots next year to increase their chances at getting the QB and receiver of their choice.
There are several teams that would give up a top draft position to move up to number one. A team like the Cincinnati Bengals who have the 9th pick this year could give up their first rounder next year to move up and take Garrett. Perhaps a team like the San Diego Chargers who will be employing a new coach next year moves up to get a top guy for their new scheme. Perhaps even a team with a more aggressive GM like the Detroit Lions could move all the way up and give up future assets instead (which would likely be more appealing to the Browns).
They'd still also hold the number 12 selection, which could give them their choice of corners including Marcus Lattimore from Ohio State. Or, they could move down twice and go all out in next year's class which would be a bit more risky, but may be well worth it next off-season.
Here's a couple of different scenarios that could play out should Cleveland trade or keep both of their draft picks.
Situation 1: Cleveland trades number one overall, keeps 10 overall
If the Cleveland Browns decide to trade the number one pick and keep the number twelve, they would be putting themselves in a great spot both in this year's draft and next year's.
This year, they'd still have at least one top twelve pick, and most likely another if the deal to trade down includes a top ten pick in this year's draft. With those picks, they could still most likely get their pick of top cornerbacks to pair with Joe Haden, as well as what would likely be their pick of any non-defensive end depending on how high their new pick would be. Including Myles Garrett.
While they likely won't be able to take Leonard Fournette either, the last time the Browns took a running back high in the draft didn't work out so well with Trent Richardson. There may be a couple of other players who go before Cleveland would get their second pick including Malik Hooker of Ohio State, who should be the highest safety drafted since Eric Berry was drafted 5th overall by the Kansas City Chiefs in 2010 out of Tennessee.
As for next year's draft, they're not likely to improve too drastically even after having two near top ten picks, and would likely get another top five pick next year, plus whatever selection(s) they end up with as a result of the trade down from number one. With those picks, they could address quarterback fairly easily with four could-be elite prospects at the position, as well as another position of need like wide receiver, where Christian Kirk and Calvin Ridley are likely to get drafted very highly also.
Cleveland takes Myles Garrett number one, trades pick 12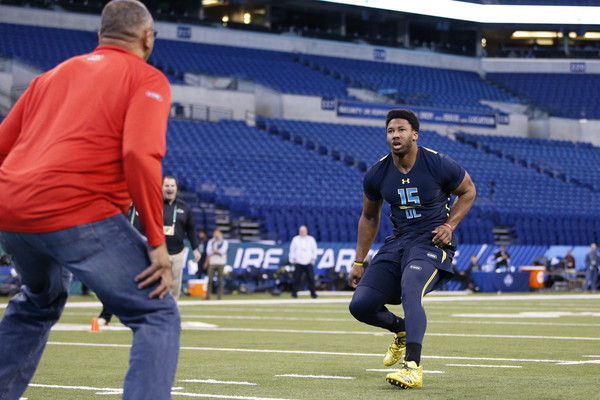 If Cleveland holds on to the first pick and takes Myles Garrett, they're putting themselves in a much better spot for next year. Their defense should improve by getting the clear number one pass rusher in the draft class, and they get a year to work with him before they go likely go big in next year's draft.
By trading the twelve pick, they could potentially get deeper in this year's class, adding more picks late, as well as potentially an additional first next year. Most playoff teams this year relied more on late round draft choices of theirs than first rounders. Derek Carr was a second rounder, Dak Prescott was a fourth rounder. Tyreek Hill was a fifth rounder, and the Lions starting runner, Zach Zenner, went undrafted and was actually considered a fullback coming out of school. Logan Ryan, one of the New England Patriots' cornerbacks was a third rounder, and Trey Flowers was a fourth rounder for the Pats. The Atlanta Falcons took Devonta Freeman in the fourth round and Grady Jarrett in the fifth. The Green Bay Packers took David Bakhtiari and Micah Hyde in the fourth and fifth round respectfully in the 2010 draft, while they took Datone Jones in the first round that year.
If Cleveland were to get a barrage of later round draft picks, and most importantly use them effectively, with Myles Garrett in the fold the Browns could win quite a few games next season. While it's unlikely they go from one win to nine in the course of one off-season, more impressive things have happened.
The Dallas Cowboys had a 4-12 team in 2015. After changing quarterbacks from Tony Romo to Prescott, running backs from Darren McFadden to Ezekiel Elliott, and left guards from La'el Collins to Ronald Leary, the Cowboys improved to 13-3 and won the first seed by three games in the NFC. Their defense only underwent only slight or minor improvements, and after one first and fourth round draft pick and a free agent offensive lineman, the team more than reversed their record.
If the Browns could find a quality late round quarterback, get an elite running back or develop Isaiah Crowell, and come out of the draft with Myles Garrett, a starting quarterback and two other quality starters, they could be in much better shape looking at 2017.