 The Miami Dolphins has found its new quarterback. Just days after losing Ryan Tannehill for an unknown period of time, the Dolphins went out and signed former Bears quarterback, Jay Cutler.
In May, Cutler retired and was about to join Fox Sports as a broadcaster but it appears he has had a change of heart. It was reported that as late as Saturday, Cutler was reluctant and unsure about a possible return to football, although he hadn't made any decision yet. Aware of his reluctance, Gase talked with Cutler and the Dolphins offered him more money.
His deal with the Dolphins is a one-year contract worth $10 million but with incentives, it could reach upwards of $13 million.
Cutler reunited with Gase
Prior to being named the head coach of the Miami Dolphins in 2016, Adam Gase was the Chicago Bears offensive coordinator, where Jay Cutler was the quarterback. Cutler, now 34, started 15 games in 2015 with Gase as his offensive coordinator. During that season he had one of his finer NFL seasons throwing for 3,659 yards with 21 touchdowns and 11 interceptions. He also completed 64.4 percent of his passes, second-highest in his career.
According to ESPN's Jeff Darlington, Gase had a major role in Cutler's signing, which makes sense to due to Cutler's success under Gase's offense. If Cutler can play to that level it will make for a serviceable quarterback in place of Ryan Tannehill.
Other options for Miami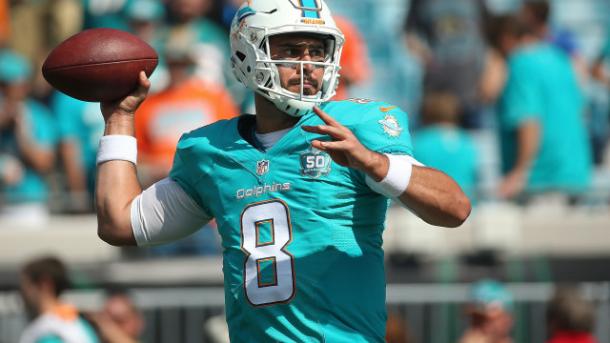 Right now the likely other option is Matt Moore. Last season after Tannehill initially went down, Moore filled in and went 2-1 in the regular season as a starter, including another loss in the team's playoff game. In his three regular season starts Moore had 8 touchdowns and 721 yards. He also threw three interceptions. If Moore needs to play, he is more than capable as he has proven before.