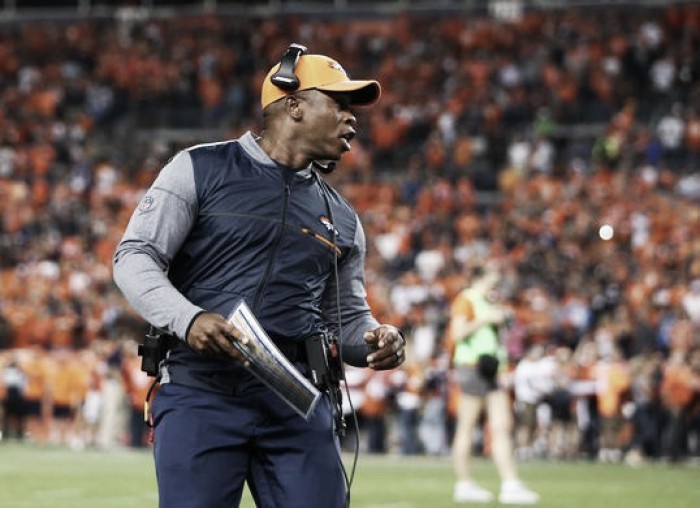 In a battle of two first-year head coaches, the Denver Broncos' Vance Joseph came away as the victor over Anthony Lynn of the Los Angeles Chargers.
The Denver Broncos held on in the fourth quarter to defeat the LA Chargers 24-21 in a hard fought, tight game.
Teams trade scores
Team captain Trevor Siemian ate up a bunch of clock in the Broncos' second drive of the game. It took 70 yards, 13 plays and 6:05 of game time, as the home team took the early 7-0 lead over the Chargers.
Of the seven pass attempts by Siemian, the 25-year-old quarterback completed just four of them. The most important one of the bunch, though, came from five yards out when Siemian found Bennie Fowler for six points.
Nine plays later, however, Los Angeles found the back of the end zone for the first time this season. Melvin Gordon played a key role in the drive, gaining valuable yards on the ground. But from 11 yards out, Gordon cut back inside, caught a Rivers pass, and dove into the end zone to tie the game up at seven.
Siemian showed some athleticism on Denver's second touchdown of the night. After driving 55 yards to get down to the one yard line, the Bronco quarterback beat Joey Bosa one on one. That score gave the Broncos all the momentum heading into the locker room and into the third quarter.
Chargers force turnovers late to get back in it
This game turned on its head in the fourth quarter when Los Angeles forced turnovers in two consecutive possessions.
There was a bit of luck involved in the interception with 10:44 left in the game. The ball deflected off the feet of two players before Adrian Phillips plucked the ball before it hit the ground.
Six players later, with some poor clock management sprinkled in, the Chargers were right back in the game. Keenan Allen, who did not have that great of a game, caught a five yard touchdown paass to give the Chargers some life.
Denver needed to use up as much time as possible in their next drive, and they looked poised to do just that. However, two plays later, Jamaal Charles got stripped by Korey Toomer.
Philip Rivers brought the game within three on the very next play. Rivers hit Travis Benjamin in stride for a 38-yard strike to give the Chargers a bit of hope late in the night.
Coming Up
The Los Angeles Chargers will play their first regular season game at the StubHub Center next Sunday afternoon. There, they'll take on the Miami Dolphins, who of course had their Week 1 meeting with the Tampa Bay Buccaneers rescheduled.
Meanwhile, the Denver Broncos have a big test next weekend at home. Dak Prescott and the Dallas Cowboys come to the Mile High City for Week 2 action.