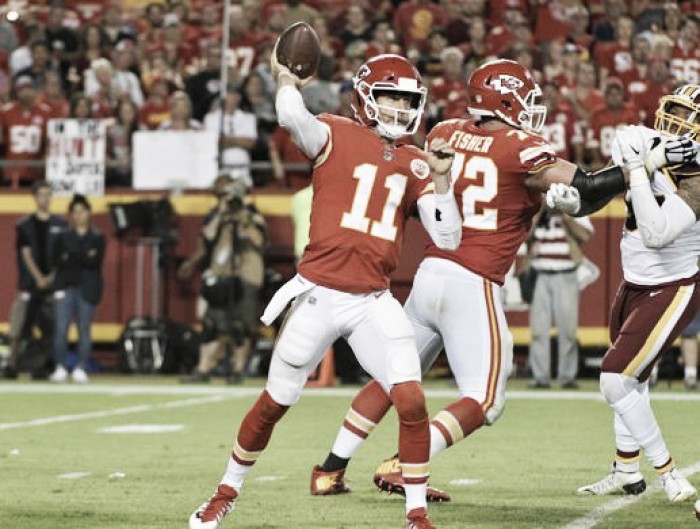 The Kansas City Chiefs remain NFL's only undefeated team after Monday night's victory. They completed a comeback at home, winning 23-20 over the Washington Redskins.
Both quarterbacks were excellent in this contest. Kirk Cousins and Alex Smith both threw for over 200 yards, with the latter gaining 295 yards. However, the former had the higher quarterback rating on the night, having thrown for one more touchdown.
Redskins start hot
Washington came out firing on all cylinders in the first quarter on Monday night football. Kirk Cousins and his offense drove 75 yards down the field on the opening position. Running back Robert Kelley was an integral part of that drive. Kelley racked up 19 yards on three rushing plays, and dropped a pass too. But the most impressive part of that drive was the final play: a 44 yard rocket of a pass to Terrell Pryor Sr.
Kansas City comes back
Kansas City, though, stayed patient and waited for their opportunity to strike. The opening the Chiefs were waiting for happened right before halftime. Smith took the field with 5:01 left in the second quarter.They were getting the ball back to start the second half and Smith knew his side needed to grab the momentum.
The veteran quarterback, Smith, used a couple of short passing plays to grow his confidence. Then the longer throws were hitting their targets. Smith found Charcandrick West for nine yards before completing a 21 yard pitch and catch to Chris Conley.
After watching Smith go to work and eat up a ton of time off the clock, Kirk Cousins wasted no time retaking the lead. Cousins hit Jordan Reed in stride with a 69 yard pass. Samaje Perine moved the Redskins down to the three-yard-line before Kirk Cousins' touchdown pass to Ryan Grant.
That was quite the impressive drive from the visiting Redskins. Kansas City had the ball the entirety of the second half. Then, in three plays and 1 minute and 38 seconds, and after the Chiefs scored a touchdown.
However, that would not be enough for Washington. Josh Doctson dropped what would have been the winning touchdown with not much time remaining.
Rookie kicker Harrison Butker, signed off the Carolina Panthers practice squad, drilled the game winning field goal with four seconds remaining.
Yes, Justin Houston did return a fumble for a touchdown after the Redskins failed in their last second play, but the score line was a lot closer than it should have been.
Coming Up
The Washington Redskins will look to get back to over .500 when they welcome in the San Francisco 49ers Sunday afternoon.
Meanwhile, Andy Reid and the Chiefs take their undefeated record to Houston where they'll take on the Texans on Sunday Night Football.