 Before free agency began, few thought the team who'd be outpacing most of the league in transactions would be the Oakland Raiders. While only being in the middle of the pack in cap space, the Raiders have added a total of 16 players at the time this article was written. The ink might still be wet on their latest re-signing of 2017 Raiders backup quarterback, E.J. Manuel.
Gruden: a has been, or still is?
Headlining the Raiders free agency haul are a couple past-their-prime brand players in Jordy Nelson and Doug Martin. These signings, as well as some scheme-tipping moves like the acquisition of a blocking tight end and fullback, have drawn ire from the football cognoscenti. The game has past him by, says the TV barker when asked about Gruden's latest quote opining for the good ole' days of the "I" formation. He's going to be another Jeff Fisher, declares the headline of the common newsroom football blogger. The latest indictment of Gruden's coaching comeback came from one of his former players and once Raiders defensive backs coach, Rod Woodson.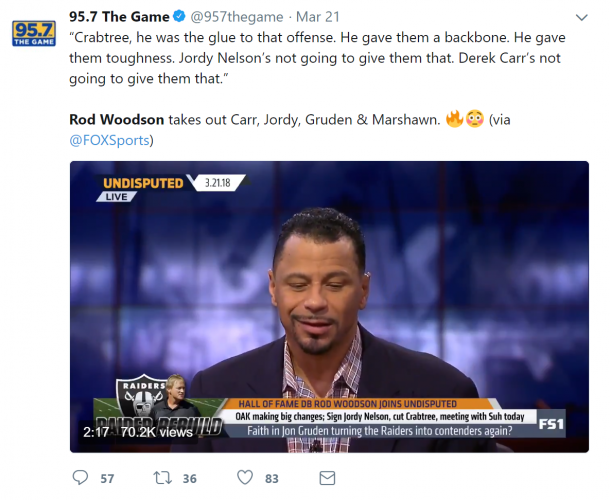 Something to note about Gruden is he not only existed in 1998, but he actually coached football in the NFL, too. In fact, he's part of one of the most time-tested coaching trees in modern NFL history and has a fairly prolific coaching tree of his own. Even more, Gruden's offenses in the late 90s and early 2000s were a prelude to what coaches like Sean McVay are running today. Not counting Gruden's first year in Oakland (which happened to be 1998), Gruden-led Raiders teams from 1999-2001 averaged top five scoring offenses, per Pro-Football-Reference.com.
Back to the future
Considering Gruden's coaching history, the Raiders offensive free agency moves come more into focus. Signing a blocking fullback isn't a damning move for a modern offense. After all, the New England Patriots, the Atlanta Falcons, and the San Fransisco 49ers all actively utilize fullbacks as part of their forward-thinking offenses. While swapping a still productive Michael Crabtree for a soon to be 33-year old Jordy Nelson might seem like downgrade on the surface, but Nelson offers a specific skill set Crabtree does not; stretching the field in play action while still offering similar back-shoulder and fade proficiency as Crabtree. Plus, Gruden has found success with "declining" or aging receivers before (see: Jerry Rice, Tim Brown and Keyshawn Johnson). The numbers on Doug Martin are not public yet, but one can bet the 29-year old's contract is easily disposable.
Defensively, the Raiders have made savvy moves which have seemingly gone unnoticed by the blog-o-sphere. Cornerback Rashaan Melvin tied for 17th in PFFs cornerback rankings in 2017 and signed in Oakland for a pittance (1 year, $5.5 million). Maybe the team's highest profile move was signing former Lions linebacker Tahir Whitehead. When comparing his $6 million per year salary with other similarly graded linebackers like Anthony Hitchens, $8 million per; Nigel Bradham, $8 million per; and Avery Williamson, $7.5 million per; (per Spotrac.com) the Raiders came out like bandits.
New coach, same story
While Gruden gets the brunt of the criticism around the Raiders' eccentric free agency activity, this class has General Manager Reggie McKenzie's prints all over it. Before being named 2017's executive of the year, Reggie McKenzie was getting the same low-octane criticism against him for signing veteran cast-offs like Justin Tuck, James Jones, Donald Penn, and Charles Woodson. In some ways, McKenzie is undertaking another rebuild-like situation with a Gruden run facility.
If anything, the logical response to the Raiders' offensive moves should be seen with intrigue and not vitriol. Brand names make headlines, but looking beneath the surface and it becomes clear that the Raiders are making moves with intention instead of for attention.