 The New York Giants continued their offseason acquisitions by bringing in Michael Thomas, former safety for the Miami Dolphins. Thomas is also widely regarded in the National Football League as an exceptional special teams player which undoubtedly helped the Giants interest in him.
Thomas becomes the next name on a growing list of defensive players that the Giants have added to their roster as they look to address all the issues they had last season with that part of the roster.
A new Giants defense is one of the big priorities for Shurmur
The Giants were a top 10 ranked defense going into the 2017 NFL season. Having nine of their eleven starters returning that year, the Giants were counting on a strong defensive showing which did not end up materializing. A large part of the problem was due to having an offense was that hardly on the field. The Giants performed well early but quickly faded in the second half of the season. The cornerbacks also struggled after star player, Jenoris Jankins sustained a long-term injury, and the fall out surrounding Dominique Rodgers-Cromartie. Those issues led to the Giants to being ranked 28th in the league for passing yards allowed.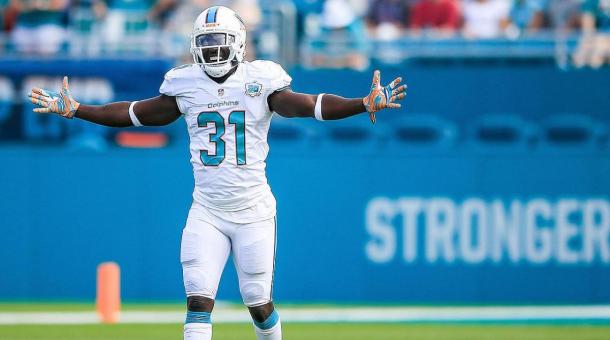 The Giants' new head coach, Pat Shurmur, is looking to make the defense become a dominate force in the NFC East once again, especially as all the key players should be healthy going into this season. Former Dolphins man, Olivier Vernon will be happy to see ex-teammate, Thomas, as well as he will be adding much needed depth to a struggling secondary. Having a strong rotational free safety will allow defensive players more rest during games and will add more versatility to the secondary. Thomas has performed very well in his 56 games played, recording 191 tackles, three forced fumbles, and an interception.
Thomas adds some much needed experience and talent into the Giants special teams unit
The Giants struggled tremendously on special teams being ranked dead last by football outsider. Michael Thomas was named Special Teams Player of the Year by Pro Football Focus. This was an incredible signing by the Giants who desperately need help on special teams. In 2017 Michael had 11 tackles and a blocked punt, with no missed tackle attempts. Now he has a total of 52 tackles on special teams since 2014.
Giants fans should be excited for this versatile play maker. Not only will he bring a strong presence on the field but he also brings a strong positive leadership role to a broken locker room. Signing Michael Thomas may not make the front page headlines; however, he is the most essential signing the Giants have done this off season.